Top tourism title for Tunnel Tours...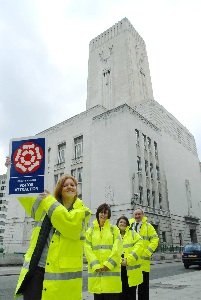 TOURS delving into the inner workings of the Mersey Tunnels have secured a major tourism award. Guides leading the tours were presented with the prized Visitor Attraction Quality Assurance Service accreditation (VAQAS), a customer-focused scheme set up by Visit Britain.

The tours were inspected and praised for their 'Wow factor". Inspectors found the tour "fascinating and very well led".
In December 2007, inspectors praised the tours 'wow' moments, including the sheer size, power and scale of the fans and ventilation system and Central Avenue, a route under the road deck originally planned for trams.
The tour guides were praised as "very good hosts", who made visitors feel at home, with some "great ghostly anecdote material!"

Merseytravel owns and operates the Mersey Tunnels and inspectors congratulated the organisation. Only last year the number of tours had to be doubled to cope with public demand.

Neil Scales, Chief Executive and Director General for Merseytravel, said:- "What started off as a simple idea has really captured the public imagination and the tours are proving to be a fantastic success. We're currently heavily booked until June, which goes to show how popular they have become. To receive VAQAS for our tours, which is an award from a customer perspective, is a real achievement and the team should be very proud. It's even more pleasing because we have received this during our year as European Capital of Culture.

It's great to receive feedback in this way and we'll keep looking for ways to improve the tours. The tunnels were a world-class feat of engineering when they were built and they have stood the test of time. Many people coming on the tours are astounded by the sheer scale and complexity of the tunnels."

The tours include a visit to the newly constructed escape refuges deep under the Mersey and unique access to the Engineering Control Room, Museum and old tunnel road deck.
Visitors also see one of the six giant ventilation stations in action. The underground adventure lasts between 2 and 2 and a half hours and they are now held on Tuesday, Wednesday and Thursday evenings and on Saturday mornings.

To book a place telephone (Monday to Friday, between office hours) 0151 236 8602 and then dial extension number 204 or 214.
A small fee of £3 per person is charged to ensure the costs of the tours are self-funding.
Casual clothing and comfortable shoes must be worn and the minimum age for visitors is ten years old.
Due to the number of stairs the tour is unsuitable for people with breathing or walking difficulties.

The Tunnel Tours will have the accreditation reviewed annually.
NORTH WEST FOOTBALL AWARDS WINNER OF BEST EVENT 2008

THE Northwest Football Awards, a joint venture between Out There Events and How Do Publishing, was last night named winner of Best Event in this year's national SWOT Marketing Awards. Out There Events and How Do, recognising the gap in the football market, established a winning formula creating and managing a large high profile event in a bid to recognise the region's footballing success on and off the pitch.

The expert panel of SWOT judges recognised the absolute success of the event in its inaugural year, highlighting achievements such as attracting high profile football legends, Sir Bobby Charlton and Sir Alex Ferguson and securing sponsors such as Brabners Chaffe Street, Barclays, KPMG and The Football Foundation, awarding it SWOT Marketing Awards 2008 Best Event Winner.

Gordon Taylor, CEO of the Professional Footballers Association, a judge at the Northwest Football Awards 2007 said:- "It was a truly memorable night. It was great to see the North West's footballing community come out in force to celebrate the region's success both on the pitch and behind the scenes, as well as raising a huge amount of money for a fantastic local charity."

CEO and Founder of Out There Events, Marcie Incarico, commented:- "We are delighted that the Northwest Football Awards have been recognised in this way. We were up against other well established events, so to be recognised for this event in its 1st year is amazing. It is a testament to the hard work and dedication of the team involved, all concerned really appreciate this accolade. "

The North West Football Awards 2008 will be held on the 17 November 2008 at the Midland Hotel, Manchester.
Help wanted over domain registration letters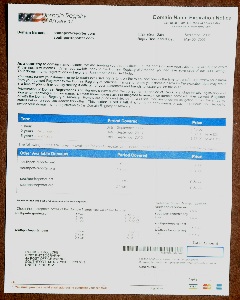 BUSINESSES are being warned this week about letters are being sent out from the USA by a company known as "Domain Registry of America", from Buffalo who set up their website offering hostage deals in 2006 and have since been contacting businesses with letters saying "Domain Name Expiration Notice" and "As a courtesy to domain holders, we are sending you this notification of the domain name registrations that are due to expire in the next few months." They also state that "This is not a bill, it is rather an easy means of payment, should you decide to switch your domain name registration to the Domain Registry of America." The group whose registered website is www.droa.com, goes by the name of "Domain Registry Group". The group is based at 2316 Delaware Avenue, Suite 266, Buffalo, USA. This group sends out this letters to unsuspecting businesses, many of them thinking that it is from their own provider and often pay. Technicley it is a gray area with these letters, but internet service providers and ISP's in the UK strongly recomend that if you receive ONE of these letters, that you file it under 'b' for 'bin'. The letters are often posted as coming from Jamaica, NY via the US Postal Service, under the permit number 9014. The letters contain a none postage paid reply letter that is addressed to Domain Registry of America, 56 Gloucester Rd. Suite 526, London, England, SW7 4Ub. If you have had any dealings with this business, please let us know what your experiance has been, together with a bit of information as to the URL you have registered with them and how long you have been with them etc.

We are very interested and any information you have, especially if they are good ones. Email via our newsroom email address:- news24@southportreporter.com.

Web links:- Domain Registry of America AlLynne Group managingip.com Synergy UK Corporation United Forums Post.