Second Galileo Satellite Launched Successfully
Report written by the BNSC Press Office
DESIGNED to provide the whole planet with a highly accurate Global Navigation Satellite System under civilian control, Europe's Galileo project moved a step closer as a second test satellite was launched successfully from Kazakhstan.

GIOVE-B (Galileo In-Orbit Validation Element-B) is designed to test novel, key technologies for the Galileo network which is due to become operational in 2013.

It was successfully launched on board a Soyuz rocket from the Baikonur Cosmodrome and joins GIOVE-A which has been in medium Earth orbit since 28 December 2005.

As with GIOVE-A, GIOVE-B will test the key technologies of the Galileo system. It carries a high-precision passive maser atomic clock - the most accurate clock ever flown in space. GIOVE-B had a lift-off mass of 530 kg and is the size of a telephone box.

The payload for GIOVE-B has been developed by EADS Astrium Limited in the UK. Its team tested and integrated the equipment on board the satellite.GIOVE-B has been built by an industrial consortium headed by Astrium GmbH (Germany) while Thales Alenia Space (Italy) as subcontractor has carried out satellite assembly, integration and testing.

Science and Innovation Minister Ian Pearson said:- "The UK has been a major investor in the development of Galileo, and the launch of GIOVE-B is an important milestone for the Galileo programme.
The roles played by UK companies have been critical, and demonstrate the engineering and skill base that has been developed in the UK.
I am pleased that British companies will continue to play key roles within the Community-funded Galileo programme.
It is a clear demonstration that the UK remains at the core of space development both in ESA and the EU."

The development of Galileo was funded jointly by the European Space Agency (ESA) and European Union (EU).
The EU will now build a civil system of 30 satellites and a complete ground support network to offer users of satellite navigation with an accuracy of less than a metre.
Unlike current navigation systems, such as the USA's Global Positioning System (GPS), Galileo is expected to offer commercial guarantees of service and provide inbuilt integrity information. This will make it suitable for applications where safety is critical.
This could include the following areas:-

* With a greater number of satellites being provided by both GPS and Galileo, there will be greater reliability and availability. For example, there will be tremendous potential for improving air traffic control. It could allow planes to reduce their reliance on ground-based beacons or radio signals and could help improve safety in poor weather conditions.

* More and more drivers are expected to adopt satellite navigation. Freight companies will be able to use Galileo to track containers more closely and could help them combat theft and fraud.

* Satellite technology is also being developed to help older and more vulnerable people. If they were to suffer a medical crisis, an inbuilt satellite navigation system receiver in conjunction with mobile phone technology could alert emergency services to their location.

* When Galileo reaches full operational capability, its satellites will provide coverage of even the most remote parts of the globe. Up until now, coverage of latitudes in the Arctic has been patchy at best.

Dr Mike Healy, Director of Earth Observation, Navigation and Science for Astrium Ltd, said:- "GIOVE-B will broadcast the first fully representative Galileo navigation signals, enabling scientists and engineers to move the programme to a new development level.
The Astrium built payload is pivotal to achieving this aim and this launch is a major step towards the Galileo operational system."
2 OPPORTUNITIES FOR TALENTED YOUNGSTERS
ABD looking immediately for talent. Places available for brand new Summer School Show AND auditions for juvenile cast in Anne Dalton's brand new PROFESSIONAL Xmas production.

Sign Up For Summer School
Anne Dalton, writer/director of the hit musical "Our Benny" at The Liverpool Empire this November, is inviting students to attend her summer school and audition for her professional Christmas musical.
ABD's Summer School runs from Monday 28 July until Friday 1 August.
Students will be working on a brand new show to be performed with full costume, set and lighting on the final night. The show is about students in a theatre school deciding which out of four shows they will be selecting as their next production. Which will it be? They explore the ideas, vying with each other over the highlights of each show, "JOSEPH" ,"WICKED", "THE WIZARD OF OZ" and "PETER PAN", and feature numbers from each of these exciting shows which collectively make a fabulous evening's entertainment for all entitled:- "We Love Musicals". As always at ABD's productions, the sessions will be run by qualified professionals and students will be supervised fully at all times by staff who are CRB checked. Because of the nature of these musicals, the summer school is suitable for anyone between the ages of 7 and 18. The course is £100 . ( There is a £20 discount for the second child in the family. Places are limited but can be secured by a £10 deposit . Forms can be collected from Crosby Civic Hall and Southport Arts Centre or you can also email. Places are allocated on a 1st come 1st served basis.

Auditions For Professional Show
There is a further exciting opportunity for talented young people to have the Christmas experience of a lifetime by auditioning for a part in "Scrooge's Nightmare Christmas", a new interactive version of "A Christmas Carol", aimed at all the family.
With a narrator and plenty of audience participation, t is suitable for everyone from 6 to 106 and has been specially written by written by Anne Dalton.
Auditions will be held at Southport Arts Centre on Sunday 18 May 2008, at Southport Arts Centre. ABD are looking for talented singer/ actor/ dancers from 8 to 18 (male and female) to form the juvenile cast of this professional production.
Those attending should wear comfortable and appropriate clothing and footwear, bring plenty of drinks, register at 10.00 and be prepared to stay until 5.00pm.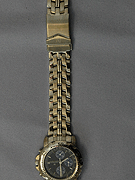 A re-appeal for witnesses to a sexual assault
MERSEYSIDE Police are re-appealing for witnesses to a sexual assault, which occurred on Bailey Drive, Bootle, on Thursday, 27 December, 2007.

Officers have issued at photograph of a watch which was recovered at the scene and believe it could belong to the offender. They are appealing to anyone who may recognise the watch (a Clauder Valentina superior sports watch) and has not seen the owner wearing it in recent months to contact them.

The 43-year-old woman victim was walking home along Bailey Drive, Bootle, at about 2am, when she was approached by a man who tried to engage her in conversation. As they approached the junction with Roberts Drive the man suddenly turned on her and began attacking the woman knocking her to the ground. The man then ran off. The woman was left in a distressed condition and required treatment at University Hospital Aintree for her injuries, which comprised of bruising and cuts to the face. The attack is believed to be sexually motivated.

The offender is described as white, 5ft 2 in tall, young looking approximately 18 years old, with short brown hair. He was wearing a light coloured top.

Merseyside Police would like to urge anyone who witnessed this incident, or who has more information, to contact Copy Lane CID on 0151 777 3166, or Crimestoppers on 0800 555 111.