Minister backs shooting as a "sport that can be for everybody"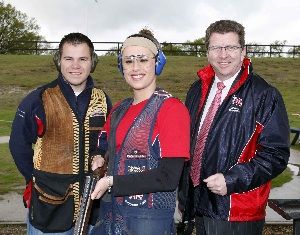 MINISTER for Sport, Gerry Sutcliffe MP was guest of honour last week at a shooting demonstration hosted by the British Shooting Sports Council (BSSC) at the National Shooting Centre, Bisley, Surrey to launch National Shooting Week 2008.

National Shooting Week, which will started on Saturday 3 May 2008 and will run until to Sunday 11 May 2008. It aims to make people of all ages across the UK aware of the importance of target shooting as a sport and to provide opportunities to try it out for themselves. Shooting bills itself as one of the most inclusive Olympic and Paralympic sports, where gender, age and disability are no barriers to success.
According to Gerry Sutcliffe MP, Minister for Sport:- "National Shooting Week is an opportunity for the sport to show itself to the wider community in the UK about how good it is for everybody to take part.
With the UK teams doing so well winning medals in so many competitions right across the world shooting is high on our list of sports we want to support. So National Shooting Week gives an opportunity for all the misconceptions about shooting to be put to one side but it also gives people an opportunity to understand that this is a sport that can be for everybody."

Over the course of National Shooting Week some 200 open days will take place at shooting clubs and grounds in England, Wales, Scotland and Northern Ireland, giving newcomers to the sport the chance to try shooting for the first time in a safe and friendly environment. Media coverage of the growth in gun crime and illegal guns has sometimes overshadowed the fact that shooting is an Olympic sport at which the UK excels, at the 2006 Commonwealth Games shooting accounted for 23 of the UK's 116 medals and a crack team will travel to Beijing this summer.
With London 2012 ahead, the government backed initiative aims to discover and recruit new talent, as organiser Rob Gray explains:- "We're hoping that 1 or 2 future Olympic stars will take their first ever shots during National Shooting Week".

Beginners who fancy taking their 1st shot can find out where their nearest shooting event is by entering their post code at www.nationalshootingweek.co.uk.
Call-up for men to keep their 'Eye on the Ball' for charity
THE course is set, the footballers are warming up and now it's time for men to register for their place in the Keep Your Eye on the Ball 5K run taking place on 1 June 2008, in London's Victoria Park.

The event organised by Everyman Male Cancer Campaign, with The FA and The PFA, is being supported by professional footballers including Millwall striker Neil Harris, Derby County's Alan Stubbs, Notts County's Adam Tann and Hull City's Matt Duke.

Everyman patron and testicular cancer survivor Neil Harris is hoping to better his performance in this year's run, adding:- "Testicular cancer is obviously an issue close to my heart so I will always do my bit to help raise awareness and funds for valuable research into the disease. And this year, I'm determined to finish higher up the ranking than my 5th place last year.
The lads have already started talking about who will win and I'm pretty confident it'll be me this year!"

Soccer AM hosts Helen Chamberlain and Andy Goldstein are also behind the event, urging men to get involved in a day that promises to be balls of fun.

"This all-male event gives lads a chance to get together and do something fun, while at the same time supporting a great cause.
We all know men like to compete and this run provides a chance to pit man against man and club against club in an FA Cup-style battle," says Helen.

The fastest individuals and top fundraisers will each be honoured for their achievements and the winning club will be the one that finishes with the best average running time.

As well as professional players and The FA taking part in the event, Premiership giants are also keen to get their supporters involved.

Arsenal and England physiotherapist Gary Lewin said:- "The run is a great chance for fans to show their support for a team, get active and help raise awareness for male cancer.
It's an event and a cause that all clubs should be involved with and we urge, not just Arsenal fans, but football fans nationwide to put their running shoes on and take part".

All money raised will go towards funding research into prostate and testicular cancer which affects more almost 37,000 men in the UK every year.

Participants can register for the event on the Everyman website www.everyman-campaign.org or by phoning 0800 731 9468.