LIVERPOOL ONE REACHES ANOTHER MILESTONE
LIVERPOOL ONE has announced that 2 more buildings are to be topped out as part of the £1bn transformation of Liverpool's historic city centre.

The 'topping out' ceremony took place on Thursday, 1 May 2008 on The Arcade along Peter's Lane and the building that forms the corner of School Lane and Paradise Street of the ambitious Liverpool ONE project and represents the finished work of three of the country's most renown architects; Dixon Jones, Brock Carmichel and Haworth Tomkins. These are major buildings that form an integral part of Liverpool ONE which opens Phase 1 on 29 May 2008. Shops within these 2 buildings include Ghost, Ted Baker, Radley, Jones, Karen Millen, G Star and Bench.

The work carried out comprises the renovation of the conservation area buildings, County Palatine and Compton House (both neighbours of the recently reopened Bluecoat Chambers) and the Russell Building which will be renovated and turned into offices. Peter's Lane is provided with a roof to create the arcade for the boutique newbuild shops that will open at Phase 2 launch. Paradise Street itself is fronted by new two-storey shops with 4 levels of apartments. Behind the rooftop terrace a new crèche can be found which will cater for 74 children.

"With the completion of these 2 important buildings within Liverpool ONE I can really start to feel how close to completion we are in this historic project," says Joanne Jennings, Chief Executive of Liverpool ONE. "Both buildings show the breadth and scope of the whole project offering Liverpool once again as the retail hub of the north west drawing in shoppers from a wider catchment area than ever before."

Liverpool ONE represents another chapter in the rebirth and regeneration of one of the country's most historic cities and the involvement of these award-winning architects only adds to the occasion. In a long and illustrious career Dixon Jones have won awards for their work on The Royal Opera House, The National Gallery and London's Somerset House as well as Mississauga City Hall in Canada.

"All architects love arcades," says Jeremy Dixon of Dixon Jones Architects of his company's involvement in Liverpool ONE. "It was therefore a particular pleasure and privilege as an architect to have the opportunity to create a new arcade in the Paradise Street area of Liverpool. The challenge has been to reflect the realities of contemporary retail practice in relation to a historic urban form.

Double-height bow windowed shop fronts are lit by a dramatic vault that gives a mysterious quality to the daylight. At one end a new square forms an entrance to the arcade. Two sides of this square are clad in dark polished reflective granite and all the metalwork is bronze, ensuring a sense of high quality and permanence throughout. The arcade becomes a vital connection within one of the principle shopping circuits generated around Paradise Street."

The urban block is a splendidly diverse mix of old and new, including the existing Abney, Palantine and Russell buildings, Compton House and Blucoats Chambers, as well as the new additions of the Bling Bling building, the BBC," comments Graham Haworth from architects Haworth Tompkins. "The Paradise Street facade develops a classically traditional urban composition, particularly prevalent in Liverpool, of base, middle and top. The base is defined by the two levels of retail accommodation, the middle is formed by a 'grand order' of three storeys of apartments and the top by an attic storey loggia, with recessed balconies behind for the upper level of apartments."

The topping out of 2 of Liverpool ONE's key buildings represents the near completion of the most ambitious urban regeneration scheme that Liverpool has ever seen. Only 1 more building is yet to be completed. After the Phase 1 launch, Liverpool ONE will open in its entirety with Phase 2 launch on 30 September 2008.
Click here to see one of our related new reports.
Virgin Trains' response to ORR announcement on West Coast plan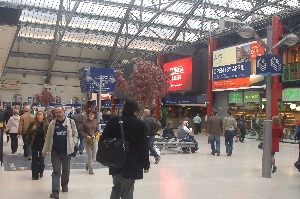 VIRGIN Trains on 2 May 2008 pledged to keep inconvenience to passengers to a minimum while one of the most intensive programmes of engineering work ever on a UK main line is completed by Network Rail.

This follows the Office of Rail Regulation's (ORR) announcement that paves the way for the introduction of a vastly improved timetable at the start of the New Year (2009), that includes over 30% more train services and faster journey times.

Tony Collins, Chief Executive of Virgin Trains said that:- "We are satisfied that, in reaching its decision, the ORR has taken into account all the issues surrounding this very complex and challenging infrastructure project.
We welcome the ORR's statement that it will closely monitor delivery of the project.

Obviously we respect the decision and we will do everything we possibly can to limit the inconvenience to customers during extensive works which will inevitably cause disruption.
The test must be to ensure that the project is delivered on time and can be maintained to a high standard so that the new timetable remains reliable."

In conjunction with Network Rail, freight companies and other train operators, the following initiatives are being developed, particularly when the route in the Rugby area is closed to trains:-

► Extra carriages on East Midlands Trains between Liverpool and Sheffield via Manchester to help passengers travelling from North West England to London

► Re-design of the Virgin Trains website to make it easier to find out when and where engineering work is taking place

► Agreement for passengers holding Virgin Trains tickets to be able to travel from Manchester via Leeds to London using the services of Trans Pennine Express and National Express East Coast.

The infrastructure work will enable the introduction of a transformed timetable from December 2008, which will add millions more seats a year to Virgin Trains' services.
This will include three trains an hour each way serving Birmingham and Manchester from London, up from the present two an hour, and faster and more frequent services to and from Scotland, North Wales and the North West.
Weekend services will also be improved, with far more services on Saturdays and Sundays from 2009.
Liverpool ONE and Brouhaha work together with local schools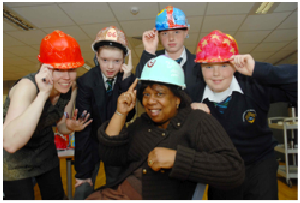 LIVERPOOL ONE and local arts and community partner Brouhaha are working with more than of 200 school children across Liverpool in celebration of the eagerly anticipated launch of Liverpool ONE on 29 May. The partnership will see a series of workshops at schools across the city. The school children will each be given a construction helmet representing the building of Liverpool ONE, and the children will be invited to decorate and personalise each hat with what the project and the city means to them. The decoration will also capture the themes of Liverpool's Capital of Culture years: the year of Faith; the year of the Sea; the year of performance; and the final theme of '2008 Capital of Culture – what does that mean to me?'. The final collection of 'designer' hats will be exhibited at the 29 May 2008 launch event on the Community Stage next to John Lewis. A selection of participating school children will be involved in a special celebratory performance on the day to mark the opening. The first workshop tool place yesterday at the St Francis of Assisi Academy in Kensington, Liverpool, and was a great success. The children had a great deal of fun painting their design's onto the hard hats and the results were fantastic!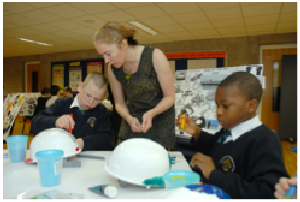 Says Joanne Jennings, Chief Executive at Liverpool ONE - "Liverpool ONE wanted to work with 5 local schools across the Merseyside Community for our May 29 launch event. The community is such a vital part of Liverpool and we wanted to involved them in every step of the way as Liverpool ONE approaches opening. It seemed fitting that we involved children who are the heart of every community. They all seemed to love designing their hard hats and some of the artwork was inspirational. We look forward to proudly displaying them in full public view at Liverpool ONE's phase 1 launch event! Thanks to St Francis of Assisi Academy for welcoming us and we look forward to working with the remaining four schools over the next 2 weeks!"

Lisa Harrison, Community Coordinator comments:- " St Francis of Assisi school is proud to be working with Liverpool ONE and Brouhaha on this community project. The children have had a great time designing their 'hard hats' for the Liverpool ONE launch event on May 29 and there have been some really great pieces of art! Their theme was Capital of Culture and each table of children was given a different display board for inspiration. They are so excited about taking part in such a big public event and will be able to see their hats displayed in Liverpool ONE on the big day. Liverpool ONE is really keen to work with the local community as they move forward and we were delighted to welcome them into our school. The group of children who took part in the workshop are from our 'nurture group' and they really got down to the task at hand! This creative workshop has also prepared the for their next big local event: 'The Newsham Park Arts Festival' on June 28 where they will need to use their art skills to the limit!"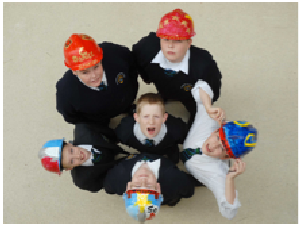 The other workshops will take place over the next couple of weeks and Liverpool ONE will be visiting Kensington High School, St. Anne's Primary School, St. Vincent De Paul and St Patrick's Primary School.
Small businesses to get free access to public sector contracts
UNTIL 31 July 2008, the www.supply2.gov.uk website will allow new registrants to gain free access to public sector contracts valued under £100,000 for the UK and Northern Ireland. The free trial is part of the Department for Business' Enterprise Strategy which was released in March, which outlined new measures to increase the amount of government business that is won by small firms.

Business Minister Shriti Vadera said:- "Small and medium sized businesses need our support to expand. Many smaller businesses are more innovative, have lower costs and present better value for taxpayers than larger firms. Introducing Britain's small firms to Government procurement contracts online will provide opportunities to grow that they would not have otherwise found. Encouraging more small businesses to register for opportunities will mean buyers benefit from increased competition and access to a wider range of suppliers."

John Wright, Federation of Small Businesses National Chairman said:- "The announcement of a free trial for small businesses to get access to public sector contracts is very welcome news. We supported the Supply2 initiative from the outset and we hope that this free trial period will encourage more small businesses to try their hand at delivering goods and services to the public sector. But local authorities and government departments must play their part too by making sure that more small business opportunities are advertised on Supply2. Opening up public sector procurement to the UK's 4.5 million small businesses can and should eradicate the false assumption that biggest is always best."

More than 3,000 new contracts are available on online each month. The 3 month free trial, available to businesses registering for the first time, will provide access to contracts throughout the UK rather than in a nominated local area. The Enterprise Strategy featured a range of measures to boost small firms competing for public procurement. An advisory committee, headed by Anne Glover, will look at ways to reduce barriers that small businesses face when competing for public sector contracts and the practicality of setting a goal for them to win 30% of public sector business within 5 years. The Strategy also included an announcement that the rules for government procurement will be changed to allow companies, particularly small firms, to use invoice financing to compete for public contracts.