NEW £2 MILLION COMMUNITY WOODLAND UNDERWAY IN ST HELENS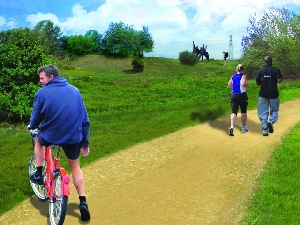 WORK has started on creating a new community woodland in St Helens, as part of one of the country's biggest green regeneration programmes. A team of experts from the Forestry Commission is working on a former landfill site in the south of St Helens to give the area a green makeover.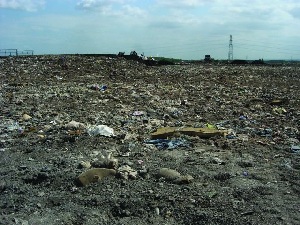 The new Brickfields Community Woodland will include multi-purpose leisure trails, wildflower meadows and wetland habitats. The whole site, which lies between Lea Green Road and Chester Lane, is equivalent to more than 40 football pitches.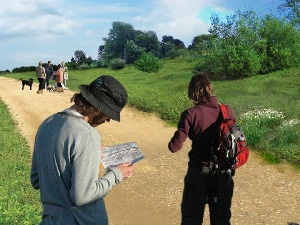 £2.1 million of funding is being provided for the Brickfields project via the Northwest Regional Development Agency (NWDA) and Forestry Commission partnership programme, 'Newlands'. A number of local partners, including Ibstock Brick Ltd, The Mersey Forest, St Helens Council and Groundwork are also involved in the project.
A major operation has just been completed to bring 11,000 tonnes of earth onto the site so that trees can be planted in areas where there was previously no covering of soil. Small hills and other features have also been created, giving the site a more natural look.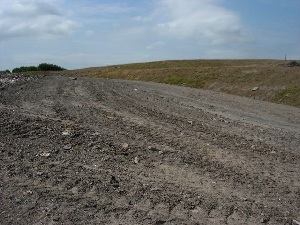 New saplings have been planted and additional landscaping work will also create hard wearing trails and other elements such as signage and gates will be installed.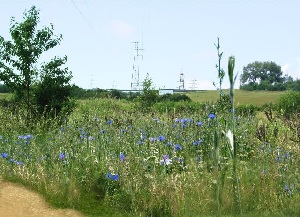 Various groups of local residents are busy helping to design 4 new gateway entrances for the site, with help from Oneninesixtwo Design. 20 different designs reflecting the history and community spirit of the site will be turned into a resin brick format and incorporated into clay brick kissing gates, sourced from the neighbouring Ibstock brickworks. A series of community design workshops has also been set up by The Mersey Forest.

Bob Baker of Ibstock Brick Ltd says:- "The brick theme is being used in the site name to remind everyone of the industrial heritage of the area, including the present brickworks next door. The original fields were worked for clays and are now being returned to a green use - amenity woodland for the recreation and benefit of the local community."

Later this month more mature trees will be planted on parts of the site, helping to ensure it is quickly transformed into an attractive area of woodland. A central avenue of English Oaks will be created, with some cherry trees and pine trees to provide variation as people travel from one part of the woodland to another. When the scheme is complete, it will provide a much improved area of green space for local people and visitors to enjoy.

Simon Brown, Works Supervisor for the Forestry Commission in the North West, says:- "It's a real pleasure watching the site changing on an almost daily basis. When we've finished I think local people are going to be really pleased with the results. There will be plenty of opportunities for everyone to enjoy the outdoors, whether it's walking the dog, cycling or running. The project also includes a 20-year management plan so people can be confident that this new woodland will be kept in good condition."

The regeneration of the site will also benefit the local economy by helping to improve the image of the area and visually enhancing the main rail route between Manchester and Liverpool. This will help to form part of The Mersey Forest in St.Helens, which has seen the town transformed over the past 10 years with the planting of over 2 million trees so far. St.Helens Council has completed a St.Helens Town in the Forest study that identified the importance of regenerating brownfield sites, such as Brickfields, in helping to secure environmental improvement, which will enhance the image of St.Helens and help to secure direct and indirect economic benefits for the area.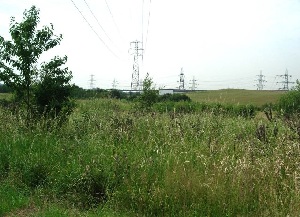 Additional work is being planned for 2009, completing the transformation of the entire Brickfields site. The plans are part of Newlands, a £59million NWDA-funded land regeneration scheme, which is rejuvenating around 900 hectares of the region's brownfield land to encourage economic growth, while creating new opportunities for leisure and recreation. Newlands, which stands for New Economic Environments Through Woodlands, is a partnership scheme involving the NWDA and the Forestry Commission.

Paul Lakin, Head of Development at the NWDA, said:- "Sustainable development is at the heart of all of the NWDA's activities and we are delighted to support the sensitive development of Brickfields. New community woodland will not only enhance the environment for local people and visitors, but it will also raise the area's profile as a place to invest."

Additional funding of over £300,000 from EU Objective One via The Mersey Forest Trust has been secured. The Brickfields project has also been funded by Biffaward, a multi-million pound environment fund managed by the Royal Society of Wildlife Trusts (RSWT), which utilises landfill tax credits donated by Biffa Waste Services.
Residents Muck In To Celebrate Compost Week
AS residents in Merseyside and Halton get their gardens prepared for spring, local recycling officers announced a series of compost activities and a special competition to promote the benefits of home composting.

To celebrate Compost Awareness Week 2008 held over 4 May to 10 May 2008, Merseyside Waste Disposal Authority (MWDA) and the five Merseyside District Councils have organised a series of events in order to help tackle the amount of reusable waste that is currently going to landfill.

Also, any resident of Merseyside and Halton who buys a compost bin between 4 and 10 May has the chance to win £50 of garden centre vouchers to spend on their garden.

Carl Beer, Director of MWDA, said:- "Merseyside is involved in a range of regular compost initiatives. Last year we joined the national Recycle Now Compost at Home scheme to offer cut-price compost bins to local residents and last autumn almost 2,000 people turned up to similar compost events across Merseyside."

Over 9,000 home compost bins have been purchased by local residents in the scheme which began last year.
Upcoming giveaways are as follows:-
Sefton
Date:- Saturday 10 May 2008
Time:- 1.00pm to 3.00pm
Location:- Coronation Park, Crosby.
There will be limited quantities of bagged compost available for residents.

St Helens
Date:- Saturday 10 May 2008
Time:- 10.00am
Location:- Clockface Colliery Open Space, Gorsey Lane, St. Helens
Spades will be provided to collect loose compost, but residents will need to bring their own bags.

Wirral
Date:- Saturday 10 May 2008
Time:- 9.00am to 1.00pm
Location: Wirral Farmers Market, New Ferry.
Wirral Council are hosting a compost awareness event and will be giving away kitchen caddies (limited stocks).

Home Composting is a simple and cheap way of dealing with up to a third of a typical family's waste bin, and it is a brilliant way to help the environment.

When organic garden and food waste is sent to landfill, it is crushed beneath large amounts of other household waste. This means there isn't any oxygen present when it breaks down, so it produces methane, a powerful greenhouse gas that contributes to global warming. By composting at home, waste such as fruit and vegetable peelings can break down in an oxygenated environment so no methane is produced. This also creates a rich fertilizer for the garden which completes the natural cycle and keeps waste out of landfill.

And it's not just fruit and vegetable peelings that you can compost – toilet roll tubes, coffee grounds, tea bags, and egg boxes will all add nutrients to the mix. Almost anything organic can be composted, from shredded confidential documents and scrunched up cereal boxes to grass cuttings. All this waste breaks down naturally to create a free product that can be used to keep plants and gardens looking green and beautiful – and it even helps the soil to retain moisture, which is particularly good news during the hot summer months.

Caring for the environment by home composting is such a simple and effective way of making a difference that celebrities such as Helen Mirren, Jenny Seagrove, Chris Evans and June Sarpong are all adding their active support and committing to compost at home.

This Compost Awareness Week, BBC presenter Philippa Forrester is backing the campaign to make sure that waste is recycled at home rather than ending up on landfill sites. She comments:- "With 3 young children, I've never been more aware of the impact we make on the environment and the responsibility of bringing future generations into a world that we can really be proud of. Composting at home is just one small step towards making sure that we minimise the amount of waste we create, but if everybody gets involved then it makes a huge difference."

Anyone living in Merseyside or Halton who places an order from the 4th – 10th May 2008 will be entered into the free prize draw to win £50 of garden centre vouchers, which have been donated by DHL, the logistics company that deliver the bins.

Check out the website www.recyclenow.com/compost or phone 0845 077 0757 for more details. To find out what is happening in your area for Compost Awareness Week, check the event locator on our website.
1ST WORLD KIDS COLOURING DAY IS LAUNCHED
MUMS and dads stuck for ideas to entertain the little ones on rainy days can now help bring some colour to the lives of their own children and those in war-torn countries.

Children in Liverpool and across Merseyside are invited to pick up their colouring pencils and take part in the first World Kids Colouring Day on Tuesday 6 May, which will help youngsters in Colombia have better access to schooling.

Supported by Staedtler and as part of Save the Children's Rewrite the Future project, World Kids Colouring Day is encouraging children either in school or at home to get colouring and be sponsored to create a beautiful mural. The money raised for Save the Children will help the 713,000 Colombian children who don't go to school because their country has been torn apart by war.

Parents can download the specially designed colouring book – full of interesting facts about life in Colombia – and sponsorship forms free from www.world-kids-colouring-day.co.uk Children then simply ask family and friends for sponsorship to colour in pages from the colouring book, which each depict a different Colombian scene. Put all the pictures together, and they'll form a beautiful mural – perfect to brighten up the bedroom wall or playroom!

Resource packs including stickers, a colouring book, a poster and sponsorship forms have also been sent to all primary schools in the UK, so that pupils can learn about the lives of children in a very different part of the world.

Graham Harrison, Education Manager from Staedtler UK, which is supporting the project said:- 'Colouring plays an important role in the development of children, helps stimulate their imagination and encourages creativity, but many Colombian children don't have the chance to experience this. The money raised from World Kids Colouring Day will help give them the education they deserve as well as encouraging children in the UK to learn about another country while having fun at the same time.'

Rosie Shannon, head of Public Relations from Save the Children said:- 'As part of Rewrite the Future, a global project aimed at providing education for the world's most vulnerable children, World Kids Colouring Day will raise much needed money to help give Colombian children a better start in life. It's a great opportunity to raise awareness of the plight of the 40 million children around the world who don't go to school because the countries in which they live have been affected by war and conflict.'

Children can also win a host of prizes for their school. Prizes will be awarded for the most colourful murals so once it is finished, take a photo of the completed mural and send it to Staedtler. Three schools will be awarded a first prize of an art lesson with a professional illustrator and a selection of stationery, and five schools will each win runners up prizes of £250 worth of Staedtler stationery and art equipment.

For more information and to get involved at home download the colouring book and sponsorship form by visiting www.world-kids-colouring-day.co.uk