Have you Gok the look?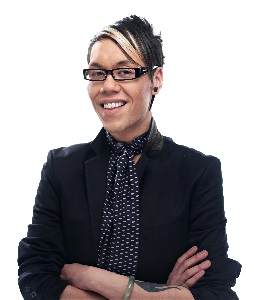 THE hunt for the 2008 Specsavers Spectacle Wearer of the Year is coming to Soutport. Specsavers resident fashion expert, style guru Gok Wan, launched this year's search, which is open to men and women aged 16 and over who wear glasses, whether as an optical necessity or fashion accessory.

Gok, famed for giving women the confidence to make the most of their natural assets, is supporting Specsavers' competition in aid of anti-bullying charity, Kidscape. Gok says: 'Specsavers Spectacle Wearer of the Year competition celebrates how fantastic people can look and feel when wearing glasses. Specsavers will also be donating £1 for every eligible entry received to anti-bullying charity Kidscape.
I was bullied as a child because of my appearance so that is why I am so pleased to be supporting this competition.
Let's celebrate glasses and their fashion credentials while doing something tangible to tackle the bullying problem that is rife in the UK.'

Local specs wearers could be following in the footsteps of Rupert Hancock, last year's youngest finalist from The Wirral, who represented the North West region at the international grand final in London.

Rupert says:- 'Last year's competition was a really exciting experience. I was able to meet some fantastic new people, including celebrities and other finalists, and got a real insight into what it's like to be a model for the day.
The standard last year was very high and it was a big surprise to get as far as I did in the competition, but I'm so pleased I entered as I would have missed out on lots of fun otherwise.
It's really easy to enter and I'd definitely encourage other specs wearers to take advantage of such a great opportunity.'

Stuart Roberts, store director at Specsavers in Southport and Formby, says:- 'This year's competition is more poignant than ever. It remains a modelling competition with a fashion focus, for ordinary people who look and feel great in their specs, but more than that, this year we're reaching out to those who have been bullied, or have friends and families who have had a negative experience about wearing glasses and to try to raise much needed awareness and funds to help Kidscape continue the great work they do.
So, if you think you've got an eye-catching look or want to nominate someone who has, simply pop into the store to pick up an entry leaflet or log onto www.swoty.com. You could be on your way to launching a whole new career.'

Kidscape is the 1st national charity dedicated to preventing bullying and child abuse and is committed to keeping children safe from harm. In the last year alone, more than two million children and parents contacted Kidscape about bullying and child safety, many of those children have been suicidal.

The winner of the competition will scoop a 12-month modelling contract with MOT models, a photoshoot for Specsavers, an all-inclusive holiday for 2 to Barbados courtesy of Almond Resorts and Virgin Holidays, including £250 spending money, £250 worth of hair and beauty products from Matrix and Benefit, £150 Specsavers designer eyecare voucher and the coveted Spectacle Wearer of the Year trophy.
Closing date for entries is 30 June 2008.
NEW RESEARCH SHOWS COMMUNITIES ARE ERODING BEFORE PEOPLE'S VERY EYES
LOCAL communities in the North West are in steady decline with new research showing 23% of older people think their community has changed for the worse in the last 10 years. 30% of North West pensioners also said they are prevented from going out because there is nothing available in their local area. Leading older people's charity Help the Aged is launching its 'Towards Common Ground' campaign, challenging central and local governments to create 'lifetime neighbourhoods', which cater for the needs of people of all ages, including older people.

Help the Aged believes there are 10 minimum requirements which must be met to ensure older people can live healthy, active lives, contributing to and taking part in their own community. As part of its campaign, the Charity is launching Towards Common Ground: a manifesto for lifetime neighbourhoods, outlining 10 minimum demands for communities.

The Help the Aged research also shows that:-
► 37% of older people in the North West don't feel safe walking around their local area at night;
► 40% of North West older people are not within walking distance of a bank and well over a 3rd are not within walking distance of health and social services.

Paul Cann, Director of Policy at Help the Aged, says:- "Regardless of age, people want to live in an area where they can get everything they need, where they feel safe and where they can do things they enjoy. That's why 'lifetime neighbourhoods' are so important, not just for older people but for people of all ages. In an ageing society where more than a million older people are often or always lonely, it's essential that communities are set up to reduce isolation in whatever way they can. Simple things such as public toilets, park benches and transport links can make a huge difference to whether or not older people feel confident enough to leave their homes. If local authorities ensure these and the other 10 criteria are met, communities will be more age friendly both now and in the future."

The Help the Aged manifesto outlines clear recommendations for central and local governments to ensure 'lifetime neighbourhoods' can become a reality across the UK. The top 10 requirements identified by the Charity are:-

► Lifetime homes – new homes built and existing homes adapted to lifetime standards;
► Transport options – to meet the needs of all older people including those with mobility problems;
► Pavements in good repair – older people can fear falling or tripping on uneven pavements;
► Public toilets – vital for older people suffering from incontinence, without them people are often forced to be housebound;
► Public seating – places to rest mean older people can stay out for longer and enjoy public spaces;
► Safe streets – good lighting, clean streets and a police presence can encourage more older people to get out and about;
► Shops and services – access to money, healthcare and shops can prevent older people becoming isolated;
► Places to meet and socialise – important to people of all ages, including older people;
► Information and advice – on everything from social care to volunteering opportunities;
► Older people's voices heard – including older people in local decisions affecting them is vital.

People wanting to support the 'Toward Common Ground' campaign and help make their communities 'lifetime neighbourhoods' can visit www.helptheaged.org.uk/campaigns.

For a copy of Towards Common Ground: a manifesto for lifetime neighbourhoods, please click here.