Ken tickled pink over statue honour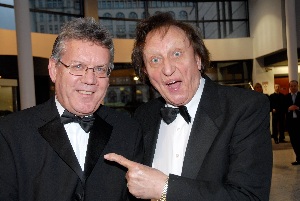 A bronze statue of Liverpool legend Ken Dodd is to take pride of place inside Liverpool's Lime Street Station, thanks to Merseytravel.

Ken received the shock news from Merseytravel Chief Executive Neil Scales at this year's Scouseology Awards, during his speech to guests at the black tie dinner. The announcement at the awards dinner came as a complete surprise to the comedian and the news was received with a standing ovation.

The statue is currently being designed by renowned Liverpool-based artist Tom Murphy and will show the veteran comic greeting the late Labour MP Bessie Braddock.

Neil Scales said:- "Doddy and Battling Bessie will certainly provide a unique welcoming committee! Lime Street is one of our most important gateways and, in terms of public art on our network; this will be one of the jewels in our crown. In Ken's case, this is our personal tribute to a man who continues to bring laughter to millions of people. This commission is part of our commitment to European Capital of Culture and will help us leave a lasting legacy of a special year."

Repeated calls have been made to honour 80-year-old Doddy over the years – and a campaign has been launched for him to receive a Knighthood. He was voted the all-time favourite Scouser by readers of the Liverpool Echo and listeners to BBC Radio Merseyside. He made his professional debut at the Nottingham Empire 54 years ago and is still performing his marathon act throughout the country.

Bessie Braddock, who died in 1970, was MP for Liverpool Exchange for 25 years and was known as an ardent socialist and fiery campaigner, particularly in the fields of maternity, child welfare and youth crime. She was the target of many unkind jibes including Winston Churchill's reply to her accusation "You are drunk, Mr Churchill", to which he responded "Yes, Mrs Braddock, but you are ugly and I shall be sober in the morning".

Work on the project is in its very early stages and it will be some months before the finished statue is ready to be unveiled. Merseytravel has commissioned Tom Murphy to do the work as part of its Public Art Strategy and the investment will be made through the organisations' Capital Investment programme.

Driven by Neil Scales, the strategy is aiming to animate areas across the public transport network.

Tom Murphy is a highly respected sculptor whose works include the statue of John Lennon at the Liverpool John Lennon Airport.

Merseytravel is embarking on a series of public art projects, which has already included a new mural on the Grand National by celebrated artist Janet Shearer; a Topiary of the Beatles and "Busk Idol", a competition at the Cavern Club for buskers to win their own 'Busk Stops' at key rail and bus stations on the transport network.

Mr Scales added:- "Public art key element to our business, the strategy is set and we are delivering some exciting projects."
Cancer services "providing high quality patient centred care"
ONCE again cancer services at Southport & Ormskirk Hospital NHS Trust have received a boost following the latest peer review published recently. Colorectal services were described as having a "strong surgical team with good leadership committed to providing high quality patient centred care".

The review went on to say:- "The nursing team is well informed and takes an active role in both diagnostic activity and patient support. There are exceptionally good links with palliative care that ensures a seamless service for patients and carers in a timely manner. True multi-professional working was evident with members valuing individual contributions to both patient issues and service development".

The reviewers went on to highlight further areas of good practice including patients being actively involved in service improvement, helping to shape future developments that enhance the quality of care/treatment. There is a seamless, speedy service in endoscopy with patients receiving diagnosis before being discharged or if not possible, the nurses visit patients at home to tell them. Research is active with good entry into clinical trials and the Team is often invited to speak at conferences.

At the same time reviewers looked at the services provided for Head & Neck cancers and commented:- "This is a cohesive team whose members are committed to developing services across the locality through effective commissioning, planning and provision of cancer services. Excellent team work was demonstrated between Clinical Nurse Specialists and the community team and also the Maxillo-facial and ENT (Ear, Nose and Throat) Teams.

Patient and carer involvement is evident with active input at local level to develop improved services. There is good quality patient information and reviewers noted the plan to create a patient information pathway across the Network."

Chris Sheridan, Cancer Services Manager said of the reviews:- "Although we have a good idea of how we are doing, it is essential we get outsiders' views and these peer reviews do just that. The results from these latest reviews are very pleasing and testimony to the hard work of all the staff who work within the cancer services."
SUBSIDENCE WARNING FOR THE PEOPLE PLANNING TO PLANT TREES THIS YEAR
ALMOST 9.7 million people intend to plant at least 1 tree in their garden this year according to new research by Sainsbury's Home Insurance, but it warns that longer-term, these good intentions could lead to an increase in claims for subsidence. The Bank is urging the "green-fingered" among us to not only pick the most appropriate trees for the size of garden but to also ensure that any trees planted are an adequate distance away from our homes. For example, a maple tree should be planted at least 9 to 12 metres from your property.

Around 12% of the money paid out for subsidence by Sainsbury's Home Insurance is for claims caused by trees or other vegetation, and according to the Bank's analysis of industry data, UK insurers have paid out on average a staggering £710,000 a day for subsidence claims over the last 5 years, or nearly £5 million per week.

Neil Laird, Sainsbury's Home Insurance Manager said:- "Planting trees is not only a commendable act in today's environmental climate; a well thought out garden can also add significant value to your property. However, people intending to plant a tree in their garden this year should be very careful about which type of tree they plant and how far away from the property they plant it. For example, our research shows that over 1.1 million people intend to plant a willow tree, which is a cause for concern given that this type of tree shouldn't really be planted any closer than 18 metres away from your property to avoid risk of subsidence damage.

It's great news that so many of us are good-intentioned when it comes to planting trees, but it's important that we don't put our properties at unnecessary risk of subsidence. Our advice is to do your homework before putting spade to soil, seek some advice from your local garden centre."

Sainsbury's Home Insurance advises that there are a number of things people can do to reduce the risk of subsidence, such as:

► Be careful which type of trees you plant in your garden and how far away you plant them from your property. Be particularly aware of popular 'screens' such as Leylandii trees, which form very good garden dividers, yet grow very rapidly and are often planted too close to the property, posing a high subsidence risk.

► If you have a smaller garden, consider planting Holly, Laurel or Magnolia trees which are all low water-demand trees and could be planted to within 5m of the property.

► Check the survey for information on previous mining activity when you buy a property
► Perform a survey on the drainage of your property
► Perform regular checks for blocked or leaking drains, blocked gutters, and cracked pipes
► Ensure that trees and shrubs are pruned regularly
► If you suspect your property is suffering from subsidence, contact your insurer as soon as possible, as the sooner the problem is diagnosed, the sooner and easier it will be to repair

► If your garden is too small to accommodate a tree, why not become a member of the Woodland Trust – on average, members paying £2.75 per month can help them protect and care for half an acre of native woodland - www.woodland-trust.org.uk.

By far the most popular tree to be planted this year is the apple or pear tree, with 11% of British adults intending to plant at least 1. This is followed by the cherry tree (7%) and the plum tree (4%).

Top 5 trees to be planted this year
| | | | |
| --- | --- | --- | --- |
| Type of tree | % of all GB adults planning on planting this tree this year | % of all GB tree planters intending on planting this type of tree this year | Total number of people intending on planting this tree this year |
| Apple/Pear | 11 | 44 | 4,295,000 |
| Cherry | 7 | 27 | 2,611,000 |
| Plum | 4 | 15 | 1,435,000 |
| Holly | 3 | 13 | 1,285,000 |
| Willow | 3 | 12 | 1,173,000 |
On a location basis, those in the Midlands are the biggest tree planters, with 31% of adults intending to plant a tree in their garden this year, with those in the South East / East Anglia closely following with 29%.

Adults intending to plant trees in their garden by location
| | |
| --- | --- |
| Location | % of adults 16-64 who intend to plant trees in their garden this year |
| Midlands | 31 |
| South East / East Anglia | 29 |
| North East / Yorkshire & Humberside | 26 |
| Wales & the West | 24 |
| Greater London | 23 |
| North West | 21 |
| Scotland | 18 |
The high percentage of people planning to plant trees in the South East will need to take particular care as properties in this region are among those most at risk due to the higher prevalence of clay-based soils which shrink as they dry out. Subsidence occurs when the ground beneath a property moves, causing the foundations and walls of a house to move and crack. Other causes of subsidence include abnormal flows of water through the ground from such things as leaking drains, or landslip on steep sloping sites. As global warming increases, the problem is expected to worsen.