Breastfeeding reduces the risk of cot death
THE Foundation for the Study of Infant Deaths (FSID) announces its latest advice that breastfeeding your baby can reduce the risk of cot death. The advice, released to launch FSID's cot death awareness drive Save a Baby Month which is now running until 31 May 2008, is based on research which showed that babies who were at least partly breastfed were 1/3rd less likely to die as a cot death than babies who were never breastfed.

FSID Director, Joyce Epstein, says:- "There are so many reasons why breast is best, but there are none that can be stronger than potentially saving your child's life. We encourage every new mum to breastfeed."

Angela Griffin, FSID's celebrity patron, breastfed both of her daughters and says:- "Realising you're the only person in the world who can give your child exactly what they need is such a great feeling."

Sally Inch, infant feeding specialist at Oxford Radcliffe NHS Trust, says:- "The more we discover about breastfeeding, the more important it becomes. Not only does breastfeeding provide the baby with all the nutrients needed, in a form that cannot be replicated artificially, but a baby who is breastfed is at reduced risk of infections (particularly gut, ear, chest and urine infections) and less likely to be hospitalised as a result."

Any breastfeeding, even a few days, is better than none, but most authorities including the Department of Health now recommend that babies be exclusively breastfed for at least six months and that breastfeeding is continued, with the addition of appropriate weaning foods, for as long as the mother and baby want.

If you need breastfeeding advice or support, please contact your midwife, health visitor, local baby café or peer supporter, or ring the National Breastfeeding Helpline on 0844 20 909 20.
Aldo Zilli opens 'Home'
A new 35,000 sq ft of furnishing showroom and store opened on Saturday, 3 May 2008 in Birkenhead. The store called 'Home' is a new concept in shopping offering a fantastic choice of stylish and affordable products which are available to take away there and then. Joining Managing Director Wayne Prince for the opening was the Mayor and Mayoress of Wirral, celebrity chef Aldo Zilli and hoards of bank holiday weekend shoppers.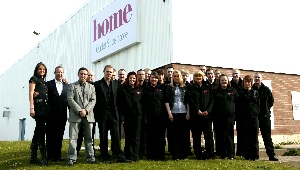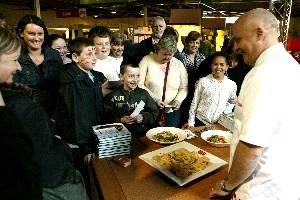 Chairman calls for more integrated transport
Report with thanks to Matthew King, Southport and Ormskirk Hospital NHS Trust
THE Chairman of Southport & Ormskirk Hospital NHS Trust, Sir Ron Watson has called for a much more integrated approach to parking and transport issues from the various interested parties.

Sir Ron said:- "The Trust Board will be considering in the summer a review of the car parking charges at the hospitals after having taken professional advice with a view to introducing a new scheme at the start of 2009.

I have personally felt for sometime that the current system is something of a 'blunt instrument', and I am anxious to ensure that any new system - while not obviating the need to raise the revenue for much needed hospital services - should be more sensitive to the amounts of time that people can be expected to be at the hospital for either outpatient appointments or as visitors.

I think such a scheme will be feasible, but it is only part of a general process where actions by other agencies could help in an overall sense."

Sir Ron cited a number of specific examples...

The park and ride at Kew - a system whereby the bus was routed via the hospital would mean that people could park at the park and ride producing much needed revenue for the Local Authority while also enabling the hospital staff in particular to park within a reasonable distance of the hospital at a modest cost.

Residents permits; residents in the area of Southport & Formby District General Hospital quite rightly feel aggrieved that a certain amount of their peace and quiet is disturbed by people parking outside their homes and visiting the hospital and a residents' permit scheme would help resolve this issue.

Double yellow lines; there is still an issue as to whether or not these are sited in the right areas and a review based on experience over the past 12 months in particular would help identify ways in which these parking restrictions could be made more appropriate for the area.

Signage to the hospitals; this could be improved in both Southport and Ormskirk as it is not always clear that the A&E at Southport is only for adults and the A&E at Ormskirk is only for children.

Bus services to Southport & Formby District General Hospital; there are still considerable gaps in service and, for example, there are no bus services from the 'Birkdale Village' area to the hospital and passengers have to go into the town centre and then out again, making it quite a long and often tedious journey, particularly for the elderly, in which there are a high proportion in many parts of the Birkdale area.

Sir Ron concluded:- "I hope that we will be able to arrange a 'round table' meeting in due course that will link in with the hospitals timeframe for their own car parking issues and if all parties work constructively together there is no doubt in my mind that considerable progress in this very important area for the public can be made."