LIVERPOOL ARENA TAKES CENTRE STAGE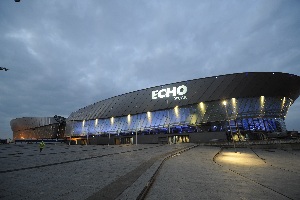 AS European Capital of Culture, Liverpool is taking centre stage throughout 2008 with 12 months of exhibitions, performance and art. Many of those class acts will centre around the magnificent Arena and Convention Centre Liverpool, which has just been named Location of the Month by regional screen agency, Northwest Vision and Media.

"The Arena sits on Liverpool's famous King's Waterfront. It's a 10,600-seat, state-of-the-art campus, and it really is stunning. Without a doubt, this iconic building deserves the accolade of being named our filming Location of the Month."

It was ACC Liverpool which staged the spectacular Capital of Culture opening ceremony, with former Beatle, Ringo Starr, setting the scene for the UK's newest music and entertainment venue.

A sell-out performance saw 700 performers wow an audience of local people, cultural luminaries and VIPs, including UK Culture Secretary James Purnell. Now, Northwest Vision and Media is hoping even more people will enjoy the delights of ACC Liverpool, by encouraging more film and TV production to be based in and around the Arena.

"The building was designed by the multi-award-winning Wilkinson Eyre, and there are some wonderful spaces and settings which I'm sure filmmakers will love," explains Kevin Bell, Locations Co-ordinator for the Liverpool Film Office, which works on behalf of the region's film, TV and digital content industry.

Work began on the £164m project in October 2005, using 8,800 cubic metres of concrete and 5,300 tonnes of structural steel. It's estimated the building will inject a phenomenal £100m into the Merseyside economy in its opening year. But its continuing contribution to the city's cultural scene, is priceless.

The building also has amazing green credentials. Its design, together with its insulation and air control system, is inherently efficient and requires significantly less energy than a traditional building. It is powered by either wind or hydro-electric power, recycling is part of its everyday operation and lighting is controlled by motion detection, so when a room is empty, the lights go out. Even the loos are flushed using rainwater collected from the roof.

"As a ecologically-sound building, the ACC Liverpool sets the standard for others to follow.
But the Arena has so much more to offer.

I know we will be seeing a lot of filming inquiries in the future from production companies eager to explore this wonderful setting, and I look forward to the wider world seeing on screen this amazing, iconic Liverpool landmark." says Kevin.
ARENA TAKES CENTRE STAGE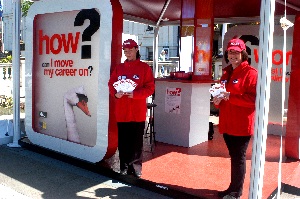 PEOPLE on Merseyside had the chance to find out how to boost their career opportunities last week, thanks to a mobile stand that toured around Merseyside.
The information Pod, was run and staffed by the Learning and Skills Council of Greater Merseyside (LSCGM).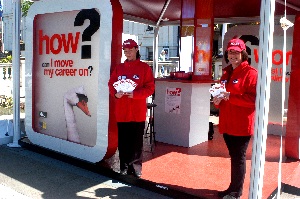 The roadshow was aimed at passing on information to Merseyside's employed residents, who have not got any qualifications as to how they can get training. This was part of a new campaign aimed at heightening the benefits of training and encouraging Merseyside to engage in learning.
If you would like to know more about learning opportunities, visit the Skills Workshop website, by logging onto skillworks.info.
Mersey Reporter webcam...


"WHAT is going on at the bottom of your road? We have seen lots of cars driving down your road the wrong way and their looks like building work going on?" David from the USA. Editors reply:- "Yep, thanks David. Lord Street is being updated and restoration work is being done on the road, so traffic has been diverted up our road. We are bring a fill report on the restoration of Lord Street next week."