Once again Trust is a Top 40 Hospital
For the seventh year running, Southport and Ormskirk Hospital NHS Trust has been named among the top performers in the country's 40 Top Hospitals programme assessed by the country's leading hospital benchmarking company, CHKS.

Figures released this week by independent benchmarking expert CHKS reveal that patients treated at a 40 Top Hospital are safer and less likely to pick up hospital acquired infections such as MRSA.

CHKS Group, the UK's leading independent provider of healthcare intelligence and quality improvement services, used detailed analysis of publicly-available data to assess UK hospitals.
Based on this data they made awards to 40 Top hospital trusts based on the evaluation of 20 key performance indicators covering clinical effectiveness, health outcomes, efficiency, patient experience and quality of care.

Commenting on the Trust's achievement, Chief Executive Jonathan Parry said, "For the last seven years we have entered this programme and each year we have been named in the 40 Top Hospitals and this is a fantastic achievement.
We would not have received this award if it weren't for the hard work of all our staff.
It shows that their skill, dedication and commitment has improved the quality of care we provide to our patients and the health community.
This award is particularly satisfying as it is an opportunity to be judged against other Trusts across the country."

The independent CHKS review covers the whole of the United Kingdom and looks at the performance of one hundred and twenty hospitals.
The Study is not a league table and all the hospital trusts entered into the programme because they wanted their performance to be measured against recognised clinical healthcare standards.

1. Risk Adjusted Mortality
2. Risk adjusted length of stay
3. Rate of emergency readmission to hospital - 28 days
4. Rate of emergency readmission to hospital following treatment for a fractured hip
5. Day Case rate for target procedures (case mix adjusted)
6. Day Case conversion rate (case mix adjusted)
7. Overall Data Quality
8. Rate of emergency readmission to hospital following AMI within 28 days
9. Rate of emergency readmission to hospital within 14 days - COPD
10. Percentage of elective inpatients admitted on day of procedure
11. Pre-op length of stay for fractured neck of femur
12. Pre-op LOS for elective surgery
13. Percentage of elective In-patient admission with no procedure
14. HRG Reference costs with market forces factor adjustment
15. Missed out-patient appointments (1st attendance)
16. Reported MRSA bacteraemia rate
17. Reported C-difficile rate for patients aged 65 or over
18. Procedures not carried out - hospital decision
19. Patient Survey
20. Waiting times for common diagnostic procedure (procedure adjusted)

Each of the 40 Top Hospitals is an achiever of high quality care.
The participating hospitals are representative of hospital care across the UK and importantly they were invited to enter the programme.

* CHKS is CASP (Clinical Accountability Services Planning and Evaluation) Healthcare Knowledge Services.
'Subs' away at JLA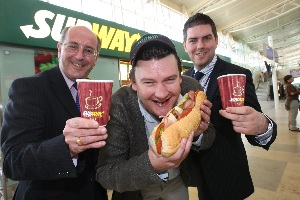 ON 8 May 2008, Liverpool John Lennon Airport officially welcomed another brand name to the terminal.

The SUBWAY® chain is the latest food store to open its doors at JLA and is renowned for its freshly prepared baguettes known as 'Subs' which are made to order in front of the customer.

Airport and Subway Management celebrated the official opening along with passengers and employees. The new addition to JLA's retail portfolio follows hot on the heels of GO Pizza, Bo Shoes and Antler which arrived just in time for the beginning of the European Capital of Culture celebrations.

Andrew Nicholls, Property Manager at JLA, commented:- "We are delighted that SUBWAY® has joined the growing list of retailers represented at JLA. The unit is situated landside, on Level 1, before security control and is already proving to be extremely popular as many passengers, visitors and employees sample the freshly prepared sandwiches."

The store at JLA is the 31st store for multi-unit franchisee Stephen Richards. Stephen is also the Development Agent for the region and is responsible for the success of the SUBWAY® chain in Cheshire, Lancashire, Cumbria, Merseyside and the Isle of Man. This latest SUBWAY® store brings the total number of outlets in the North to 155.

Stephen, added:- "I am thrilled to have opened this latest SUBWAY® store at JLA. Fresh, great tasting food is the perfect way for excited travellers to get their holidays off to a flying start.

As the world's largest sandwich franchise, the brand is also recognisable and trusted by many international visitors using the Airport.

The strap line "above us only sky", taken from the lyrics "Imagine", fits perfectly for the SUBWAY® chain concerning this development! The team look forward to serving travellers their favourite Subs, made just the way they like them."
MANCHESTER AIRPORT GEARS UP FOR UEFA
MANCHESTER Airport is putting the finishing touches to its plans to handle with tens of thousands of fans flying in and out of the region for the UEFA finals.

Months of careful planning will come into action on 14 May 2008 when Zenit face Rangers at the City of Manchester stadium in the UEFA Cup Final.

Up to ten thousand fans are expected to fly into the city for the event in the days before the match with many more Rangers fans arriving by road. As part of a joint operation between Manchester Airport, Greater Manchester Police and UEFA, Zenit St Petersburg fans will arrive and depart from T1 and Rangers fans will arrive and depart through T3. Manchester Airport is bringing in additional security staff and Russian speakers to assist the fans as they fly in and out.

Then just one week later, on May 21st, around 25,000 Manchester United fans are expected to fly out to Moscow to see their team take on Chelsea in the UEFA Champions League Final. The Manchester Airport football planning team of more than 20 people is working with airlines to put on hundreds of additional flights to meet demand. The airport is expecting an additional £1 million in revenue as a direct result of the Champions League final.

Manchester Airport Managing Director Andrew Cornish said:- "The whole airport is gearing up for a very busy 10 day period with the hundreds of football flights and we're looking forward to the challenge.

It's obviously great news for Manchester United that they've reached the final but it's also excellent news for Manchester Airport and for the region as a whole.

We are expecting to be very busy as the fans fly in and out and we will, of course, bring in extra staff to help speed the fans through as efficiently as possible. We will be working closely with the airlines over the next days and weeks to meet the demand for flights and are committed to making the fans' journey as simple and enjoyable as possible."