Northern Soul at Dragons health club
THE Southport soul club have decided to return to this venue over two years on as it was one of the busiest northern soul nights the resort has seen in a long time, over 100 hardened and new soulies attended the Dragons Soul night a few years back and it is still talked about to this day, so due to popular demand we have booked a reunion event which we hope will be even better than the last event.

Dragons health club offers one of the biggest dance floors available in town and is easy to find. The will night offer the cream of the crop in professional and up and coming northern soul DJs playing the best in northern soul and classic motown as well as some more modern sounds that have crossed over from the mod scene the charts as well as some new discovery's from the all nighter circuit. The DJs on the night are Mike Francis from Liverpool and rhyl soul nights, Kate Simpson from the Southport soul club and the very popular new west Lancs soul club, tony Blundell who is a up and coming DJs and record dealer from the resort, Gary Farrington who also hails from sunny Southport and young Danny who runs a all dyer in croston and regular guest at our Southport soul nights.

Everyone is welcome to this no nonsense no politics soul night, and we are hoping to re unite a few old soulies back on to the scene, and establish a few new soulies to, please do not expect a tribute to the wigan casino as the scene has moved on since 1981 when the casino burnt down. even though we will most deffinalty be playing some classics from the casino era.

Please watch this space for more northern soul nights to come in Southport and west Lancs run by the one and only Southport soul club and west Lancs soul club. Tickets £4 or you can pay £5 on the door, on the night.
The Southport Veterans Day 2008
THE IMPS MOTORCYCLE DISPLAY TEAM are coming to town for The Southport Veterans Day 2008... The children's cyclists stared in last years Edinburgh Tattoo and brought the house down. Now the Veterans Fund, organisers of this years event hope they will draw in the crowds and put on a thrilling display. The event takes place on Princes park on Sunday the 29th June and organisers hope it will become an annual event which is run in conjunction with the Veterans Agency to help bring awareness to Veterans and what is available to them. The Veterans Day consists of BBMF Dakota Flypast, The Imps Motor Bike Display Team, RAF Recruitment team, RAFA Area tent, Southport ATC Display, The Royal Military Police, St Dunstan's, Duke of Lancaster's Rope Slide, North West Air Ambulance, Army Vintage Vehicle Association, 4 Para recruitment and display, Southport Lifeboat, Red Cross Support Vehicle, Southport Sea Cadets, 156 Transport Reg. Anthony Nollen Trust, Liverpool City Sea and Royal Marine Recruitment, British Transport Police Dog demonstration team, 108 Field Hospital recruitment, Southport Fire Brigade, Southport Army Cadet Display, Rotary Club, Formby British Legion Tent, RBL Riders Branch, Crosby Fire Engine Museum, SAMA display and re-enactment team, Southport FC, ABF Paintball, The Royal Signals Association, Age Concern, RNA Area Tent, Hesketh Round Table, Irish Guards Association, RNLI, Mounted Police Display, Phoenix Charity Ponies, Irish Guards recruitment, Salvation Army, Support Our Soldiers, Children's Attractions, Chorley ATC Band, Wigan Scout Band, Kings Division Band and the Lancastrian Band of Corps and Drums.

There will also be a Veterans badge presentation by Brigadier Griffiths and the Mayor.
Any Veteran who has not yet received a badge can contact the organiser, Steve Hawkshaw on 0791 491 8381.
Useful links:- Impson Line and Southport Veterans Day
Giant crane gets to work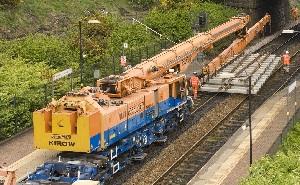 A giant crane lays new tracks in the world's first railway cutting. The 13 metre Kirow crane, one of only five in the UK with a huge lifting capacity of up to 1200 metric tonnes, laid the new tracks over the Bank Holiday weekend. Possession of the track was given so contractors could carry out track works on the £7.6million Olive Mount Chord project, a key multi-million pound freight link between the Port of Liverpool and the West Coast Main Line. Led by Merseytravel and supported by a number of partners, the Olive Mount Chord scheme involves reopening a disused stretch of railway line, linking the Bootle line with the line to London and Manchester. The line, about a quarter of a mile long, has been closed for 20 years.
Councillor Mark Dowd, Chair of Merseytravel, is a Councillor for the area of Bootle and a former train driver himself. He said:- "This is a key phase of the works. The sheer size and scale of this crane has enabled us to progress these track works quickly. This project is vital to Merseyside in economic terms; and is important nationally and regionally, but also locally. It will bring direct benefits to people living in Bootle and the dock route. We need to find ways to cut down the number of heavy vehicles passing through the town from the motorway junction at Switch Island and this scheme could help us achieve that."
Neil Scales, Chief Executive and Director General of Merseytravel, said:- "This rail freight link is a key priority for us and all the partners involved in the project. Improving rail access to the Port of Liverpool will bring tremendous economic and environmental benefits to both Liverpool docks and Merseyside. It will create a fast route into the Port, allowing it to expand and create more employment and it will ease both congestion and pollution through the ability to transfer increased amounts of container cargo from road to rail."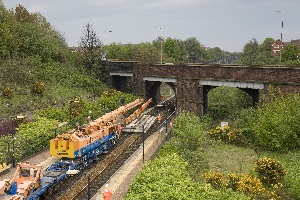 Merseytravel is contributing £5.6million to the project, which is also being supported by Network Rail, the Northwest Regional Development Agency, district councils and the European Regional Development Fund. The contribution, one of Merseytravel's largest during 2008, is key to the project, which will help move freight in and out of the docks more quickly and ease road congestion. It will also remove the need for freight trains to reverse at Edge Hill, slashing rail times by cutting the need to cross lines into and out of Lime Street at edge Hill. It is hoped work could be completed by the end of this year.