CHILDLINE APPEALS FOR MORE MERSEYSIDE VOLUNTEERS
CHILDLINE in Liverpool is appealing for more volunteers to support its newly opened counselling service in the region. The children's helpline – which is a service provided by the NSPCC – launched a new counselling base in March this year which was officially opened by the ChildLine founder, Esther Rantzen.

The Liverpool service has already recruited a team of dedicated volunteers, who currently cover a number of shifts from Monday to Sunday. However the base is keen to expand its capacity and answer more calls from children who need someone to turn to. Volunteer information meetings will be held this month to give people who are interested in volunteering the chance to find out more about ChildLine and the different opportunities that are available to support the service. These include administration support, outreach work in schools, switchboard operation and counselling.

Chris Dunn is the volunteer co-ordinator for ChildLine North West. He said:- "We've already begun to establish a great team of volunteers in Liverpool and we're now at the stage where we want to welcome more people to support children and young people.
There are a number of different volunteering roles that people with different interests and skills can help with.
You don't need any previous experience because we provide comprehensive training for all our volunteers and offer ongoing support and development opportunities.
Our volunteers tell us they get a great deal from their work with ChildLine and I would encourage anyone who is thinking about it to come along to one of our information meetings and find out more."

The appeal for volunteers comes at a time when the charity is asking schools across Merseyside to display new ChildLine posters to help remind children and young people that the free, confidential counselling service is there for them, whatever the worry, big or small. Additional online support on coping with exam stress will also be available from this month via the all new ChildLine website. The additional advice and information is particularly timely with SATS and exams approaching, as across the country it is clear from calls to the ChildLine service that exams can lead to feelings of stress and pressure to perform.

The Liverpool ChildLine counselling service is based in the purpose built Hargreaves Centre which recently celebrated its first year of offering a safe haven for children and young people across Merseyside.

Volunteering opportunities are available to everyone aged 16+ and information meetings will be held on Tuesday, 20 May 2008 at 6pm and Wednesday, 28 May 2008 at 6pm and Sunday, 1 June 2008 at 1pm at the NSPCC Hargreaves Centre, 112 Great Homer Street, in Everton. To register for a meeting and for an information pack contact ChildLine North West on 0870 336 2920.
Recycling your old car could earn you £100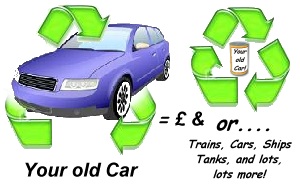 THE majority of Britain's car owners are still unaware that they could face prosecution and heavy fines if they don't get rid of their old cars in an environmentally sound way. So says car disposal experts Recycleyourcar.co.uk, which launched a new initiative that could earn drivers £100 when they dispose of their old cars in line with new laws.

Recycleyourcar.co.uk is a website that helps car owners understand and comply with the European Union's End-of-Life Vehicle directive, which stipulates that when cars reach the end of their life they must be disposed of in an environmentally sound way. The site is offering car owners the chance to win prize money when they leave feedback on the quality of the service received from an Authorised Treatment Facilities (ATF) in the Recycleyourcar.co.uk network.

Each month, those drivers that complete the online feedback form will be entered into a draw to win £100. Customers are invited to go online and rate the level of service they received and can also leave any additional feedback. The initiative is a way for Recycleyourcar.co.uk to monitor the quality of its network members and also a way for individual ATF's to monitor the service they provide.

"The £100 prize is our way of saying thank you to our customers who have taken the time to reflect on the service of our member ATFs. It is of great importance to us that our service is of the highest quality possible, so car owners can dispose of their old cars in a trouble-free way," explained Recycleyourcar.co.uk's Simon Palmer.

EU legislation places responsibility with the last owner of a vehicle for ensuring it is disposed of in the correct manner at an ATF, where they will be issued with a Certificate of Destruction (CoD).

Not only could the incorrect disposal of a vehicle cause environmental damage, but it could also land the last registered owner in legal and financial trouble, including being liable for continued road tax bills.
Under the Clean Neighbourhood Act, 2005, a local authority is now able to issue a £200 fixed penalty for the dumping of a car and under the Refuse Disposal Act, an illegal dumper could be fined up to £2,500 and face three months in prison.

Drivers wishing to find their nearest ATF should go to www.recycleyourcar.co.uk.