Combivent® Metered Aerosol (ipratropium bromide and salbutamol sulphate) Inhaler to be discontinued
A commonly used inhaler for the treatment of chronic obstructive pulmonary disease (COPD) will no longer be available from the middle of this year, in accordance with the Department of Health's implementation of the European Commission's strategy to phase-out products containing chlorofluorocarbons (CFCs).

In the North West there are currently 180,000 people diagnosed with COPD, and the region has a high proportion of people at risk of future hospital admission with COPD in the UK. Combivent® Metered Aerosol Inhaler, a combination of 2 medicines which help to keep the airways open4 allowing people with COPD to breathe more easily, is used nationally by a 5th of all COPD patients, many of whom live in the North West. Taken as 2 puffs 4 times a day, it helps to control the symptoms of COPD.

Patients using the inhaler should not worry, as there are other effective treatments available. However, urgent reviews are important to avoid disruption to patients' treatment. Health experts say that it is vital for patients to talk to their healthcare professional to find out which medicine is best for them, once the Combivent® Inhaler is no longer available.

Dr Noemi Eiser, Honorary Medical Director of the British Lung Foundation (BLF) says:- "COPD is a common disease which affects a significant number of people in the North West. People with COPD who are currently using inhalers should check with their doctor or nurse about changing to a CFC-free inhaler. Changing is safe and easy, so it is good news for the patient and for the environment. It is also an opportunity for people with COPD to check their inhaler technique, to make sure they are using it properly."

COPD, usually caused by smoking, gets progressively worse over time and patients are often unaware of the simple steps they can take to relieve their symptoms that often include breathlessness, wheezing and what some may identify as 'smokers cough'.

The BLF Helpline (0845 8 50 50 20) provides information and support for anyone affected by lung disease.
NORTH West Air Ambulance Service
NORTH West Air Ambulance Service is getting its campaign to launch a second helicopter off to a 'flying' start at this year's Cheshire County Show. The life-saving service has committed to a 2nd helicopter to cover Cheshire and South Manchester, but now needs to raise £3.3million a year to keep the 2 aircrafts airborne for 1 year. As the Air Ambulance offers a life-line to rural and agricultural areas it has chosen the Cheshire County Show on Tuesday and Wednesday, June 17 and 18, as the 1st event to launch its campaign for funding to support its second helicopter. Currently there is 1 Air Ambulance helicopter, based at Blackpool Airport, serving 7.5 million people across a 5,500 square mile area of Cheshire, Lancashire, Greater Manchester, Merseyside and Cumbria. Community Fundraiser for North West Air Ambulance Emily Taylor said:- "It is hoped that visitors to this years Cheshire Show will lend their support to the service, which is a registered charity and receives no mainstream funding, relying solely on donations from the public to stay up and running. Each year we are called out to a range of emergencies in rural areas of Cheshire, including farming, horse riding and walking accidents, sporting injuries and road traffic incidents so hopefully everyone will be really supportive of our campaign to launch a new air ambulance that will benefit the people of Cheshire." It is hoped that enough funding will have been raised to have a second helicopter operational by August of this year. The Cheshire County Show will take place at the Tabley Showground near Knutsford. Advanced tickets are available 24-7 by calling 0845 1249822 or from most Cheshire County Council libraries. Advanced tickets are priced £11 for adults, senior citizens £8.50, children £5 and £28 for a family of two adults and two children, and children aged under five are free. Show membership is available at £35 for first year members and £30 for repeat membership. For more information go online.
Sainsbury's set to help Southport Lifeboat Fund Raising over 2008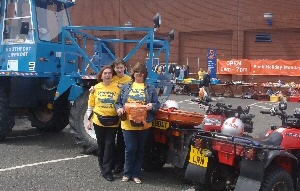 SOUTHPORT'S Sainsbury's has announced that Southport Off Shore Rescue Trust will be this years designated charity. The charity is trying to raise funds to build a new Lifeboat station and this support will be very much welcomed by them. To start of the years fundraising events by the staff at the superstore, they held a jumble sale on Sunday 25 July 2008 in their car park.
CREATING A SMARTER, GREENER WORKING BRITAIN
THE Work Wise UK Summit at the QEII Conference Centre in London. Hosted by Declan Curry, BBC One Breakfast's business presenter, it included speeches from the Rt Hon. Hilary Benn, Secretary of State for Environment, Food and Rural Affairs, Brendan Barber, general secretary of the TUC and Edmund King, president of the Automobile Association.

The theme of this, the 3rd Work Wise UK Summit, was the environmental impacts of work and how the wider adoption of smarter working practices could make a major contribution to solving the environmental catastrophe predicted by many.

Dr Richard Betts, head of climate impacts at the Met Office Hadley Centre, explained the damage human activities are causing to the planet providing the unequivocal reason for the wider adoption of smarter working practices. He said:- "The world is definitely getting warmer, and it is very likely that this is due to our ever-increasing emissions of greenhouse gases. To slow down climate change, we will need to reduce our emissions - smarter working could make an important contribution to this."

David Lennan, chairman of Work Wise UK, said;- "More and more organisations are realising that they have a moral and social obligation to consider, and mitigate, their activities' impact upon the environment in which they operate. There are a myriad of ways in which organisations can introduce smarter working practices, even where it is not immediately apparent. There are various forms of smarter working, including regular or occasional home working, various forms of flexible working, remote and mobile working."

One of the key benefits of smarter working is that it reduces the overall need to travel. Commenting, Edmund King, AA president said:- "300 AA employees are saving 90,000 litres of fuel or 620,000 miles commuting each year by working from home. The AA and our employees benefit in many ways. Homeworkers can do a split shift which covers the busiest times on the road in the morning and evening peak. In transport terms home working cuts out the commute, reduces congestion and carbon emissions. Hopefully other companies will follow the AA lead to put more workers on the superhighway rather than the actual highway now that the technology is much more affordable."

Smarter working also has a significant impact upon public transport systems. Transport for London is a Work Wise UK strategic partner and recognises its importance in managing demand on the transport network in London.

Ben Plowden, director, smarter travel unit, at Transport for London explained:- "Since Transport for London was created in 2000, Londoners have started to change the way that they travel, with the capital becoming the only major world city to have achieved a shift away from the use of cars toward public transport, walking and cycling. Our smarter travel programmes have helped to show Londoners what can be achieved by acting locally, underpinning the message that we can all do something to tackle congestion and climate change. Smarter working is a concept that fits perfectly with smarter travel programmes. By offering people flexibility in when and where they work, as well as how they get there, we can all benefit – economically, environmentally and socially."

BT has been pioneering the introduction of smarter working practices for over a decade, but it is not only the environment that has been benefiting. BT currently has 13,590 registered homeworkers, which has resulted in accommodation savings of £40 million per year. (£350 million to date). Smarter working has resulted in an average of 15% and up to 31% productivity gains, with sick absence reduced to 1% on average and staff retention significantly improved, 99% returnees from maternity leave versus the national average of 70%.

Apart from the environmental benefits and the cost saving and better productivity for businesses, staff and employees themselves are major benefactors from the introduction of smarter working practices. TUC General Secretary Brendan Barber said:- "Real progress has been made in persuading more employers to offer innovative flexible working practices. Those employers that take the plunge report back benefits to their business, including improved productivity, reduced costs, and better staff recruitment, retention and motivation.
What a shame then that all we ever seem to hear from the business lobby is continued negativity towards flexible working. Last week's all-so-predictable bleating around extending the right to request was a case in point. But despite the good news on flexible working, over the last year there have been worrying signs of a long hours cultural renaissance. An increasing number of employees are expected to work more than 48 hours a week and put in extra hours for free. We must all work to ensure that these are temporary blips and not developing trends.

As we enter a period of economic uncertainty, it's tempting for employers to retreat from innovative working practices and instead work existing staff harder and longer. But the need for increased productivity is greater than ever, which makes this the perfect time for companies to introduce smarter working practices. Those employers who are keen to make flexible working work for their business and staff will find willing accomplices in trade unions."