BUSINESS SUCCESS WRITTEN IN THE STARS
WITH many self-styled financial 'experts' struggling to pick a good financial bet these days, perhaps it is time to turn to the stars. Analysing their universal data-base of 2,851,222 companies, Creditsafe, the business information experts have identified surprising trends, with the star sign of a company's secretary providing a surprisingly accurate guide to reliability when making and collecting payments.

If it is a quick payer you're after, turn to a business whose company secretary is a Leo. The generous, dignified Leos stick true to their astrological description, on average clearing debts within 30.48 days, almost a week quicker than the overall UK average of 36.84. What's more, Leos are the only star sign to pay their debts more quickly than they collect them, clearly adhering to the proud, noble side of their personality.

Scorpions, known for their analytical, inquisitive qualities are perhaps spending too long reviewing the invoices. They take the longest to clear their debts at 50.78 days; that's 37% longer than the average, and a very considerable 66% longer than the Leos.
When it comes to collecting debts, Scorpios stick more to their jealous and controlling traits, ensuring payment is made within 20.7 days, nearly 5 days below the average of 25.33. Once again it's the Leos who are slowest to collect payment, taking an average of 34.19 days, nearly 2 working weeks longer than the average of 25.33.

While only Leos pay their debts quicker than they clear them, some star signs are likely to push their luck far more than others. The gap between debtor days (the time taken to collect payment) and creditor days (the time taken to make payment) is less than 1 for the sympathetic, sensitive Cancerians. Prudent, businesslike Capricorns, however, take 17 days longer to pay their debts than collect them.

Simon Camilleri, Managing Director, Creditsafe UK, said:- "Our research has thrown up some really surprising results with star signs seeming to be a pretty good indicator of a company's reliability.
However, a far better way to ensure the reliability of a potential trading partner or client is to research their credit rating, and check the number of debtor and creditor days to their name.

Late payment can have a serious impact on a company's liquidity, particularly if it's a small business, affecting its ability to pay staff, clear its own debts, and ultimately remain solvent. Given that, it's vital that businesses do the necessary research before signing themselves into potentially damaging trading relationships. And that research needn't be as speculative as gazing to the stars!"

Star sign analysis based on Company's Secretary Date of Birth
| | | |
| --- | --- | --- |
| Star Sign | Average Debtor Days | Average Creditor Days |
| Aquarius | 20.45 | 31.32 |
| Aries | 26.74 | 35.01 |
| Cancer | 31.1 | 31.86 |
| Capricorn | 21.21 | 38.37 |
| Gemini | 25.27 | 36.86 |
| Leo | 34.19 | 30.48 |
| Libra | 26.12 | 41.28 |
| Pisces | 26.53 | 44.91 |
| Sagittarius | 22.13 | 37.3 |
| Scorpio | 20.7 | 50.78 |
| Taurus | 23.44 | 34.59 |
| Virgo | 24.58 | 31.67 |
| Total Average | 25.33 | 36.84 |
Email us and tell us what you think of these findings! news24@southportreporter.com.
EXPERIAN URGES USED CAR DEALERS TO PREPARE FOR NEW DIRECTIVE
WITH the new Unfair Commercial Practices Directive being introduced later this month, Experian®, the global information services company, urged used car dealers to ensure that they take the necessary steps to prepare for its arrival.

The new directive seeks to harmonise unfair trading laws in all EU Member States. If a company fails to provide information that the average consumer would need to make an informed decision, under the directive this is classed as a breach and could lead to a fine and possibly up to 2 years in prison.

In terms of the used car market, Experian predicts that the new directive is likely to put even more pressure on dealers to ensure precautions, such as vehicle provenance checks, are undertaken. According to Experian, the directive's scope is even more relevant for used car programmes. Dealers must ensure that they fulfil the promises made by the manufacturers, otherwise both the dealer and the manufacturer could be held liable.

Kirk Fletcher, Managing Director of Experian's Automotive division, said:- "The scope of the new directive is still unclear and open to interpretation, so the full impact on the automotive industry is yet to unfold. However, we strongly recommend that dealers need to make sure that customers are provided, in a clear and transparent fashion, with all the information about a vehicle's status. Given that our own research has shown that consumers are willing to pay more for peace of mind[1], it simply underlines the importance of ensuring critical information is provided at the outset so customers can make an informed decision.

This is especially vital at a time when there is increased media attention on protecting consumers from rogue dealers. Already this year we have seen an increase in the number of stories hitting the press about dealers getting fined for selling clocked cars. Furthermore, during last year the biggest source of consumer complaints[2] was the used car sector."

To help dealers provide clear information for their customers, Experian's recent developments to its services include:

AutoCheck Timeline - a unique feature enabling dealers to instantly view all the events that have affected a vehicle from the moment it was registered in a clear and easy-to-view chronological timeline. This includes details of the vehicle's MOT anniversary, whether a car has ever been stolen in its lifetime, the date it was stolen and when it was recovered, and any other significant information.
Environmental Reports - a free addition to AutoCheck providing the CO2 emission data on a used vehicle and the Vehicle Excise Duty payable over a period of either six or 12 months.

Kirk concluded:- "Our new service innovations combined with the pending arrival of the directive has seen even more interest from clients who want to ensure that they are armed with information that not only ensures that they protect themselves, but also helps them make that sale."
Quakers on the roof!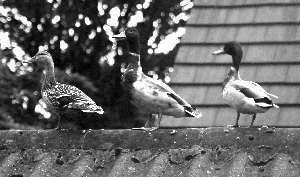 THE snap of the week is of these ducks on the roof of a building in Formby. If you see any funny things going on, then please send them in and we will try to run them in the next issue. So get snapping and email us at news24@southportreporter.com.