Southport International Jazz Festival, 2008

IT is not often one has the chance to see in the flesh, as well hear, excellent musicians of varying codes playing in vastly different locations, most within fairly easy walking distance. So on Saturday, 31 May 2008 and on Sunday, 1 June 2008, I visited gigs at first class locations. However, having followed the official programme, many people were being rather disconcerted, when they arrived at one venue to find that there was no music there because the building was incompletely built. Some, in other situations, found that some performances had been cancelled. The other annoying part of the Festival was that nearly all of the venues started at the same time, which made it difficult for coverage and to spend time listening. Yet it was a time of enjoyment, pleasure and, despite the inclement weather, well worth all the effort in getting to the gigs. I will now mention some of those we managed to find as we rushed from one end of the town to the other.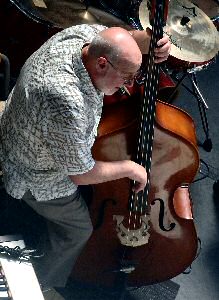 At Darceys, award winning, Tea and Dining Rooms, at 52 Eastbank Street, I discovered Nick Tudor, the resident pianist, who also plays with that excellent and talented of band of young players, the Sefton Youth Jazz Orchestra. They were playing earlier in the day in the Town Hall Gardens. Nick plays the piano in Darceys on a Thursday and Saturday. Wayne, the manager and co-owner, spoke very highly about him, and that was proved as I listened to him play while I drank a cup of real coffee. I heard him play Summer Time, Manhattan and Sentimental Journey.

From there I walked down to Lord Street and along to The Vincent, a newly built hotel to hear some live jazz in the Grand Galleria. Sadly, it was not to be, for the building work was not completed.

Next, I walked through the arcade into the Town Hall Gardens, in Lord Street, where I found a large crowd enjoying the sunshine and the foot tapping music of Des Hopkins and his Four Piece Original Guinness Jazz Band. They had recently flown in from Cork to play in Southport's Jazz Festival. They are a very entertaining band, who obviously enjoy their playing, which they do with a great sense of humour. They are one of the best Trad style bands playing outside Dixieland, with great vocals and a big, big sound. They really wooed the people around.

I reluctantly moved on to the Wayfarers Arcade, also in Lord Street. In this lovely Arcade setting, I found chairs in a roped off area beneath a balcony-passage and surrounded by shops, and the artist David Knopov. He was singing with a top class five piece band as a tribute to the great legionary Frank Sinatra. He really did hold the crowd in rapture as he sang Ol' Blue Eyes' famous numbers with verve. I just had to stay at this well attended venue till he finished.

I moved on along Lord Street to Lloyd's No 1, the Willow Grove. In this L shaped bar was Mamadou and the Super Libidor Band. They are from Senegal. They were playing good, steady, foot tapping tempos. I found them very exciting and his compositions interesting. They were greatly appreciated by the large number of people of all ages crowded into the establishment.

My next port of call was the Chiquito, by the Vue Cinema on Ocean Plaza. As I threaded my way through the car park, I could hear a most accomplished jazz musician that I have heard for a while, Dan Forshaw, playing jazz as only he can, to everyone's delight. Oh dear, it stopped just before I reached the Restaurant. However I had the pleasure of talking with him during his break, and I can look forward to his playing later in the evening at the Latin Lounge.

Having dragged myself away from there, I was consoled by knowing that I would see him again later in the evening. So on to my next port of call, where I intended to have a delicious meal in the Latin Lounge, off Post Office Avenue, and to plan my evening's jazz tour, also, incidentally, to shelter from the rain! I must say, that I recommend the Latin Lounge for beautiful cooking, with well-defined mixed flavours in each of the three items I chose from a mouth-watering menu.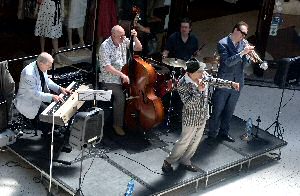 So, into Saturday Evening on the last day in May. It had stopped raining! So, a quick call into Owens The Restaurant, in Houghton Street. Here, in very modern décor, I discovered that talented lady vocalist, Liz Fletcher with her musicians. There was a fair sized crowd to hear her delightful voice, which has a tone very suitable for the songs she chose. Her backing had a good consistent beat and the group balanced her voice delightfully. As all the tables were already taken, mainly through booking, I sadly had to depart.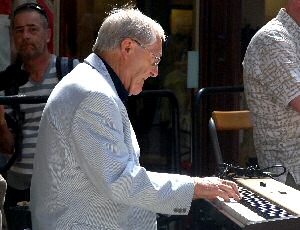 Off I trudged to the Falstaff to find, from Cork, Des Hopkins and his Original Guinness Jazz Band. Oh boy, once more I found a friendly and very happy go lucky group entertaining the locals, and others, with their renditions of real Trad Jazz. If you have never heard them play, well next time they are around, make sure that you go to listen to them. They have a big following in this green and pleasant land.

Time to rush off to the New China City Restaurant in King Street. Here I found a young lady, Annie Long .She is a very accomplished singer. I loved her diction and choice of numbers. She was ably accompanied, on the piano, by Andrzej Baranek. The diners had an extra delightfully musical time as they consumed their meals. What a pity that I only had time to take a picture and hear one song without being in the way of the waitresses.

Strolling on, too tired now to rush, I headed for the Clifton Hotel on the Promenade. Geff Eales was playing on the piano. He has a lovely touch, fingering with plenty of feeling, on the ivories. A Double Bass player, Roy Bebbington and a Drummer, Mark Fletcher, made up the excellent trio. I enjoyed the short time I was there as Geff Eales played mainly to the members of the Southport Jazz Society.

It was time to head to the studio in the Southport Arts Centre complex. What an enjoyable evening for lively dance music fans.
The Bacalao Salsa Dance Party was playing with a real South American beat. In 'the gods', so to speak, quite a few people were sitting it out and listening to the hot, exciting, blood racing music. ...continued...
PAGE 1 of 9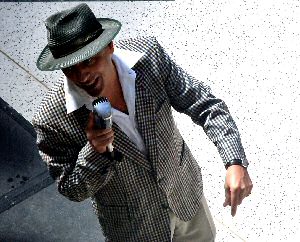 ...continued... Down below, others were exercising themselves on the floor, dancing. This band really knows how to inspire people to get onto their feet and gyrate.

I called in at the Scarisbrick Hotel and found a Festival regular playing the piano there. Frank Garner was entertaining in his own inimitable manner the patrons of the Knight's Bar. I have always enjoyed his style and I could listen to him for hours on end.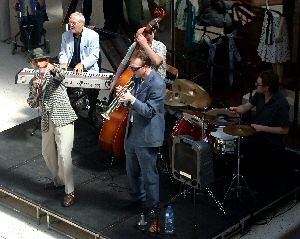 After a short spell I left for the Latin Lounge. The décor of this venue is super and the room ideal for a small jazz group, or band. I spent the rest of the evening well into the late hour of gone 10 o'clock listening to the DFQ, or Don Forshaw Duo. Don is a big name now in the States, and this Saxophonist really showed why during the evening. I rate him as a possible contender for being one of the all time greats of English Jazz. He is also very appreciative of others playing, as was demonstrated by his moving out of the limelight each time one of the backing group soloed. I will remember his evening's performance for a long time. Thank you Don, well played. I am sure that the crowded room of people listening to you and the very talented other members of Trio, will have been on a high. So the day was over, home to bed.

Sunday dawned, and after Church in the morning, I made my way across to the Festival for the late afternoon and evening gigs. My first visit was to the Café Nero. Vernon Fuller, a Northwestener, was playing his guitar in the company of his wife. A self taught and modest musician, he had just started taking a break, so after a chat I left with a promise to try and catch up with him later. Unfortunately I was too late getting back to hear him, but we did have another chat!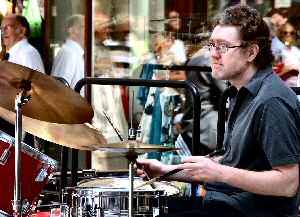 I had to go to look and listen in the Arts Centre Theatre to the well-known Northwest based Wigan Jazz Orchestra, as they played music in remembrance of Maynard. It is always an exciting and moving experience to listen to the WJB. I was not disappointed and I am sure neither was the audience. I was surprised that the theatre was not full, but it was poorly advertised, what a shame.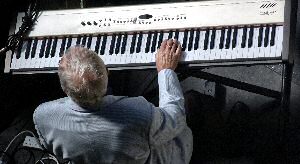 Off I went to Lloyds No 1, The Willow Grove to see and hear Eve. She, with one other, performed in a spellbinding way, entrancing the customers in the Bar with her pieces. They both made a really enjoyable, lazy afternoon great for the patrons of the Willow Grove. It was well worth calling in to hear her.

Moving on to the Wayfarers Arcade I heard, and then saw, Modjango and Lady Blue. Jane Gregory, the Lady Blue, I found to have a lovely moody voice with clear articulate diction, which, with the gypsyish style of the Gregory brothers, Paul and Roy, fitted in well in this venue. There was a fair sized audience listening to them and enjoying each minute.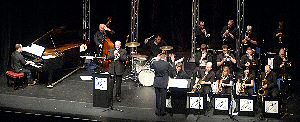 In the Southport Theatre and Convention Centre on the Promenade I listened to that talented vocalist Victoria Hart and the Liverpool singer and song writing lady, Jade Gallagher. Victoria is very popular in the media in the states, which showed in her performances on stage in the Convention Theatre. It is nice to see local talent too supporting singers of Victoria's calibre. We received much appreciated help from the theatre staff.

Sadly, I moved on once more. The next destination was the Core, the restaurant below ground. As I walked down the steps in the Eastbank Street junction with Lord Street by the traffic lights the melodious sounds of a quartet slowly swelled up and gently increased in volume as I entered the Restaurant. Where was the beautiful music coming from, for all I could see were tables and an open plan kitchen. Ah, there it was behind me, tucked away in a niche. Lovely music played in such a way that it complemented the surroundings. It was the often sought for Dan Forshaw playing, as always, beyond my usage of the English language to describe. What a pity I could not stay.

Later, in the Arts Theatre Studio, I found 'Down to the Bone' playing with a strong beat to a fairly large audience. This band, who are truly jazzy with a funky soul, really do warm the cockles of one's heart. If you enjoy such hot music, then they are the band for you, especially if you love to dance, for their rhythms are 'time perfection'.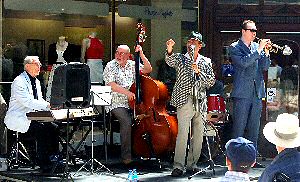 It was getting late on this Sunday evening, but I still had a 'must' to do. The Royal Clifton Hotel was playing host to 'Swing Shift Big Band'. I could not go home without hearing them play, especially as that very talented young lady, Georgina Bromilow was guesting with them. She is a passionate vocalist with virtually perfect diction. What is more, she makes a trumpet speak! I was delighted for her, and the Band, when I saw such a large audience. I really did enjoy her playing, and singing, as well as the performance of the Big Band.

It was sad that so few knew about the Festival, as the publicity was rather scant. In retrospect, I feel that this was a Jazz Festival in name only, for many of the bands, and groups, whom I heard, and saw, were not really playing Jazz. However, it was an excellent weekend of lively music.
I look forward to next year's Festival.
Well done all who took part.