PETA BARBECUES NAKED GIRL TO SHOW THAT MEAT IS MURDER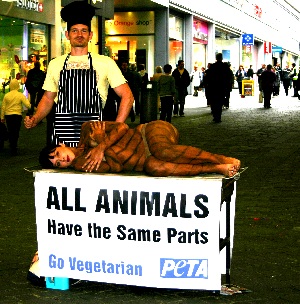 DID you see in Manchester or in Liverpool a member of PETA getting slather herself with barbecue sauce?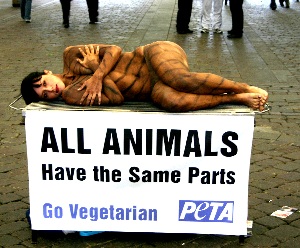 Well it happened in Manchester and in Liverpool city centres. PETA campaign coordinator Lauren Bowey said that:- "We wanted to celebrate National Barbeque Week by holding our own 'human barbeque'!
If people are revolted by it, they should also lose their appetites at the thought of eating any animal's corpse.
When you smell them cooking, you can't tell the difference."
Email our news room your views about this and let us know what you think! news24@southportreporter.com.
ROYAL NAVY'S FLEET FLAGSHIP MAKES FOR THE MERSEY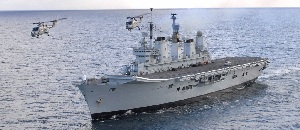 THE UK's Fleet Flagship will take pride of place in the heart of Liverpool this weekend as she sails in for a four day visit from 6 June to 9 June 2008. The 20,000 tonne Invincible Class aircraft carrier HMS Ark Royal will sail up the River Mersey for the first time in the ship's 23 year history on Friday and berth alongside the Cruise Liner Terminal. And the 600 men and women of her crew are looking forward to welcoming a number of visitors on board during their stay. Members of the general public will get a chance to step on board one of the Royal Navy's largest warships when Ark Royal opens her gangway on Saturday, 7 June 2008 from 10am to 4pm. Visitors will get the opportunity to learn more about life on the ocean waves. Admission is free. And as well as members of the public, the ship will host visits from a number of other groups such as Crosby Air Training Corps, the Mersey Naval and Maritime Society and local schools including Millfields Primary and Monksdown Primary. Whilst alongside in Liverpool, on Sunday 8 June 2008, about half of the ship's company will travel over to Leeds; the ship's affiliated city. HMS Ark Royal was granted the Freedom of Entry into the City in October 1973, and the crew will be exercising their right to march through the streets of Leeds. HMS Ark Royal is currently supporting Operational Flying Training, having recently completed a number of amphibious training exercises in Norway and America. As the Fleet Flagship, HMS Ark Royal has the ability to support a diverse range of tasks, from high intensity combat to humanitarian relief operations. The ship is the UK's high readiness Landing Platform Helicopter (LPH) and Command Platform, at short notice to deploy to any of the world's current trouble spots. HMS Ark Royal's Commanding Officer, Captain Mike Mansergh, said:- "We are delighted to have the opportunity to pay a visit to Liverpool. The Royal Navy has always received a warm welcome from the city and the ship's company is very excited about their visit here. HMS Ark Royal is ready in all respects to deploy anywhere in the world to support a wide range of missions, and we are training hard to stay at the highest levels of operational readiness. We remain committed to maintaining an insurance policy ready to react to any problem world-wide." HMS Ark Royal is currently operating in the Commando Carrier role, configured to carry Sea King, Chinook and Lynx helicopters, and up to 400 Royal Marines, which together provide a powerful amphibious force. HMS Ark Royal has the ability to support a diverse range of tasks, from high intensity combat to humanitarian relief operations. One of three Invincible Class aircraft carriers, these ships have a number of different roles, based on the type of aircraft and the embarked force carried. Principally the ships carry Harrier Jets, designed to strike deep inland in support of Land Forces.