Roll On Cycling This Summer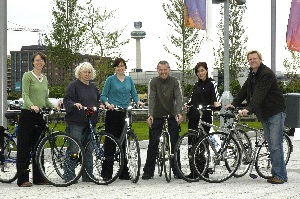 RADIO & TV presenter Simon O'Brien set the wheels in motion to help launch the TravelWise Summer Cycle campaign. The initiative is designed to encourage people in Sefton and across Merseyside to cycle, whether as a way to enjoy fresh air, fitness and fun or as a sensible commuting option.

Everyone is being encouraged to join in, from those who are keen to re-discover cycling to absolute beginners. The campaign includes:
• a programme of free TravelWise Bike Time led rides.
• the Liverpool Cycle Festival at Williamson Square on Saturday 21 June from 11am – 4pm, where people can find out everything they would ever like to know about pedal power.
• free cycling maps to illustrate the best cycle routes in Sefton and across Merseyside.

The Sunday TravelWise Bike Time rides are set to take place in Sefton and the other Merseyside boroughs between now and September. These are led by experts at Cycling Solutions and are open to people of all ages and abilities - a great way to 'discover' Sefton while keeping fit. All rides start at 2pm and last between one and three hours. A tea stop is included and there is no need to book. The Bike Time rides are a wonderful way to enjoy the city and the countryside landscapes of Sefton and other areas of Merseyside.

The Bike Time rides have been designed to showcase the main attractions in each local area. For example, the Sefton bike rides will pass by the Anthony Gormley statues on Crosby beach. More than 500 people have taken part in TravelWise cycling events over the past 3 years and it is estimated that more than 1,000 people will join in the enhanced activities this summer alone.

Two Sunday Bike Time Rides are planned for the Sefton area – 'Ainsdale Lanes' on June 22 and and 'Sefton Lanes' on July 20. On June 22, cyclists will set out from Ainsdale Station at 2pm and will follow the Transpennine Trail, the Leeds Liverpool Canal and the Cheshire Lines Path. The ride will last approximately 2 hours, and there will be a tea stop at the Scarisbrick Arms. On July 20, cyclists will meet at Blundellsands and Crosby Station – again at 2pm – and take a 3-hour journey through Little Crosby and Ince Blundell Park, stopping for tea at the Garden Centre Café on Back O' the Town Lane.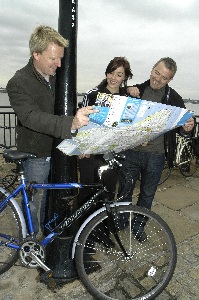 Another highlight of the Summer Cycle campaign will be the Liverpool Cycle Festival - a must for people who would like to try out some of the more weird and wonderful bikes around. Visitors to the free event can try out a whole host of unusual bikes, from trikes to tandems and there will even be an obstacle course and slalom for those who really want to put their skills to the test. For those 'back-seat' cyclists, there will also be an opportunity to take a virtual bike ride – an amazing training experience that gives the same physical challenges as out on the road.

History buffs can go back in time and take a close look at cycles through the ages at a vintage bike display. And 'smoothie' lovers can mix a healthy drink using fresh fruit and static pedal power! You'll also be able to pick up one of the new cycle maps covering all areas of Merseyside for free.

Neil Scales, Chair of the Local Transport Plan Partnership and Chief Executive and Director General of Merseytravel, said:- "Cycling is a great way for both children and adults to enjoy fresh air, fitness and fun, whether cycling is a leisure activity or simply an easy, practical and environmentally-friendly way to commute to work. I'm sure there are lots of people who have bikes hidden away in the shed at home. The aim of the Summer Cycle campaign is to encourage those people to dust off the cobwebs and get back on their bikes.
The TravelWise Bike Time events are great, sociable fun for everyone and are free to join, offering the motivation and encouragement of cycling as a group. Our Bike Time events also provide an easy solution for families looking for an inexpensive way to entertain the kids during the summer holidays."

Visit www.LetsTravelWise.org/cycling to download a copy of the programme of Bike Time events, to find out more about cycle training and to order free cycle maps. Alternatively, call 0151 330 1253 for further information.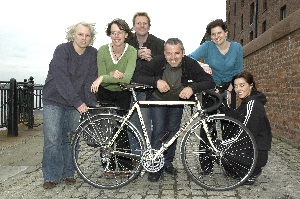 Bike Time rides are taking place as follows: -

Date, all at 2pm Ride name Start point:-
Sunday 15 June 2008 - Sankey Valley St Helens Central Station
Sunday 22 June 2008 - Ainsdale Lanes Ainsdale Station
Sunday 6 July 2008 - Wirral Way West Kirby Station
Sunday 13 July 2008 - Carr Mill St Helens Central Station
Sunday 20 July 2008 - Sefton Lanes Blundellsands & Crosby Station
Sunday 27 July 2008 - Pickering Pasture Rainhill Station
Sunday 3 August 2008 - Broadgreen Croxteth Loopline Broadgreen Station
Sunday 17 August 2008 - Carr Mill St Helens Central Station
Sunday 31 August 2008 - Wirral Wanderings Eastham Rake Station
Sunday 7 September 2008 - Wildflower Tour Rice Lane Station
LIVERPOOL'S GOT TALENT
LIVERPOOL city region will be 1 of 10 areas around the country to pilot the Government's £25 million Find your Talent programme giving young people the chance to encounter a range of high-quality cultural experiences for five hours a week both in and outside of school. Children in Liverpool, Knowsley and St. Helens will work with the world class arts organisations on their doorstep to discover and develop their talents in the cultural sphere.

Led by National Museums Liverpool and the Royal Liverpool Philharmonic, the programme will cover the city region and has been developed in partnership with the leading arts institutions in the city including The Bluecoat, FACT, Liverpool Biennial, Liverpool Everyman and Playhouse, Tate Liverpool and the Unity Theatre. Principal partners include Liverpool Culture Company, Creative Partnerships Merseyside, Liverpool City Council, Knowsley MBC and St Helens MBC. The Liverpool bid was 1 of 141 applications.

Chair of the Liverpool Phil and Trustee of National Museums Liverpool, Lorraine Rogers said:- 'Along with our Liverpool Arts Regeneration Campaign (LARC) and public sector colleagues, National Museums Liverpool and the Royal Liverpool Philharmonic are delighted to be lead partners in the Find Your Talent Liverpool City Region programme. This significant funding will help us to continue driving forward our ambition for every child and young person in our region to have access to world class creative experiences. It will enable us to build on the momentum of Liverpool 08, and develop the future creators and innovators to strengthen the social, economic and cultural life of the City Region."

Through Find your Talent young people in Liverpool will have the chance to:-

· perform on stage and attend top quality performances, exhibitions at museums and galleries, and heritage sites

· learn a musical instrument, and take part in a musical performance in front of an audience

· develop art and craft skills

Culture Secretary Andy Burnham said:- "Find Your Talent is a truly exciting initiative that could open minds and change young lives. Enjoying and exploring culture and the arts is not a luxury, or an add-on, for young people. It matters in its own right, and can be a way of developing essential life skills like communication and creativity, and contribute to personal development and self-esteem. Too many young people still leave school without ever really finding out what they could be good at: the things that could be the basis of a fulfilling life.

These pilots will kick off the long process of putting that right. Their importance cannot be overstated."

I've been encouraged by the quantity and quality of the applications we've received since we first launched this initiative. The level of interest proves the cynics wrong and shows this scheme has struck a chord with many. It would be a real shame if this momentum was now lost, so we will also be looking at ways to harness that energy, and I hope to have firm proposals to do that in time for the pilots' launch in September."

Children Schools and Families Secretary Ed Balls said:- "Giving young people the opportunity to take part in cultural activities will not only enrich their lives – but also help them learn. Schools already offer many cultural activities in school hours, for example in music, art, and English in the curriculum, and there is already much cultural activity taking place outside school and beyond the school day. The five hour offer is about building on this and giving all children and young people the opportunity to take part in cultural activities.

The pilots will explore different approaches to making a reality of Find Your Talent. We will work closely with schools as the pilots are taken forward to ensure a bureaucracy-light approach. But it is not just about schools: a whole range of bodies including museums, theatres and local arts organisations will be involved, working in partnership with schools."
UNISON BALLOTS LOCAL GOVERNMENT MEMBERS FOR STRIKE ACTION OVER PAY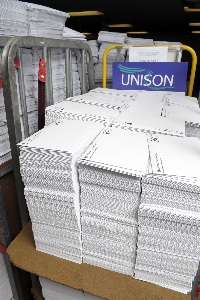 UNISON, the UK's largest public sector trade union, started sending out ballot papers to its 850,000 local government members for strike action over a 2.45% pay offer.

UNISON Head of Local Government, Heather Wakefield, said:- "Our members working in local government are disappointed and angry. Four years of real pay cuts have left them choosing between putting food on the table or heating their homes this winter. Costs of all the basics are running high. Bread is up a massive 44%, petrol 21% and mortgage costs 8%, but for 60% of our members this offer means a pitiful £7.50 per week. By voting for a strike, 850,000 UNISON members can send a clear message to the employers that pay is an issue that will not go away. The employers must realise that world-class public services cannot be run on empty stomachs!"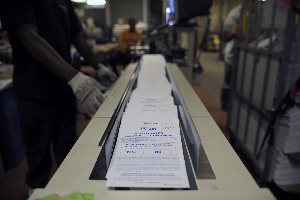 A variety of council workers covered by the pay claim include care home and home care assistants, housing and environmental health officers, refuse collectors, librarians, nursery nurses, lollipop ladies and school cooks. More than 60% of those covered earn just £15,825 or less annually. 75% are women.
Photos in this report are Copyright of Marcus Rose 2008.