Sci-fi stars at Spaceport!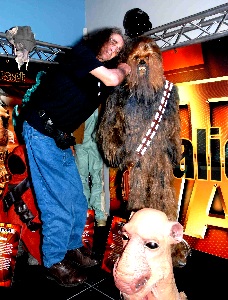 MORE than 3,500 fans packed into Spaceport over May Bank Holiday to see the stars behind some of most iconic sci-fi characters to hit the silver screen.

Peter Mayhew, who played Chewbacca in the Star Wars films, flew in from Texas to join other actors from the legendary films including Paul Blake (Greedo), Rusty Goffe (Jawa), Ian Liston (Wes Janson) and Gerald Home (Tessek).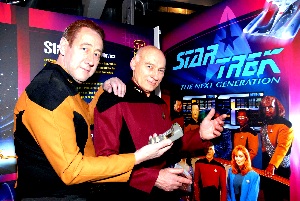 The celebration brought to an end Spaceport's hugely successful "Sci Fi at the Movies" exhibition.

Preparations are now coming together for a never-before-seen exhibition on Doctor Who.

An announcement will be made soon on the new world first exhibition, so watch this space!

Spaceport is owned and operated by Merseytravel and is the UK's most modern space-themed visitor attraction.

It is housed in a listed building alongside Seacombe Ferry Terminal in Wallasey, Wirral, Merseyside.

For more details, prices on all of the services provided at Spaceport, visit www.spaceport.org.uk or contact 0151 330 1333.
Horse power at Lord Mare's Parade!
POLICE horses from across the country will be galloping to Liverpool for the 36th Lord Mayor's Parade! The charity event, organised in conjunction with Liverpool Culture Company, has the theme of 'Unsung Heroes' and takes place on Saturday, 7 June 2008. The 43 horses will form the biggest congregation of mounted police horses since the Queen's Jubilee. Fillies from forces as far afield as Thames Valley, Strathclyde, Middlesbrough and South Yorkshire are travelling to the city. Merseyside Chief Constable Bernard Hogan-Howe and Assistant Chief Constable Patricia Gallan will be taking part. This year's parade is set to be the biggest ever, with 68 entries confirmed; all raising money for the Lord Mayor's charities. They are:- The Alder Hey Imagine charity, the Alzheimer's Association, the Marina Dalglish Appeal and the Cardio-Thoracic Centre at Broadgreen Hospital. Lord Mayor of Liverpool, Cllr Steve Rotheram, said:- "There are so many people in Liverpool from all different walks of life who do extraordinary things that we all take for granted. This year's parade is an opportunity to celebrate the work of professions such as the police service, firefighters and milkmen who play such an important part in every day life."

The Lord Mayor's parade is a great way for people to give to charity, have a great deal of fun and show off Liverpool's uniquely diverse community at the same time. "I have set myself a challenging target of raising £208,000 for my charities in 2008, and I know the Parade will help get my year off to a flying start." An appeal is also going out for school crossing patrols to take part in a section of the parade devoted to those who help with road safety. It is being created by children from the Black Sisters group and includes cars, traffic lights and belisha beacons. The number to call for those interested is 0161 736 8964. The parade is set to be the greenest ever, because as well as the horses, there will be bikes, milk floats, rickshaws and people on foot taking part in a drive to reduce the impact on the environment. There are also an array of new groups taking part, including the Mission for Retired Seafarers who are creating a float which represents the Lusitania. The Hindu Cultural Organisation, Merseyside Caribbean Centre, Tara Park Travellers Community, Homotopia and groups from Alder Hey and Amnesty International are among others involved. Artists from Walk the Plank and the Liverpool Lantern Company are working with several of the groups to create fantastic floats and processional pieces.
This year's parade starts at 1pm from Pall Mall. It passes along Tithebarn Street, Lime Street, Queens Square, Victoria Street and Castle Street before returning to Pall Mall.
Podium place into New York for Liverpool 08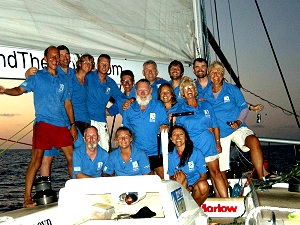 LIVERPOOL 08 has secured its third podium position of Clipper 07-08 by finishing in third place in Race 11, less than 1 nautical mile behind second placed westernaustralia2011.com and four nautical miles behind home port victors, New York. The result is a return to form for the team representing the north west of England and comes just five weeks before their biggest test when Liverpool 08 will attempt to repeat New York's recent achievement by winning into their home port at the end of the 35,000 mile race around the globe.

In what has been one of the closest races of the ten-month series the skipper and crew of Liverpool 08 were able to hold their nerve and clinch third place in a nail biting finish that saw the top six teams finishing within eight nautical miles each other.

Skipper of Liverpool 08, Ben Galloway, said:- "Suspense and anticipation were killing myself and the rest of the crew. It's definitely been the most intense race so far, especially the last fifteen minutes not knowing whether we stood in first, second or third. We were waiting for the emails to come in but as the cards unfolded they didn't turn up at first, but then they flew in revealing that we had came third to westernaustralia2011.com. Still, a triumphant victory over some boats that we needed to place well against. Having not been on the podium since Singapore, despite our efforts and results sometimes not reflecting the efforts that we have put in, the result has come has a huge moral boost to the team."

Despite some fast reaching conditions at the beginning of the race, the teams found themselves hampered by frustratingly light winds over the last 48 hours, clocking an average of around 50 miles a day. With these exceptionally light winds due to continue along the whole coastal region for some time and the projected ETA in New York at these speeds pushed out to another two weeks, the Race Committee took the decision to finish Race 11 at 0000UTC 31 May (2000 30 May local time in New York).

The final results for Race 11 have been taken from the positions that were reported at that time and the distance to finish to Ambrose Light, the location of the original Race 11 finish line.

Round the world crew member, Lisa Pover, from Liverpool, said:- "What an ending to such a tight and intense race. This leg for me is a chance to sail back into my hometown with a podium position. A final push to get some well deserved points back! I would be telling fibs if I was to say that I am not disappointed with getting third place after believing we were in second place and possibly hoping New York had made a bad move or got stuck in a wind hole pushing us into first, but I wouldn't be fibbing to say that they raced just as hard as us and I'm truly happy for their achievements.

This leg is full of ´scousers´ and it's been great so far to hear their accents. With the good old Liverpool humour and banter and more heartily their passion along with mine to get some mega points under our belt, they, and the rest of the crew of course, surpassed any of my wishes. This is truly a leg to watch out for the Liverpool 08 boat...we're back baby!"

Race Director, Joff Bailey, said:- "Overall this must have been the closest fought ocean race of Clipper 07-08 as at any time six or seven of the leading boats were fighting for the podium positions and there were lots of place changes right up to the last minute.

This has been a great race with many of the teams being within sight of each other since the start of the race in Jamaica. The closeness of the racing is a testament to how well all of the crews are performing and how much they have developed as sailors since the start of the race last September. The next five weeks of racing will be very exciting to watch as Clipper 07-08 draws to its climax in Liverpool on the 5 July 2008, during the height of the city's celebrations as European Capital of Culture 2008."

Looking forward to arriving in New York and reflecting on Race 11, Liverpool 08 crew member, Jon-Paul Lowes, said:- "It's been a thrill from start to finish. It felt like the race had everything, nerves, expectations, highs, lows, and a thrilling end. We really came together as a team and showed that Istanbul spirit when it was most needed. I'm sure the experience gained will make us stronger in races to come, especially with home and loved ones on the horizon."

Liverpool 08 is now making best speed towards New York where the first boats are expected to arrive on Sunday evening (local time). The fleet will be berthed at North Cove Marina, Battery Park City for the duration of the three-day stopover.

New York's Sports Commisssioner, Ken Podziba, said:- "We look forward to welcoming all the teams from around the world to our city who, through this amazing and gruelling competition, have united countries through the great sport of sailing."