FRASER JOINS PRINCE'S TRUST PIONEERS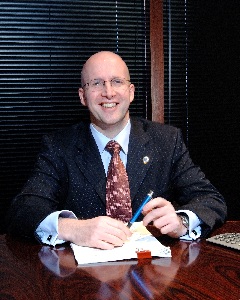 AMONG the first group of companies in the North West to sign up to a brand new Prince's Trust initiative being piloted exclusively in the area, Liverpool-based Fraser Wealth Management is once again leading the way. Cementing its reputation as a firm with an emphasis on innovation, Fraser Wealth Management has become a member of the Prince's Trust North West Leadership Group.

The group, which is the first of its kind in the country, has attracted some of the most influential business leaders from across the area with the aim of directly impacting the lives of young people in the North West. It plans to hold 4 events a year, which will provide its members with valuable and unique networking opportunities in addition to facilitating exclusive lectures presented by guest speakers.

Kevin Gillibrand, director of Fraser Wealth Management, says:- "We're absolutely committed to the Prince's Trust North West Leadership Group, it has some fantastic aims and we're very pleased to be a part of it. We hope that we will be able to contribute a great deal to the Group and have the opportunity to engage with some of the young entrepreneurs involved with the Prince's Trust and perhaps act as mentors."

Julia Worthington, fundraising manager – private sector, at Prince's Trust says:- "It's fantastic that Fraser Wealth Management have signed up to the North West Leadership Group and are helping to shape this pilot programme. The Group will help to build sustained funding streams for Trust programmes, track local government agendas on skills and development, and assist young people to move into employment. In short, the presence of the Group and all of its members within the region will definitely enable far more of the North West's young people to realise their potential."

Fraser Wealth Management has a progressive approach to corporate and social responsibility. The company has held 'Investors in People' status since November 2005, actively encourages its staff to engage in further training opportunities and frequently takes part in charity fundraising initiatives. Fraser's charitable activity will be reaching a peak this summer as one of the firm's directors, Kevin Gillibrand, who lives in Appleton, Warrington, will be participating in the Three Peaks Challenge 2008 on behalf of Macmillan Cancer Support. The Three Peaks Challenge involves climbing the 3 highest peaks in the UK within 24 hours. This involves Ben Nevis (1344m) in Scotland, Scafell Pike (978m) in England and Snowdon (1085m) in Wales. The challenge takes place Saturday 5 July 2008.

The first firm of independent financial planners in Liverpool to get Chartered status from the Chartered Insurance Institute (CII) last year, Fraser Wealth Management specialise in giving advice to clients on a wide range of subjects to assist with personal financial planning, with particular emphasis on retirement, investment and inheritance tax planning. For more information, or to arrange a free one hour consultation, call Fraser Wealth Management on 0845 456 4404 or log on to www.fraserwm.co.uk.
Creamfields Licence Granted
THIS years Creamfields festival has been given the green light and issued its licence. Halton Borough Council granted the licence for the world famous music festival at its Regulatory committee meeting last night.
This year the award winning festival will celebrate its 10th anniversary and run over 2 days and feature camping for the first time. With a fresh approach to this years event some positive changes have been put in place including reducing the festival capacity by 10,000 to 40,000 each day. Building on the success of last years event which saw an 80% drop in reported incidents, Creamfields have this year promised a quality event. Working closely with Cheshire Police increased measures are in place to ensure a safe and secure event, this years crime reduction strategy includes:-

* 24 hour policing and security throughout the main arena and campsite
* Over 500 security personnel, stewards and heavy policing throughout the site
* Increased CCTV cameras throughout the site and campsite
* Metal Detector at all entrances
* Spotter teams at all entrances and throughout the site
* Increased lighting in and around the site and lighting throughout the campsite
* Increased security bag checks
* Information points around the site to help people navigate their way around

Also Challenge 21 will be in operation again which aims to prevent under age persons gaining access to the festival and also consuming alcohol.

A Cream spokesperson says:- "We are delighted to have been granted the licence for this years 10th Anniversary festival. Working closely with Cheshire Police and the local authority we aim to make this years event safe, enjoyable and the best one yet"

Inspector Debbie Dodd from Cheshire Police said:- "It's important to Cheshire Police that those attending the event have an enjoyable time in a safe environment. Police officers will be there to provide reassurance to both people attending the event and the local community. Our primary role is to look after the safety of the public but we will take positive action against anyone committing a criminal offence or acting in a disorderly way and hope to send a clear message to those would seek to spoil the enjoyment of others."

Jim King (Creamfields Event Manager) says:- "Creamfields was a great success last year on many levels including an 80% reduction on crime. We aim to improve this statistic further and make the festival a safe and enjoyable weekend for everyone."

Creamfields takes place on 23 August 2008 & 24 August 2008 Bank Holiday weekend and features the likes of Kasabian, Fatboy Slim, Ian Brown, Paul van Dyk, Tiesto, Underworld, Pendulum, Soulwax, Gossip, Chic featuring Nile Rodgers, Simian Mobile Disco, Erick Morillo, Paul Oakenfold, Sasha, David Guetta and 2manyDJ's
to name a few.
Tickets on sale now! Tel:- 0844 888 4401
Dresscode:- STRICTLY NO TRACKSUITS!
Information:- www.creamfields.com.