Alcohol fuelled away days could cost employers
BOOZY staff trips are costing naïve employers an arm and a leg, says risk experts. More and more employers are taking their staff away on "team bonding" trips which can involve alcohol. Some corporate away days turn into weekends and popular activities include, wine-tasting, ski-ing boating and horse-riding.

Simon Parums, founder and managing director of Themis, a claims investigation and risk assessment company, said:- "Even though corporate away days take place outside the workplace companies are still responsible for their staff and need to take precautions before organising activities."

Accidents with alcohol as a contributory factor are estimated to comprise 20-25% of all work accidents However, not all claims that arise from away days are alcohol related and a lot of claims come from potentially dangerous outdoor activities.

A recent case should serve as a warning. Themis investigated a company in Yorkshire that took its employees quad biking. One of the employees fell from the quad bike during the course and put in a personal injury claim.

Parums continues:- "In this particular case the claim wasn't awarded as we found the employee had received the right amount of training before getting on the quad bike and had not disclosed a medical condition beforehand. Companies planning corporate away days needn't be put off, they should just pay attention to all the risks involved and in some cases contact their solicitor to have a disclaimer drawn up for their staff to sign before the trip, in which they agree the company will not be responsible if anything goes wrong."

Parums gives his 5 top tips for preparing for a corporate away day:-
1. Identify all potential risks involved in any activity
2. Make sure adequate training is given to everyone before the activity
3. Always give the option of whether or not to take part
4. Have a disclaimer drawn up for each employee to sign detailing the company will not be responsible if something goes wrong
5. Write down full details of the activity and give to staff before it commences
Charity benefits from student digs starring in BBC drama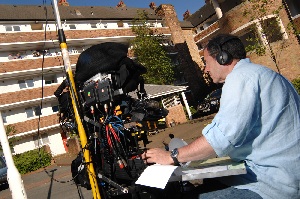 A Liverpool-based homelessness charity was given a boost when Riverside Housing donated its location fee from a shoot for a BBC supernatural drama.

When Lime Pictures approached Riverside Housing to request the use of student accommodation St Andrew's Gardens, to film Apparitions, the social housing organisation agreed on the condition that the location fee would go to the Whitechapel Centre.

Matt Herbison, Site Manager of St Andrews Gardens, said:- "It is the 80th anniversary of our parent company, The Riverside Group, and to mark this milestone we have launched a year-long fundraising campaign for Whitechapel.
The money will be used to buy 'starter kits' for people that include essential items such as a kettle, toaster, cutlery and crockery."

Maureen McCarthy, Chief Executive at Whitechapel, said:- "We are delighted that Riverside Housing has chosen to donate the fee to us.
We provide services to homeless, excluded and vulnerable people by helping them to make positive changes to their lives.
We have worked in partnership with The Riverside Group for many years to find real long-term solutions for homeless people.
We help people find a place to live and then support them to keep their homes to avoid the homeless cycle."