Merseyside's green heroes short listed for a Northwest Business Environment Award 2008
HALF a dozen Merseyside companies, including a vehicle manufacturer, hotel group and local council, have been short listed for a Northwest Business Environment Award 2008.

The region's only professional awards events to celebrate environmental and business excellence has announced its shortlist of green heroes that are all bidding for the title of Northwest Business Environment Awards 2008 champions.

The winners will be announced at an evening awards ceremony on 26 June 2008 in Manchester, which is being hosted by the Mersey Basin Campaign and the Northwest Regional Development Agency (NWDA).

Honours will be given for best environmental practice, built environment, sustainable procurement, environmental innovation and environmental communications. There will also be a special award to acknowledge the individual achievements and leadership from one of the Northwest's top business leaders who has adopted environmental management within their professional sector as well as influencing other business leaders.

Steven Broomhead, Chief Executive at the NWDA said:- "These awards are an ideal opportunity to recognise the innovative work that is being carried out by a range of companies throughout England's Northwest. It is an excellent way to highlight the benefits businesses can gain through adopting more efficient operational practices and reducing their impact on the environment.

Climate change is one of the biggest challenges the business world has to face and a key priority for the NWDA. We are delighted to sponsor these awards and wish all finalists the best of luck."
The Merseyside short listed finalists are, in no particular order:-
Best Environmental Practice (Large Company) category
Halewood-based vehicle manufacturer, Jaguar/Land Rover. In 2007 Jaguar achieved a 62% reduction in water consumption, 5% saving in gas consumption and a 55% saving in Paint Shops Volatile Organic compounds emissions during the past three years through their commitment to Sustainable Development and the creation and nurturing of an environmentally aware culture across all manufacturing plants.
Best Environmental Practice, SMEs category
Feathers Hotel and Catering Group, which has hotels in Liverpool, Warrington, Chester and Manchester. Made up of eight hotels across the Northwest., the Chairman set a target for the group to reduce consumption by 20% during 2007. Around a dozen key action points were identified and undertaken to set policy, improve energy use and consumption, and involve staff at every level. Energy savings over two years equate to 184 full size hot air balloons filled with CO2 and £387,000 of annual savings.

Liverpool-based Industrial manufacturer and supplier of lubricants and surface coatings, RS Clare and Company, recognising that it is the employees who drive environmental improvements, RS Clare has implemented a wide range of initiatives. Waste Improvement Teams have identified opportunities for waste reduction resulting in significantly reduced waste generated, efficient use of energy means the company is part way a programme to improve lighting levels by 54% and marketing environmentally balanced products means the wider community is benefited for the company's environmental commitments.
Sustainable Procurement –private sector category
Liverpool-based FRC Group, which invents business solutions for social and environmental problems by creating livelihoods and new opportunities for the long-termed unemployed.

A trading subsidiary of FRC Group, Bulky Bobs has been delivering bulky household waste collection, reuse and recycling services to residents in Liverpool and Oldham since 2000. The company identified a need to divert items unsuitable for reuse from landfill, such as furniture that was out of fashion and their response was operation 'Deconstruction'. Since 2007 Bulky Bobs have been collected items unsuitable for reuse such and breaking them down and recycling the component materials such as wood, metal, plastic and glass. As a predominantly maual process, this operation has also created training and employment opportunities.
Sustainable Procurement – public sector category
Merseytravel - co-ordinates public transport throughout the borough of Merseyside. Merseytravel produces well over 1.5 million printed documents each year, so a change in the paper and inks the organisation uses has had a huge environmental impact. Creating a centralised in-house print procurement service has established a corporate standard and a method for controlling standards and making cost savings. The new paper stock is certified by the Forestry Stewardship Council and is 75% recycled fibre of which 55% is post-consumer waste. What's more, the inks are vegetable-based, reducing print room staff exposure to volatile organic compounds.

Sefton Metropolitan Borough Council in partnership with international design and engineer consultants to the natural and built environment, Scott Wilson Limited for the public realm improvement to Southport's Marine Lake An integrated hard and soft landscape approach to the public realm and environmental improvements has rejuvenated the inland lake as a recreational and water sports resource. This has combined requirement to raise the lake edge as years and silt deposition had reduced its depth and compromised the use by keeled craft. The scheme combines a holistic approach to the planting, habitat creation, lighting, public art, street furniture and viewpoint design.

Now in its sixth year, the awards are supported by ENWORKS, the Royal Institute of British Architects, Envirolink Northwest, Groundwork Northwest, Environment Agency, Environment Connect, Envirowise, Buy Recycled, CBI Northwest, the Institute of Directors, MIDAS and the Institute of Civil Engineers.
Farmer Ted's gets prestigious award!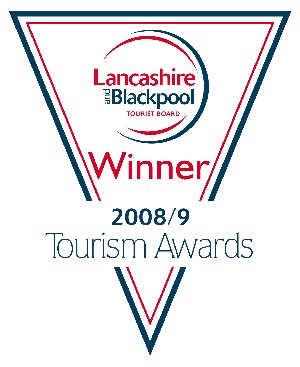 ON Wednesday, 18 June 2008, Farmer Ted's Farm Park was one of the lucky businesses to get a prestigious award at the Lancashire & Blackpool Tourism Awards 2008/09, hosted by BBC North West Tonight co-presenter, Ranvir Singh, and held in Blackburn Rovers Football Club, Ewood Park, Blackburn. This was the fifth annual Lancashire and Blackpool Tourism Awards ceremony to take place, with 13 awards, attracting 87 tourism businesses and organisations from across the county to enter, to try and win everything from Large Hotel of the Year to the Taste Lancashire 08 Award. All entries are judged on individual merit and undergo a procedure that incorporates a combination of mystery shopping, arranged site visits and interviews as deemed appropriate by the judges. So after 4 attractions were short listed for one of the awards, the "Small Visitor Attraction of the Year", it was anyone's guess who the judging panel, comprising a number of tourism-related and business sector specialists from across Lancashire and Blackpool, would have picked. This award is given to attractions that cater for under 50,000 visitors a year, so competition is tight at the best of times.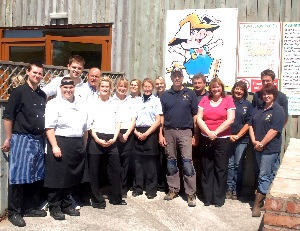 In the end the results were read out and astounded the owner of Farmer Teds, Mark Edwards, aka Farmer Ted said:- "It was a surprise to me to have our name read out. It truly is a fantastic achievement to have been rewarded this way by our industry and our peers. We aim to deliver the best to our visitor and all our staff are highly motivate, so we could not ask any more from them. This proves to them and others, just how good our team is. It is so nice to receive recognition and I would like to thank our staff for all their hard work and effort, that they have put in over the years."

Mike Wilkinson, chief executive of Lancashire and Blackpool Tourist Board said:- "In the past two years, four of our award winners have gone on to achieve regional success and two have achieved the ultimate prize, success in the national awards. So it just shows what can be achieved when you are one of our finalists.
It is also brilliant to see a record number of entries this year.
Businesses increasingly appreciate that entering awards is not simply about being number one – great as that is – but how much taking part in the process motivates staff, demonstrates the business is continually improving and proudly says, `my business is special`."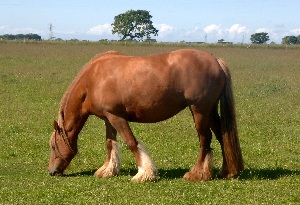 Peter Mearns, executive director of marketing at the Northwest Regional Development Agency added:- "The NWDA is proud to have support the Lancashire and Blackpool Tourism Awards.
These awards are raising standards across the industry year-on-year and helping to ensure that England's Northwest is able to compete with the best, both nationally and internationally."

To find out more about Farmer Ted's, go to their website.