Dragon Boat Race postponed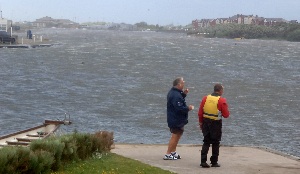 THE annual Southport Rotary Club's Charity Dragon Boat Race, at Southport's Water Side Lodge, on the Marine Lake had to be postponed on safety grounds because of the weather on Sunday, 22 June 2008.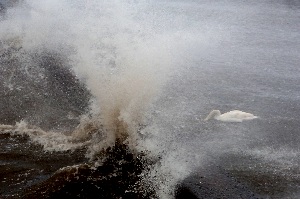 One of the organisers said:- "It is normally third time lucky, and as this is our third year running the race, we thought we would have got that luck on our side. Sadly, it was not the case. All 8 teams had a full turn out, despite the weather. We tried to run two races, but after that we decided, that due to the extremely strong winds, that it was best cancelling it and re-holding the race on the 9 August 2008. The water state on the lake is as if it was the Irish Sea and it would have made the competition too hard. We would like to thank everyone in the teams, the Southport Scouts at the Water Side Lodge, St John Ambulance and of course, all our members at the Southport Rotary Club. Remember we will be back on 9 August to re-run the events."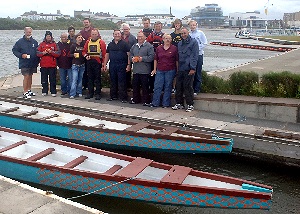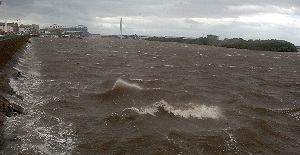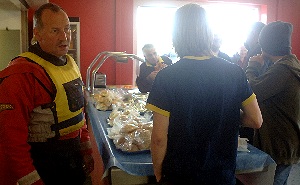 Thinking about a career in Journalism and Media?
BBC Radio Lancashire and BBC at MediaCity UK are holding an open day at their Blackburn studios from 10am to 4pm on Thursday 3 July 2008. With interactive elements, presentations and a chance to be part of a live radio studio audience, this day will give you information about the forthcoming BBC / UCLAN Journalism Foundation Entry Course as well as various other training opportunities available in the Media Industry in the North West.

Sound like the day for you to help you make the next step in your career? This is what you could take part in…

* Studio Workshop - Find out how a studio works in a radio station. You'll be given the opportunity to see how pre-recorded material is recorded and how these mix with live content in the studio.

* News Workshop - Want to work in news? Want to know how to balance facts with opinions? Want to know how to put a story together? Then come along to this workshop to find out. Also find out more about the course and how you could apply this year.

* MediaCity Presentation - The BBC is creating a new digital broadcast centre in the North of England as part of the MediaCityUK development at Salford Quays in Greater Manchester in 2011. Key London Departments will move to the Salford. This presentation will give you the latest information on the move to Salford and what career opportunities it may create for you.

The format of the day will be as follows:

* 9.30am - Registration & Careers / Training schemes information stalls

* 10.00am - 10.50am - Studio Workshop / News Workshop / and MediaCity presentation

* 11.00am - 1pm - Live audience at 'Ladies who Lunch'

* 1pm - 1.30pm - Break

* 1.30pm - 2.20pm - Studio Workshop / News Workshop / and MediaCity presentation

* 3pm - 3.30pm - Studio Workshop / News Workshop / and MediaCity presentation

* 4pm - Close of day

Throughout the day there will be various industry representatives present who will be able to give you information, advice and guidance on the current opportunities in the industry.

You can choose to attend the whole day or individual parts.
Please note that places are limited on each of the workshops, to book your place please email us, listing your desired workshops and times.
Ship comes in for docks security team...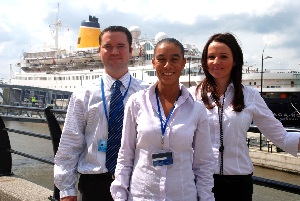 SIX Liverpool people have turned the tide in their battle against long-term unemployment by securing jobs at the city's world famous docks.

The new recruits clinched jobs in a variety of security roles at the Port of Liverpool after impressing bosses at Nationwide Site Security Ltd.

They are the first group of jobseekers to benefit from a successful new partnership forged between employment experts Pertemps People Development Group (PPDG) and the security company. PPDG delivers a range of initiatives including Employment Zone, New Deal and Lone Parent mentoring, and Learndirect training programmes.

Nationwide Site Security works in partnership with Port of Liverpool police and Peel Ports Group providing security for Liverpool and Birkenhead docks. Roles include maritime security, alarm response, mobile patrols, explosives detection, drug detection, firearms recovery, and personnel detection.

The six, who had all been unemployed for six months or more, were recruited after completing a rigorous Security Industry Association (SIA) training programme run by Carlisle Training. They had been referred to PPDG's employment coaches by Jobcentre Plus under the Government-funded Employment Zone initiative.

Their preparation for interviews with Nationwide Site Security was overseen by employment liaison co-ordinators Jane Marten and Charlie Hynes, and contracts manager Dave Atlay. It included earning their SIA badges, learning interview skills and confidence building sessions.

Frank Firth MBE, operations manager at Nationwide Site Security, said:- "The partnership is working extremely well and the team at Pertemps People Development Group has been providing us with excellent people.
We have taken on six new recruits and there are another two on standby. They undertake various aspects of security work, such as guarding the gates, traffic marshalling, computer work, looking after smaller factories. It's a diverse workforce and a diverse career.

The new guys are excellent, and their supervisors are really pleased with them. They are punctual, have good presentation and their response to doing the job, considering they may have been out of work for a while, has been tremendous.
The recruits could well progress up the career ladder in the future and there is a lot of scope for development as well as many training opportunities.

We have also asked for another 13 people to interview – that is the level of confidence we have got in PPDG."

Jane Marten, based at the company's city centre offices in Church Street, appealed for unemployed people to contact the team on 0151 7032800 about opportunities in security work.

Jane Marten said:- "I'd like to congratulate all of our clients who have started work with Nationwide Site Security. They have succeeded in overcoming a range of obstacles and now have the opportunity to build a career in an interesting and rewarding environment.

The relationship we have with Nationwide Site Security is fantastic. They tell us exactly what they are looking for in a potential recruit which enables us to pick the right people for interview. Their company is growing and we hope to continue to supply them with staff.

The whole process is working really well and we know that, with support from Carlisle Training, the preparation of our clients is spot on."

The Port of Liverpool, run by Peel Ports Group, dominates Britain's container trade with North America and serves more than 100 other non-EU destinations including China, India, Africa, Australia, and the Middle East. It is the UK's leading gateway for imports of grain and animal feed, for the export of recycled metal and the movement of freight between Britain and Ireland.

Other commodities handled on the 1,200 acres of operational docks on both banks of the River Mersey include timber and forest products, 11 million tonnes of crude oil, imports of coal, plus around three quarters of a million people travelling on Irish Sea ferries and the growing number of cruise ships embarking passengers and making day calls at the port.

PPDG is one of the UK's leading providers of Government-funded Welfare to Work initiatives. Working in partnership with Jobcentre Plus and other organisations, PPDG delivers employment and training initiatives helping disadvantaged job seekers in Birmingham, Solihull, West Bromwich, The Marches, Liverpool, Teesside and Islington, access the workplace or self-employment.

More than 60,000 job seekers have been helped into sustained employment since the projects began.
SEVERE WEATHER FORCES CANCELLATION OF SCHEDULED FAST CRAFT SAILINGS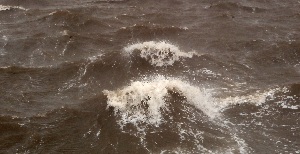 THE Isle of Man Steam Packet Company has confirmed that on Saturday 21 June 2008 that is was to cancel the fast craft services to Dublin and Liverpool after bad weather forecasts for Sunday, 22 June 2008 and Monday, 23 June 2008.
The forecasts for Sunday 22 June 2008 proved to be correct as the predict severe gales hit the Irish Sea and made the sea state to bad to sail.
If you have been affected and need to contact the company the Isle of Man Steam Packet Company reservation staff can be contacted on 01624 661661 (Isle of Man), 0871 222 1 333 (UK) and 1800 805055 (Republic of Ireland).