QVC to hunt for over 200 new recruits at summer open day
ON the 23 June 2008, the UK's leading television shopping channel, QVC, is once again opening the doors of its Customer Operations Centre in Knowsley, as part of its annual recruitment drive to fill seasonal posts. Applicants will have the opportunity to learn about the roles on offer, speak to staff and apply for positions, which start from September 2008.

Seasonal recruits are vital to managing customer demand over QVC's busy Christmas selling period and, whilst the majority of roles are seasonal, there are a number of opportunities for ongoing employment. In 2007 QVC received around 1,500 applications and almost 400 seasonal staff were recruited. Of these, many were subsequently offered permanent positions.

Frank Robinson, HR Director at QVC said:- "We are delighted to announce that we are holding our Open Day for the fifth year in a row. The day is an excellent opportunity for jobseekers to find out about an organisation where customer relations and quality service are at the heart of the business. There are numerous different roles available and they can provide fantastic career opportunities. For example, a number of our recruits from the first open day are now going through QVC's leadership development programme."

Roles are available across QVC's Customer Service, Order Entry and Distribution departments and, whilst experience is preferable, QVC is happy to welcome interested and enthusiastic candidates from any background. A variety of working hours are available, including flexible shifts and full or part-time days or evenings and even the chance to work from home on QVC's exciting new home agent programme.

Last year's event attracted more than 1,500 attendees with 994 calls into the recruitment line and QVC expects another good turnout this year. Once again, Jobcentre Plus, Connexions and Merseytravel have come together to provide buses and support on the day. The bus will be running hourly to QVC from Jobcentre branches in Bootle, Kirkby, Huyton and Prescot - timetable information is available from the Jobcentre.

QVC is an Equal Opportunities Employer with 1,800 people at its Knowsley site, rising to over 2,000 in the run up to Christmas. The company has been investing in the Liverpool area and recruiting locally for 10 years. Visit www.qvcuk.com or contact the application hotline on 0151 210 7247.

· Open Day to be held on Friday 4 July 2008

· Job Centre buses from local branches to QVC
North West Motor Show, Southport 2008
Report by C. Trollope.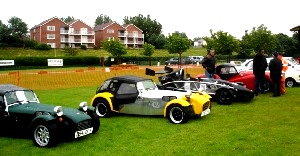 ON a very dreary and rainy Saturday afternoon, 21 June 2008, I attended the Motor Show. In such weather, I was very surprised to see how many of the exhibitors were actually present .I was still able to meet up with a variety of people encountered at previous shows and to catch up on news, which was very interesting. Thankfully, I saw most of what I hoped to see, despite the deteriorating weather. Although I was there as a visitor and not press, I thought that I would still take some pictures, as the organisers had made such a valiant effort. Several people complained at the cost for parking and entrance fees, whilst others commented on the poor advertising:- "I did not know about it until I was told by a friend" was a common complaint. One even demanded their money back as there was so little to see, which was rather unfair to the organisers of an outdoors event. The organisers can not be held responsible for the weather conditions, neither for those exhibitors who failed to turn up because of the weather, nor for the cancellation of demonstrations, which would have been unsafe in such conditions. Yet, for all that, it was a good show for enthusiasts this year. Given the circumstances, most people said:- "Well done" to the car clubs, exhibitors, St John Ambulance and the caterers.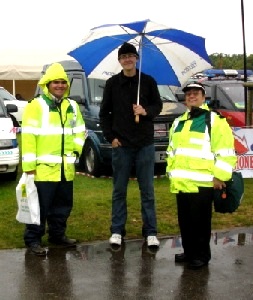 Email us your comments about this event to:- news24@southportreporter.com.