People will take more risks in tough economic times
PEOPLE'S appetite for risk-taking in the workplace is likely to increase if the economy enters a recession according to research released by international leadership development organisation Common Purpose. Over half of all working adults surveyed already consider themselves to be risk-takers and 43% think it will be important to take more risks to help their organisation survive through a recession. It also found that only 13% of people avoid risk at all costs in their jobs. Common Purpose added that taking calculated risks is very different to acting rashly, that risk is an inseparable part of entrepreneurship and innovation. Through their programmes, Common Purpose has found that senior managers from the private, public and voluntary sectors can effectively come together to use the diversity of their backgrounds and experiences to fertilise each other's ideas, to avoid pitfalls and to inform their understanding of risk. In today's complex and rapidly shifting context, it seems that being paralysed by fear into inaction is the biggest risk. As Julia Middleton, Chief Executive of Common Purpose says:- "An economic downturn is not the time to shy away from risks. Leaders need to be brave and bold, and to look in new places to capture the opportunities for growth and innovation. Looking into other people's worlds is a good place to start."

Top tips for taking risks during a recession:-
· Be brave. Take a step into the unknown, within or beyond your existing role, takes courage - courage to start and courage to continue.
· Taking risks is not as simple as jumping over a hedge without looking first. It involves building an understanding of the issues, challenges, risks and the other stakeholders involved.
· Don't focus on your area of specialism to the exclusion of all else. Losing sight of the broader context leaves you open to being blind-sided.
· Build a diverse network of people and use them to help you formulate your plans - their different views and experiences may enable you to see things in a new light.
· Keep an eye on the medium and long-term as well as short term fixes: Don't destroy tomorrow's value today.
MEP CALLS FOR END OF 'SHOCK TACTICS' TO KILL CHICKENS
A local Euro-MP is calling for a pain free approach to be used in the slaughter of chickens. Electrocution after shackling is the most common method used by the slaughter industry to stun poultry before they are killed. The birds are suspended upside down on an automated line, flapping frantically in a bid to free themselves, before passing through an electrical water bath where they are stunned.

But the process can prove extremely painful for the birds. Alternative methods, such as gassing, do not involve stressing the animals. Already some 75% of turkeys are stunned using gas mixtures in the UK, and Chris Davies is calling for the introduction of painless stunning procedures to be included in a Europe-wide review of slaughter methods.

The Liberal Democrat Euro-MP says that the widespread introduction of a more humane approach would involve extra costs, but believes that a target date needs to be set. He said:- "The earlier the better many would argue, but the sooner a date is set the longer the period that abattoirs could be given for making changes and the lower the cost. Too often we treat living creatures as though they were mechanical parts on a factory production line. Many people believe that we have a responsibility to keep to a minimum the suffering of animals we use for food."
15,000 people go under and over the Mersey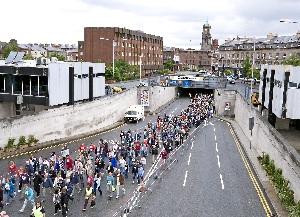 AROUND 15,000 people took part in Merseytravel's historic "Under and Over the Mersey" event on Sunday (Father's Day).
Young and old joined together in the unique day of celebration, which gave people a rare chance to walk through a closed Mersey tunnel and travel back across the water on the Mersey Ferry.

Councillor Mark Dowd, Chair of Merseytravel, said:- "It was great to see so many smiling faces from all parts of Merseyside. Despite the rain at the start people came along in their thousands so we are delighted with that."

Neil Scales, Chief Executive and Director General of Merseytravel, added:- "From talking to people through the tunnel the feedback was excellent and, for many, it was a special occasion. Everyone seemed in great spirits, despite some wet weather.
We wanted this to be one of the great events taking place throughout 2008 and we hope we achieved that for those taking part.
We wouldn't like to devalue the experience of these walkthroughs, which are only very rare, by holding them every year, but we may consider doing something similar for the Queensway Tunnel's 75 anniversary next year."

Under and Over the Mersey was only the 4th closure in the tunnels' history for a walkthrough.

International gospel artists from across the world performed at the event, which was launched by the Culture Company's Phil Redmond (who walked the length of the tunnel flying a joint Merseytravel and Culture Company flag) and Councillor Mark Dowd, Chair of Merseytravel.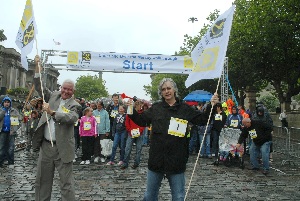 Street performers from Liverpool Lighthouse provided the colour and carnival atmosphere; and there were special performances by the Liverpool Philharmonic Youth Orchestra, and a vintage car rally.

Everyone taking part received a specially cast commemorative medal, a certificate and a DVD.