MENSA ISSUES IQ CHALLENGE IN LIVERPOOL
MENSA is inviting people in the Liverpool area to discover something new about themselves with a range of IQ tests and online psychometric assessments on offer.

A supervised IQ test session has been organised on 27 July (2.00pm) at the Express Holiday Inn Hotel, Albert Dock for anyone interested in finding out their own IQ score for just £15. Local people are invited to contact Helen Oliver on 01902 772771 or email bookatest@mensa.org.uk to reserve a place. Everyone who scores within the top 2% of the population is invited to join Mensa.

Mensa chief executive John Stevenage said:- "We are getting more and more people wanting to find their IQ score to include this in their CVs or university applications. In these increasingly competitive times, people are looking for extra ways to differentiate themselves from other candidates."

Mensa Psychometric Assessments
To help people understand more about themselves and their capabilities, Mensa joined forces with business psychologists Team Focus to offer a range of online psychometric assessments called Profiling for Success, available at www.mensa.org.uk.

These online tests are designed to help individuals explore their personality, prepare for job interviews or make career choices.

· Identify preferred learning styles
· Find out which careers would suit personality
· Compare thinking skills with other job applicants
· Learn more about themselves

British Mensa currently has around 24,000 members, with almost 2,000 in the North West region. The society welcomes people from all walks of life, with the objective of enjoying each other's company and participating in a range of social and cultural activities.

The society's aims are to identify and foster human intelligence for the benefit of humanity; to provide a stimulating intellectual and social environment for its members; and to encourage research into the nature, characteristics and uses of intelligence.
TORY ROW HIGHLIGHTS 'BOREDOM BOOM' IN UK WORKPLACE
TORY MP David Davis has highlighted the problem of boredom in the UK workplace, according to recruitment experts. David Davis reportedly remarked to one of his colleagues that he resigned from the front bench because he was bored. Experts claim that increasing numbers of office jobs are creating a "boredom boom" and that being bored at work can actually be more traumatic and damaging than overwork.

Adrian Hitchenor, CEO of Hitchenor Wakeford Executive Search, said:- "It isn't just manual workers such as factory and checkout staff that suffer from boredom. In our role as executive recruiters we have seen a number of people in high profile positions come to us to find a more challenging role. These include CFOs and FDs on £100K plus salaries, who feel they are no longer being stretched or challenged and have become 'bored' in their job as a result. Mental stimulation and autonomy in a career is vital and employers who control their workforce too tightly or managers who micro-manage tasks quickly lose the interest of their staff. Senior people need to be stimulated by their career or they will quickly move on."

Stephen Seymour, of training and recruitment consultancy The Urquhart Partnership, said:- "Boredom in the workplace is costing the economy millions of pounds a year. Contrary to popular opinion, boredom isn't necessarily the result of having nothing to do - it can just as likely to caused by doing tasks that don't appeal to you. People expect more than just a salary from their jobs and being fulfilled is more important than ever. There is a definite boredom boom in the British workplace."

Hitchenor adds:- "Our experience shows one of the best techniques for combating boredom is taking more control over your daily work and being more assertive by demanding new challenges that stretch your abilities."
End of Barmy EU fruit rules?
BENDY cucumbers and funny shaped fruit and veg could be back on the table if the European Commission has its way. Conservative MEP Sir Robert Atkins has welcomed moves by the European Commission to simplify the barmy EU rules on fruit which would allow bendy cucumbers and funny shaped fruit to once again be sold in British shops.

European Agriculture Commissioner, Mariann Fischer Boel wants to simplify and loosen up the rules of marketing fruit and veg and is proposing a widespread cull of the existing 36 marketing standards which stipulate quality standards on a range of products from apricots to watermelons. Among those to go would be the infamous "cucumber" quality standard which ensures that cucumbers can not bend more than 10mm for every 10cm of length. In their place, the Commission is proposing just ten standards which would continue the existing rules on fruits such as apples, pears and kiwis and vegetables such as tomatoes and lettuces whilst ensuring that other products met a basic set of standards.

The Commissioner is however reported to have already run into trouble in the Council of Ministers with 18 of the 27 member states understood to be opposed to any changes with the French, Italians, Germans and Spanish amongst those planning to block any loosening up of the rules.

Sir Robert said:- "Finally the European Commission comes up with a sensible idea aimed at getting rid of frankly silly rules which are all about the shape and not the quality of the product and lo and behold the usual suspects line up to block it. Quite why the French, Spanish, Germans and Italians want to continue the unjustified ban on bendy cucumbers is beyond me.
The new rules will still ensure that all fruit and veg is clean and healthy whilst allowing people to enjoy the diversity that normal production brings.
The regulations as they stand are unnatural, wasteful and serve no practical purpose other than ensuring that fruit and veg looks good.
The British government must now support the Commission and use its influence to make other member states see sense."
Liverpool shoppers help bring clean water to 1 million people in Africa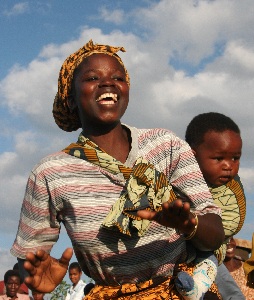 SHOPPERS in Liverpool are being praised for playing their part in helping 1 million people living in some of the poorest parts of Africa get on the first step out of poverty by giving them access to clean water for life. Thirsty Planet is thanking everyone who has bought its bottled water for helping make such a difference to so many lives in just over a year.

"Our aim is to bring clean water to 10 million people in sub-Saharan Africa by the year 2015. And thanks to the support of shoppers we've already managed to help more than 1 million people – that's more than double the population of Liverpool - in our first 15 months." said Paul Martin, of Waterbrands, the company behind Thirsty Planet.

For every bottle or multipack of Thirsty Planet sold, a stated donation goes to partner charity Pump Aid which helps villagers to dig wells and install the ingenious, cheap and easy-to-operate Elephant pumps. Based on a 2,000 year old Chinese design, the pumps do not require any specialist knowledge to maintain and can be repared with easily-available materials such as plant fibres and discarded plastic.

Paul said:- "It's easy to forget that water remains an incredibly precious resource for millions of people across the globe, yet one we largely take for granted on these shores. It's scandalous that in the 21st century there are a billion people on the earth who still have to rely on dirty, contaminated water, when it costs only £250 to install an Elephant pump that can serve a community of up to 500 people. That works out at 50p to give someone clean water for life and a leg-up onto the first step out of poverty. There are many brands which support water charities currently on sale, but we believe for every pound raised the Thirsty Planet/Pump Aid partnership delivers the greatest benefit.

Simply by choosing Thirsty Planet at the supermarket or the sandwich shop, people in Merseyside can help to give someone renewed hope and a better life."

The 1 millionth person to benefit from the Thirsty Planet/Pump Aid partnership is Zunisha, (pictured above), a 35-year-old housewife from the rural Chiradzulu district of Malawi. With 3 lively schoolboy sons aged 7, 8 and 12, and their 6-month-old brother to care for, she's on the go all day. Zunisha's chores are much the same as mums' in the UK - cooking, cleaning the house, washing clothes, tending the vegetable garden and looking after the family's animals.

The biggest difference between her life and her counterparts' in the west is the journeys she has had to make each day to her only source of water - a dirty, disease-ridden, unprotected well some 2 kilometres from her home. Zunisha had to walk on rough tracks through the bush with the sun beating down, carrying a heavy 20-litre bucket of water on her head four or five times a day. Before she could use the water for cooking or drinking it had to be boiled up to kill the bugs which could make the children seriously ill or even kill them. If there was no firewood or paraffin to boil the water she had to take a gamble and risk her sons contracting cholera or dysentary. There was no alternative.

Zunisha was beaming with excitement as the first water gushed from the Elephant pump being installed a short stroll away from her house. "Life will be much easier. My boys won't get sick so often they won't miss out on school.
I want them to get a good education as I'd like them all to be doctors.
We'll be able to use the water to irrigate our garden so I'll be able to grow more vegetables and we'll eat more healthily. Tomatoes, that's what I'm really looking forward to growing.
I love tomatoes. I might even to be able to sell some which will help with the household budget and pay the school fees," she says.

Thirsty Planet is available in all major supermarkets. Stockists and consumers can monitor the brand's success and track where pumps are being installed via the Thirsty Planet website, www.thirsty-planet.com.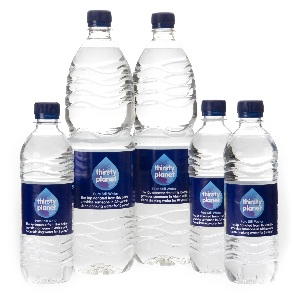 Pump Aid is the brainchild of Ian Thorpe who, 21 years ago, spent his gap year teaching in Zimbabwe and saw 2 of his students die from dysentery which they caught from drinking water contaminated by a decomposing snake.
He resolved to help solve the problem and the result is the Elephant pump based on a 2,000 year old Chinese design which has been installed in hundreds of villages, helping hundreds of thousands of people.