Are you brave enough?
Abseil 195 feet for the Red Cross!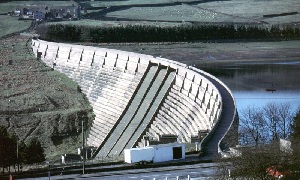 CAN you imagine peering over the edge of a steep sudden drop…a 195 feet drop in fact…now imagine slowly moving over the edge …one step at a time…down the vast wall of Baitings Dam.

If the thought of abseiling brings you out in a cold sweat then this event probably won't be for you!

The British Red Cross is currently looking for dare devil abseilers to take part in an exciting and exhilarating abseil down Baitings Dam (near Ripponden, West Yorkshire) over the weekend of the 9 August 2008 to 10 August 2008.

After the success of last year's 'Big Drop' abseil at Baitings Dam, the British Red Cross is repeating the event to give more people the opportunity to experience this awesome experience.

Senior Fundraiser, Jo Allott said:- "This challenging event is really popular and our abseilers will enjoy the most amazing views!
Although it's not for the faint hearted, we're sure everybody who takes part will have a thoroughly enjoyable and unforgettable day!"

To register costs just £10 and we are challenging our abseilers to raise £85 or more for the British Red Cross.
The money raised will enable the Red Cross to continue vital work both across the world and around the corner."

If you have what it takes to get involved with the challenge please contact Jo Allott on 0161 888 8915 or 07710 733 196 or email.
INCAT 050 EMBARKS ON VOYAGE TO ISLE OF MAN
THE new recruit to the Isle of Man Steam Packet Company's fleet set off well on way now, on a massive nautical delivery voyage from Hobart to Portsmouth and then on to to Liverpool.

The purchase of the Incat 050 catamaran was finalised last month and she will replace Viking, primarily serving the Liverpool-Isle of Man route.

The first leg of her voyage will see her sail 1,794 nautical miles from Hobart, Tasmania, to Fremantle on Australia's West Coast, where she docked on Monday afternoon, 23 June 2008.

Her journey will then take her from Fremantle to Colombo, Sri Lanka (3,413 miles) and on to Jeddah in Saudi Arabia (2,773 miles), where she is scheduled to arrive on July 5. The next leg will be from Jeddah to Port Said on the Suez Canal (768 miles), and from there to Valetta, Malta (960 miles).

The final stage will see her leave Valetta for Portsmouth (2,160 miles), where she is scheduled to arrive between 13 July 2008 and 15 July 2008.

Continues:-

In Portsmouth the vessel will go to the FSL Naval Dock Yard for a substantial refit, ahead of entering service in 2009.

A team from Isle of Man Steam Packet Company flew out to Hobart earlier this week to prepare for Incat 050's 11,868-mile voyage.

Chief Executive Mark Woodward will be joining Incat 050 in Colombo and staying with her until Malta. He explained:- "Planning the voyage to Portsmouth has been a major logistical exercise. The team involved has worked tirelessly to ensure as smooth a journey as possible. It's an exciting acquisition for us and everyone at the Isle of Man Steam Packet Company is looking forward to seeing Incat 050 when she finally arrives in Manx waters in our new livery."

Incat 050 was built in Tasmania in 1998 and served three years as a passenger and vehicle carrier in Australia and New Zealand, before being chartered to the US Military.

The 96-metre wave-piercing catamaran will be the largest vessel of its type in the Irish Sea, significantly enhancing the service the Company can offer due to its faster cruising speed, greater vehicle and passenger capacity, freight back-up capacity and increased levels of passenger comfort.