NEARLY 7 MILLION PEOPLE HAVE NEVER BEEN ON HOLIDAY OUTSIDE OF THE UK
AS many as 15% of British adults, that's 6.96 million people, have never been on holiday abroad. Sainsbury's Travel Insurance, warns however that calamity can still strike whilst in the UK and that travel insurance is just as essential for UK holidays to cover instances such as lost or stolen luggage and belongings or travel delays. Indeed UK residents take more than 50 million domestic holidays a year, spending £10.9 billion.

Neil Laird, Travel Insurance Manager, Sainsbury's Finance said:- "British people often holiday in the UK, whether it be their main get-away or a short break or long weekend. It can be easy to overlook travel insurance if you are not going on a foreign break but many of the problems that you can encounter abroad can also happen here in the UK on holiday, so it is important to ensure that you have adequate cover."

Sainsbury's Finance says that millions of British people will make travel insurance claims on UK holidays this year. These claims may include holidays cancelled for medical reasons, cancellations due to death or an illness and claims for lost money, baggage and documents. It may not be obviously apparent why you might need UK travel insurance, Sainsbury's Travel Insurance offers the following advice:-

► Whilst the NHS would ensure that you get hospital treatment if you need it, it won't transfer you back to where you live. Travel insurance would allow you to be transferred to a hospital near your home whether you are somewhere else in the UK on holiday or abroad

► You could be ill before you leave for your holiday and have to cancel the trip losing money on your travel accommodation booking.

► You may be unable to go on your holiday because a loved one becomes very ill
► If you are taking an internal flight, your flight might be cancelled or delayed
► A valuable item could be lost or stolen whilst you are on holiday

On a location basis, nearly 1 in 4 people in the East Midlands and Anglia regions, have not been abroad on holiday, the highest of any part of the UK.
| | | |
| --- | --- | --- |
| Location | % of people in this region who have never had a holiday abroad | Number of people in this region who have never had a holiday abroad |
| East Midlands and Anglia | 23 | 1,200,000 |
| Yorkshire and Humberside | 17 | 687,500 |
| South East | 16 | 1,440,000 |
| North | 15 | 1,050,000 |
| South West and Wales | 14 | 907,500 |
| Scotland | 13 | 514,500 |
| London | 11 | 648,700 |
| West Midlands | 9 | 387,300 |
Please note that this table does not include N Ireland as the sample size was too small.
Wheel appeal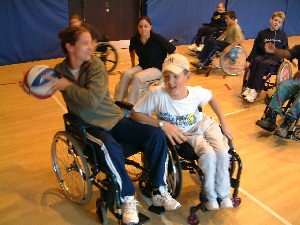 WITH the Beijing Olympics fast approaching and Britain's paralympic team continuing to outshine its able-bodied equivalent, the impact sport can make on disabled people's lives has never been quite so apparent.

To wheelchair users in particular, participating in sport can prove a real life-line by boosting confidence, nurturing independence, alleviating isolation and improving physical fitness. Despite this, less than 2% of UK wheelchair users regularly take part in any kind of sporting activity; a statistic Spinal Injuries Association (SIA) would like to see dramatically increase.

Through services such as its Peer Support scheme at the Spinal Injuries Centre within Southport and Formby General Hospital, SIA provides advice and assistance to more than 40,000 people paralysed through spinal cord injury. Having been fortunate enough to be elected Official Charity of the 2008 London Marathon, the charity elected to augment its commitment to increasing sports participation by ploughing 50% of the money raised by its runners directly into grassroots wheelchair sport.

Through its brand-new initiative, Rebuilding Lives Through Sport (RLTS), SIA hopes to promote the support and development of paralympic sports for wheelchair users across the UK and would be delighted to receive applications for funding from sports clubs and societies across Merseyside. Grants vary from £1,000 to £50,000 and recipient projects must be endorsed by the relevant governing body. While successful projects must include wheelchair participants, recipients need not be spinal cord injured and applications from a broad range of organizations and/or people are positively welcomed.

Determined to demonstrate its core ethos that 'life needn't stop when you're paralysed', the proactive approach of SIA is perfectly embodied in Southport solicitor, and SIA member, Ed Fletcher who recently represented Great Britain at the first British Disabled Triathlon Championships in the Rother Valley. Having finished third in his Tri 3 category and secured his bronze medal, Ed, who was paralysed in a motor bike accident in 1999, is now set to cycle, swim and peddle his way through the grueling Mazda London Triathlon in August in aid of SIA. While it understands that for those of us not as fantastically fit as Ed, a full triathlon is something of a tall order, SIA would be delighted if women across the North West would support it by completing the Adidas Women's Challenge in Liverpool on 7 September. The 5k course is suitable for absolutely everyone (other than men!) and registration costs just £15, £5 of which can be donated straight to SIA if selected as your chosen charity.

For further details, and to register, visit the official website via going to www.womenschallenge.co.uk. Full guidelines and an application form for RLTS are available online via going to:- www.spinal.co.uk and anyone wishing to find out more is encouraged to phone: 0845 678 6633.