LOOKING GOOD FOR THE OPEN GOLF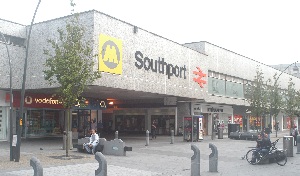 ALL the Stations on Merseyside are "looking good" according to Network Rail. In readiness to welcome thousands of visitors to the Open Golf tournament on 17 July 2008, thanks to a package of work from Network Rail worth nearly £6 million.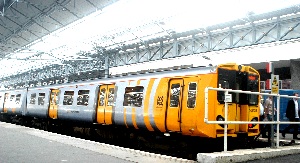 Southport station has been completely transformed, mainly as a result of having a new £3.5 million roof.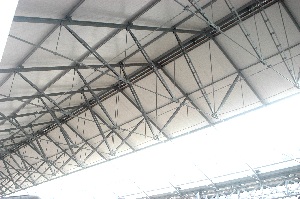 As well as the roof work, Network Rail has invested a further £1.3 million in other enhancements to the station, including new glazed screens across the ends of the platforms to give passengers some protection from the elements.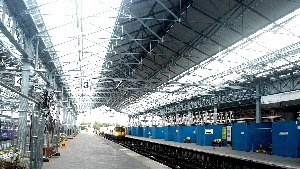 There are also new tiles over the whole of the concourse floor, new lighting above the concourse and completely new toilets incorporating disabled and baby changing facilities.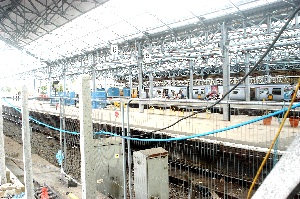 Just down the line, Birkdale has had £500,000 spent by Network Rail restoring the station's Victorian canopies to their former 1850s glory. The timber parts were severely rotted and replaced but the cast iron sections were in good condition so they were cleaned and treated to prolong their life before new glazing was installed.

Finally, Hillside station has had a complete makeover at a cost of £200,000. The staircases from the overbridge down to the platforms have had new floor coverings and handrails, and the sides have also been renewed. The staircases also have new security shutters to stop people gaining access to the platforms when the station is shut.

Windows have been replaced, all the guttering and rainwater pipes have been renewed and the station has been completely redecorated.

Network Rail is also working in partnership with Lancashire County Council, NWDA (West Lancashire investing in Business), West Lancashire District Council, Railway Heritage Trust, Merseytravel, Merseyrail and the DfT (Access for All) and has recently announced a complete refurbishment of Ormskirk station. The value of the work is approximately £1.5 million and will include the full repair of the Grade ll listed station building, encompassing refurbishment of the ticket office and platform canopy, and providing CCTV, public address and customer information systems. The work is due to start at the end of the summer and take nine months to complete.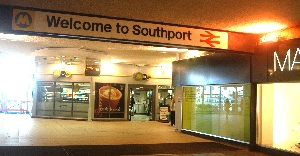 Network Rail's area manager Merseyside Simon Whitehorn said:- "I am very pleased to see the dramatic change to the ambience and environment of Southport station as a result of the roof renewal, the general refurbishment work at concourse level and improvement in facilities for users of this important station. The work carried out at Southport, Birkdale and Hillside is a credit to all the staff that have been involved from within Network Rail, along with those from our contractors, and it is good to see that working in partnership in this way can deliver such a high level of passenger benefit. I now look forward to work commencing later this summer at Ormskirk and working with the various funding partners in transforming that station for the local community."
BUSINESSES KEEP A LOOK OUT FOR A POSSIBLE BOGUS CALLER!
A report of suspicious circumstances in Castle Walk, Southport. At 15:30 hrs on 30/06/08 a male described as Asian in appearance, 25 to 30 years, slim build wearing a suit and tie called at the above location asking for cash for the Royal Society for the Protection of Birds (RSPB).

When challenged he left the address 'quite quickly'. Enquiries with the RSPB reveal that there is a 'Membership Drive' (Recruitment) currently being conducted in Sefton. However RSPB staff are not allowed to ask for cash/cheques and are only allowed to take personal details for Direct Debits.
Merseyside Police suggest you never give personal details out to anyone unless you are absolutely sure they are genuine.

If you have any information, call 0800 555 111 if you want to give information anonymously.
Southport Home Watch Update:- "PURSES and WALLETS"
THERE have been a few incidents recently of purses taken from ladies handbags whilst they were out in Southport. The locations have been varied, and special care should be taken when shopping in Supermarkets, Charity shops or in crowded places.

Also a gentleman walking down a road in Birkdale suspects a wallet & mobile phone was taken from his rear trouser pockets.

HOMEWATCH TIPS
* Avoid taking out more credit cards or cash than you require
* Don't leave handbags unattended at any time
* Always securely fasten handbags/shoulder bags
* Avoid putting purses in open shopping bags
* Handbags, wallets or other items left on view in cars could result in damage to your vehicle and articles stolen
* Gentlemen avoid putting anything of value in the back pocket of trousers. You can so easily be relieved of your valuables by pickpockets.
Southport FC Juniors Need You!!!
SOUTHPORT FC Juniors are currently looking forward to the 2008/9 season by holding trials throughout the different age groups.

The Juniors have teams from Under 7 (aged 6 on 31 August 2008) up to Under 16 competing in the Craven Minor League.

Young ladies are welcome at ages Under 7 to Under 10 presently but if interest is sufficient it is hoped to enter ladies teams at Under 12, 14, 16 and 18 in local leagues.

Southport FC Juniors have a close relationship with Southport FC, including games on Haig Avenue at half time on match-days and concessionary passes.
Further details are available from Chris Baumber, Club Secretary on 01704 220484 or 07977 987277.
Message from bosses fall on deaf ears!
COUNCIL bosses across the North West are issuing an identical 'local briefing' to employees in an attempt to deter union members from going on strike.

The briefing has been prepared by the Local Government Association, the body that represents local government employers nationally, for every local authority to send to staff.

It is timed to coincide with union plans for a two day walkout over pay on 16 July 2008 and 17 July 2008.

UNISON representatives who know their chief executives well say it is clear the message has been produced centrally in response to growing concerns about support for the strike.

In the North West alone, UNISON's recruitment figures for local government branches have shot up by 50% in June 2008 compared to the numbers who joined in June the previous two years.

UNISON's North West Regional Secretary Frank Hont said:- "management's were trying to convince staff the 2.45% offer 'represents the limit of affordability'".

This was to make them think it's not worth walking out because no-more money is available.

But he said:- "Workers know money can be found to fund a better settlement without damaging services, and are ready to walk out if the bosses don't increase the offer."

Last year, efficiency savings in England alone were £763 million; more than the government asked for.

At 1 April 2007, English councils had had doubled the amount in their bank accounts for non-school activities to £11.6 BILLION; more than half the local government pay bill and certainly enough to fund a decent pay rise."

Mr Hont said some authorities appeared to be uncomfortable being told what to say; pointing out they have been requested to communicate the information and that it does not come directly from local managements.

Also, some of the information, such as the amount of money they say is available to fund this year's pay claim, is inconsistent with what local employers have already told unions.

Mr Hont said the idea to send the same message to all employees was nothing more than a scare tactic that had backfired. He said:- "Workers are turning their backs on the bosses' rhetoric and are signing up to join the union and fight for a fairer deal."

We contacted Sefton MBC for a comment and we where refused a comment. What are your views on this issue Unison has reported? Email us now to news24@southportreporter.com.