Tunnels clampdown on crime
A total of 173 vehicles were stop-checked by police as part of a clampdown on crime through the Mersey Tunnels overnight from 10.45pm Friday, 27 June 2008 through to 3.30am Saturday, 28 June 2008.

Mersey Tunnels Police coordinated the joint agency "Operation Mercury", launched to tackle illegal taxis, dangerous cars and drink drivers. The operation, based at the Kings Square exit of the Queensway Tunnel, was supported by Customs and Excise, VOSA (Vehicle and Operator Services Agency) and taxi licensing officers from Wirral and Liverpool.

Councillor Mark Dowd, Chair of Merseytravel, said:- "The safety and security of drivers using the tunnels is paramount. This is an important operation and one that supports the Tunnel Police's high visibility patrols. Illegal drivers and drink drivers are not welcome. The two tunnels are the safest in the country and we want to keep them that way."

During the operation 16 drivers were breathalysed. One man was arrested on suspicion of drink driving (charged with failing to provide a specimen of blood) and a search was carried out on one vehicle under the Misuse of Drugs Act. Cllr Dowd added:- "It is surprising that officers had to conduct this many road side tests. It shows the need for continued vigilance."

Mersey Tunnels Police issued two fixed penalty notices for tyre offences, one fixed penalty notice for driving a vehicle in a dangerous condition and two stop notices for possible insurance offences. HM Customs and Excise launched a prosecution for the illegal use of red diesel and enquiries are ongoing to trace the source. VOSA issued 20 immediate prohibition notices and five delayed notices for vehicles deemed unroadworthy because of defects or faults. Liverpool Taxi Enforcement team suspended four taxi drivers and seized their plates. In total 14 default notices were served and six prosecutions launched. Wirral Taxi Enforcement team suspended five taxi drivers and seized their plates, issuing one default notice.

Neil Scales, Chief Executive and Director General of Merseytravel added:- "The Mersey Tunnels have an extremely good safety record and this project is a great example of agencies working together to tackle crime and enforce the laws there to protect us. We have spent millions of pounds upgrading and improving both tunnels, including the new escape chambers in Queensway. It is important our enforcement matches that commitment."

Operation Mercury was set up to detect and prosecute unroadworthy cars and other vehicles, illegal taxis and drivers and a range of other offences. The aim of the operation is to promote a safer environment in and around the Mersey Tunnels and their approach roads. Previous operations have also included Merseyside Police and officers from the Immigration Service and Benefit Fraud Inspectorate.
Sandhills Station Re-opens
SANDHILLS Station on Monday, 7 July 2008 has been re-open to passengers. Although major elements of the £6million works are still underway, the re-opening is a major milestone in the project. It will mean the station is open for use in time for the Tall Ships and Open Golf as an interchange for Southport and the Ormskirk and Kirkby lines on Merseyrail's Northern Line. Neil Scales, Chief Executive and Director General of Merseytravel, said:- "It was vital that the contractors completed sufficient works to reopen the station to passengers in what will be a very busy few weeks. We have been pushing hard behind the scenes to make sure this important deadline was reached and limit any impact on passengers. Some major works are still underway but the result will be a fantastic regeneration project and an addition to the network. Sandhills a very important station for many people." Unfortunately, because of the ongoing works the station will not be accessible for disabled passengers or passengers with prams or bicycles. Anyone needing an accessible station for interchange between the Northern Lines is urged to continue to use Moorfields Station for the time being. The transformation of Sandhills Station includes a raft of new improvements including a new ticket office and booking hall, unisex disabled toilet at platform level, resurfaced platform and glazed canopy together with two new fully enclosed waiting rooms to provide better protection for waiting passengers. The work will also include upgrading the station lighting, a new CCTV system and improved access to the station with a DDA compliant ramp and new lift to provide step free access from street level up to the station platforms. Merseytravel is funding the project with support from the Department for Transport (£1.4million) and ERDF through the Merseyside Objective One funding programme (£500,000).
Restored to glory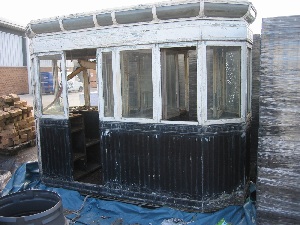 A dilapidated Mersey Tunnels tollbooth has been saved from the scrap heap and restored to its former glory.

The painstaking operation to renovate the booth, designed by Herbert Rouse and one of only four original booths used at Old Haymarket, took more than 500 man-hours.

Now it takes pride of place outside Merseytravel's Tunnel HQ, Georges Dock Building.

Councillor Mark Dowd, Chair of Merseytravel said:- "This was a piece of history that almost slipped from our grasp. Now we are proud to give it back to the city."

The booth was sold to Haydock Racecourse in 1963, after being deemed no longer suitable for toll staff, where it was used to sell Tote cards until the mid 1980s.

Battered and dilapidated after being exposed to the elements, the booth began leaking and falling apart.

It was about to go to the scrap yard when Don Sidebottom, Chairman of Glasdon Group Ltd, who make the current Mersey Tunnel tollbooths, saved it.

Don said:- "I just couldn't let it go, it is an intrinsically valuable building. I arranged for it to be taken back to my works in Blackpool and kept it stored for 22 years.

When I heard Merseytravel was a partner in European Capital of Culture I mentioned it to them. And that's when this whole process began. It is fantastic to see it back to its best."

Neil Scales, Chief Executive and Director General of Merseytravel, said:- "For us European Capital of Culture is a time to celebrate our rich history and give something back to the people of Merseyside. That's why we decided to fund this restoration and unveil the booth in this very special year."

Despite being in a terrible condition, the booth was moved to Birkenhead restoration specialists Tarin Engineering and the meticulous restoration process began.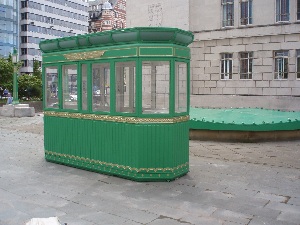 Cement asbestos was removed and everything was stripped down to bare metal and sprayed Mersey Tunnel green. Identical cast aluminium and bronze panels were created from scratch, a new floor and roof was built, and new windows and safety glass installed. The original brass switches were also refurbished and reinstated.
Planning permission and listed building consent were given and the booth was installed at the North Plaza of George's Dock Building.
After it was fixed down, specialists gilded the booth to complete its renaissance from wreck to lasting legacy of the opening of the first Mersey Tunnel.