Extra Tall Ships cruise due to high demand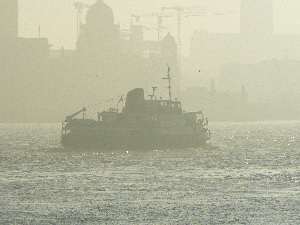 DUE to the high demand, Mersey Ferries are putting on an extra VIP cruise on Monday, 21 July 2008, to give passengers unparalleled views of the Tall Ships' Parade of Sail.

The previously unadvertised extra cruise will mean that all three ferries will be on the River Mersey for the Parade of Sail, the highlight of the global maritime spectacular.

Passengers on the six-hour cruise will be given the chance to listen to live onboard commentary about the rich and varied histories of the visiting ships.

Councillor Mark Dowd, Chair of Merseytravel, which owns and operates the Mersey Ferries, said:- "Every one of these visiting ships has a fascinating story to tell, much like our very own Mersey Ferries. It will be a great day."

The ferry will sail towards the mouth of the River Mersey and position itself in one of the designated vessel viewing areas. There it will remain anchored and provide a viewing platform.

Mersey Ferries flagship vessel, The Royal Daffodil, will host the cruise and a bar will be available on board. Numbers are limited to 250.

The leisurely six-hour cruise departs from Woodside Ferry Terminal, Birkenhead only, that will leave at 11.15am.

Tickets are priced at £35 and include a welcome drink, Blue Badge Guide commentary and jazz band.

Tickets must be booked in advance on 0151 330 1444 or are available online at www.merseyferries.co.uk.
FAMILIES GO HUNGRY AS FOOD PRICES CONTINUE TO RISE
12% of people have gone hungry or skipped a meal in the last year due to rising food prices, with the figure rising to 19% for those on the lowest incomes, research from leading children's charity, NCH and Barclays has found.

The findings come from an ICM conducted survey into the true impact of soaring food costs, with 16% of those on the tightest budgets saying they have gone without meals so that others in their family got the food they needed. They have prompted NCH and Barclays to publish a package of free tips, budgetary advice, and recipes from families with 1st hand experience of stretching their weekly shop to make their food go further.
The poll found that 57% of people on low incomes are finding it more of a struggle to feed their families now than they were this time last year, with 19% going without heating in a bid to make up the shortfall.

Paul Moore, NCH Director of Children's Services for the North, said:- "There's no doubt that everyone is feeling the pinch at the moment and that those on the lowest incomes are suffering the most. But once you get behind the headlines it's not all doom and gloom. It is obvious, through our work with families and young people at Financial Futures workshops, that basic money management advice can help people cut down on their weekly grocery bills and make their food and finances go further."

Financial Futures is a 3 year partnership between NCH and Barclays aimed at helping families and young people avoid debt and better manage their money. The package of tips, advice and recipes has been provided by families who have been supported by Barclays volunteers at Financial Futures workshops across the country.

The survey also found that while 55% of people feel guilty about the amount of food they throw away, 37% of those quizzed don't plan out their meals in advance, or make a list before they go shopping. It also found that 51% don't have a set budget for food.

Rachel Herbinson, Barclays Community Relations Manager for the North West, said:- "Through the advice given at Financial Futures workshops we hope that people will embrace the benefits of budgeting.
The value of setting and sticking to a carefully planned budget cannot be underestimated – we have instances of families actually reducing their weekly food budgets."