KNOWSLEY CHILDREN GET EXPERT SCRIPT ADVICE FROM PHIL REDMOND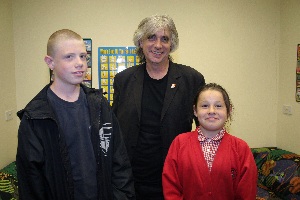 A group of young people from the NCH Knowsley Family Intervention Project (FIP) had a memorable writing workshop recently when Phil Redmond, Creative Director for Liverpool's Capital of Culture and well known TV and media guru, popped in to offer them advice.

The visit was organised as part of a new partnership between children's charity NCH and the BBC which will give some of the Merseyside's most vulnerable children the opportunity to become the creative stars of the future. NCH is working with BBC Writersroom, placing leading writers in NCH projects across the country.

As part of this initiative the young people are working with Lucia Haynes, a former journalist who has written for Doctors (BBC1) and is currently writing for Eastenders. Under Lucia's guidance the group is creating an online animated soap, an idea which has won funding from North West Vision and Media. They have been working closely with animators from Liverpool John Moores University and have been involved with the whole process from writing the script to deciding what the characters will look like.

Coinciding with Liverpool's year as Capital of Culture, Phil Redmond - creator of some of Britain's favourite programmes including Brookside, Hollyoaks and Grange Hill – visited to see the group's work so far. Phil was accompanied by Mick Ord from the BBC to the workshop and both were impressed by the group's skills.

Jake, aged 14, who has been attending the workshops said:- "When I was told about the workshops I thought they might be boring, but they have actually been really fun. I enjoyed meeting Phil Redmond and think it was good he came to see us."

Karen Fletcher, Project Manager at NCH Knowsley FIP, said:- "Phil Redmond's visit was a brilliant experience for our young people, and something they'll never forget. We can't thank him and Mick Ord enough for taking time out of their busy days to come and see us. I think the workshops at the project have given the young people a wonderful opportunity to express themselves and let their ideas be heard. This is something they wouldn't normally have the chance to get involved with."

The NCH Knowsley Family Intervention Project (FIP) works in partnership with Knowsley Council with families at risk of eviction and homelessness as a result of anti-social behaviour.
River memorial for drowned internees
A MEMORIAL plaque in memory of the victims of a sunken liner is to be unveiled in Liverpool. More than 800 people were killed when a German submarine torpedoed the Arandora Star off the Irish coast while she was carrying Italian, German, Austrian internees and a few prisoners of war from Liverpool to Newfoundland in July 1940. Also killed were 14 Liverpool sailors including the ship's captain Egdar Wallace Moulton and members of the Devonshire regiment.

In Britain there is still no official memorial to the dead. But in this Capital of Culture year - which is the year of inter-cultural dialogue - Liverpool in partnership with the Italian Honorary Consul for the city is set to unveil an official memorial to those killed.

The memorial service will take place at Our Lady and St Nicholas' Church in Chapel Street. The plaque will be located at Pier Head when all regeneration work is complete. Relatives of those killed have also been invited to take part in a civic service and wreath-laying ceremony which will take place on a Ferry on the River Mersey. Merseytravel have laid on a special service for this ceremony and people are expected to travel from across Europe to attend.

Liverpool City Council's deputy leader Councillor Flo Clucas said:- "It is very appropriate that in Liverpool's year as European Capital of Culture we remember the peace that Europe has enjoyed through the founding of the European Union. We should acknowledge the past; commemorate those who have had no commemoration, while seeking reconciliation and promoting greater understanding.
Some of the people killed actually held British nationality. Others were internees many of whom had been born and settled in Britain but had Italian, German or Austrian surnames or ancestry and were being sent to be interned in Canada after war broke out."

Honorary Consul Nunzia Bertalli said:- "Because the incident involved people of different nationalities, some of whom were at war, there has never been an official memorial.
Now, as members of the European Union we all worked together to commemorate all the victims in the most appropriate way.
It could help the families with their grief and is a good example of the difference us being European has made to the peace in the world."

The memorial plaque is to be displayed at the Pier Head and will also provide a focal point for families to remember their lost loved ones. The city hopes to welcome the last survivor of the sinking, Rando Bertoia, to the event.

The Lord Mayor of Liverpool, Councillor Steve Rotheram, said:- "This shows the positive contribution the European Union can play in improving people's lives. We are the first generation of European's that have lived without having experiencing a major war. The torpedoing of the Arandora Star was a tragedy between people who very nearly shared the same nationality; I hope this memorial will make sure that we learn from the mistakes of the past."