NICE 'N' NAUGHTY STAFF ARE FLYING HIGH AFTER DEGREE SUCCESS

ADULT retailer Nice 'n' Naughty is bringing a whole new meaning to 'Sex Education' after 4 members of staff achieved university degrees – including Southport store worker Richard Tandy - which further illustrates the changing face of the UK's licensed sex shop industry. To mark his achievement he is being sent on a free 2-week holiday to Egypt, courtesy of kind-hearted boss Simon Prescott!

Richard graduated from Liverpool John Moores University with a 2nd class (2:2) foundation degree in Interactive Media Study and a 3rd class (2:3) Bachelors Degree (with honours, in Art) in Interactive Media Creation. Richard has worked at the Nice 'n' Naughty store in London Street for the last 5 years and joins 3 other colleagues from other branches who are also celebrating similar university achievements.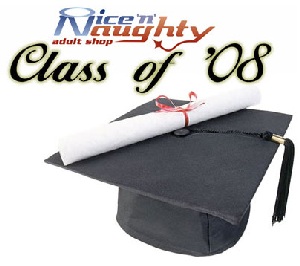 As reward for their success Store Director Simon is planning a special celebratory dinner with commemorative gifts and is also sending them on a memorable holiday. "I am really proud of all of them and want to recognise their dedication and commitment. We have tried to support them from day one and now they have completed their studies I want them to celebrate in style." Simon continued:- "Nice 'n' Naughty also provided financial help when necessary to cover the cost of books and other learning materials as not all of them qualified for grants or student loans. On occasions some found juggling the costs of living with increasing fuel, energy and food costs difficult to balance whilst being a part time student."

Simon highlighted that adult retail staff are not what people necessarily perceive them to be. "They are highly intelligent, dedicated professionals who can combine productive careers whilst studying to achieve some of the highest qualifications available. I suppose you could say this brings a whole new meaning to sex education!"

Nice 'n' Naughty has over the past 9 years become the fastest growing adult chain in the UK with 11 stores across England and Wales. They have changed the image of adult shops, creating a professional retail outlet that is no different to any other high street store. As market leaders, Nice 'n' Naughty were the first adult retailer to receive recognition for their highly professional business culture of continued staff development & training, achieving 'Investors In People' status back in February 2005, successfully retained their status at their recent re-assessment earlier this year, and have also retained the prestigious ETO Retailer of the Year award for 3 consecutive years, the industry equivalent of the Oscars. The company also operates a popular on-line shop at www.nicennaughty.co.uk.

Simon pointed out:- "Our staff get good wages, conditions, health benefits and even gym membership, so it's easy for us to attract high calibre workers. Hopefully our business philosophy and continued awards success will help break down barriers and change people's perceptions of sex shops as seedy back street premises with boarded up windows. Our shops are nothing like that. They are clean, professionally-run, fun environments. We want to create relaxing atmospheres in which couples and ladies especially feel comfortable." He added:- "We want to send out the message that sex isn't shameful, we are playing a vital role in helping people sustain healthy marriages and relationships. I would like to extend sincere congratulations to all my staff on their university successes."

Delighted student Richard cannot believe the generosity of his boss and admitted:- "It's always been great fun working for Simon and his team but sending us to Egypt is just amazing. Throughout my studying I received tremendous support from the company, especially my branch manager who was always very flexible with working hours and recognised the difficulties involved of combining work with study. All the hard work has paid off now, thanks in part to a very understanding employer."
LIVERPOOL SNAPSHOT
A collection of 64 portraits that capture the fabric of Liverpool and its people has been published. 'People in Liverpool' is the 1st book released by renowned portrait artist Stephanie de Leng and with only 1000 copies published, the limited edition book is a spectacle befitting Liverpool's status as Capital of Culture. The book features a host of well-known Liverpool celebrities as well as people from across the city. Subjects range from Willy Russell, Terrence Davies and Sir Drummond Bone to a roofer, a police constable and the Mattas lined up outside their shop on Bold Street. A former fashion model, the American-born de Leng moved to Liverpool in 1989, and while raising a family, dedicated her spare time to capturing the spirit of her adopted city. It is a personal view captured through her lens and intended as the first part of a progressive body of work.
Stephanie de Leng commentated:- "This book is intended to portray a 'Slice of Life of the Pool'. It is a broad cross-section of the varied characters that make Liverpool such an individualistic city - one that is also rich in culture and history. The images focus on what is revealed rather than what is concealed. In an age when we are bombarded with flawless images of youthful beauty and when rejuvenation is available through a scalpel I have avoided to manipulate the subjects by re-touching."
For further information about Stephanie De Leng and her work visit www.stephaniedeleng.co.uk. 'People in Liverpool' is available from Utility, News From Nowhere, Dot Art, Fact, The Liverpool Academy of Arts, Pritchards and also directly from Stephanie's website.
TV star Debra Stephenson throws Home-Start a lifeline
HOME-START Knowsley will benefit from a BBC Lifeline appeal to be presented by Coronation Street and Bad girls star, Debra Stephenson on the 20th July on BBC1.

Home-Start Knowsley is one of a network of 340 local Home-Starts who will be sharing the proceeds of the appeal. Home-Start Knowsley has supported 157 families in the last year alone. Gillian McKinnon scheme manager for Home Start Knowsley, says "It's great to get national recognition for our work and the money raised will be greatly appreciated as we are always looking for extra funds." Donations are always welcome and there are a number of ways to do this, using our website is just one, secure method homestartknowsley.org.uk.

Lifeline is the BBC's monthly television charity appeal programme. For more than twenty years, Lifeline has helped raised money for and increased the profile of hundreds of charities across the UK and abroad. There have been over 250 appeals so far and almost £6m has been raised for charities.

Debra spent time talking to some of the families supported by Home-Start, she also went to the home of a father, who is bringing up his 6 children on his own after losing his wife last year, to see how his volunteer supports him at home.

Home-Start's Lifeline appeal featured three families all accessing support for different reasons. Since the death of his wife, Billy has also been attending a Home-Start family support group and says without it, he would have sat at home feeling sorry for himself. Lynn, another parent supported by Home-Start, lost her sight when she was seventeen. With 2 small children to look after, Lynn says that having a Home-Start volunteer has given her the independence to do all of the activities she could do herself if she didn't have a sight problem. 2 years ago Julie gave birth to identical quads. Raising four children can take its toll, Julie says that having 4 children can be quite isolating as she can't do things that other parents take for granted. Having a Home-Start volunteer means that Julie can get out to the shops and the park with her children. Home Start Knowsley needs more volunteers, please contact the Scheme on 0151 4803910 if you think you could spare some time to help a worthwhile cause.

Debra says:- "Being a parent of 2 small children myself, I know how difficult it can sometimes be. Lots of parents struggle to cope, for many reasons and that's where Home-Start steps in. It's a great idea that is so effective, parents supporting other parents in their own homes. I'm really pleased to be presenting a Lifeline appeal for such a worthwhile charity."

Home-Start is the UK's leading family support charity, recruiting and training volunteers to support parents with at least 1 child under the age of 5. Our home visiting work is unique in the UK.
Home-Start supports nearly 35,000 families and over 71,000 children each year. Almost 16,000 volunteers visit families in their own homes – parents supporting other parents in a variety of situations including isolation, bereavement, multiple births, illness or disability.