Smoke Free North West comments on latest BMA report
JANET Atherton, chair of Smoke Free North West comments on the BMA report calling on the Government to introduce a range of tough measures aimed at reducing young people's exposure to positive images of smoking.

"Smoke Free North West supports the proposals outlined within the BMA report, which call on the Government to introduce a range of tough measures aimed at reducing young people's exposure to positive images of smoking.

Smoking in the region remains a serious health issue, with one in five of all deaths attributable to smoking. In the North West region 63,000 children aged 8-15 smoke (9% of this age group). The number rises dramatically to 380,000 14-17 year olds, or 22% of the age group, smoking.

Research has indicated that if these young people are unable to quit half of them will die prematurely from smoking-related diseases.

In light of this the Department of Health's latest NHS Smokefree advertising campaign highlights the danger to parents that their smoking will dramatically increase their children's chances of becoming a smoker too.

Following the regional launch of the Government's new consultation paper on tobacco policy over the next 10 years, which aims to make smoking history for our children, more has to be done protect children from seeing 'glamorised' images of smoking.

It's vital that the public support this, as we need to break this cycle of addiction throughout the generations to really turn around the health of the North West. We must continue to change the social norms around smoking to protect our children from starting to smoke in the first place, and also to encourage those who do smoke, to quit for good."

Liverpool's D-MYST youth group has been pushing for action to curb smoking in youth-rated movies. Programme Manager Gina Perigo said:- "We've been aware for some time of the huge influence that movies exert on young people, and we think that getting smoking out of films would be one of the most effective and simplest ways of stopping young people taking up the habit."
Official Notice of Industrial Action brings two-day local government strike a step closer
LOCAL government union UNISON has formerly notified employers across the North West of the 2-day pay strike on 16 and 17 July 2008.

The union's regional office in Manchester posted an official Notice of Industrial Action to 1200 organisations employing some 98,000 members on Friday. UNISON members across the region are among 600,000 UNISON members nationally walking out in a dispute over pay. They will be joined by members of fellow public sector union, UNITE. Employees going on strike will include teaching assistants, school cleaners and cooks, social workers, librarians, surveyors, refuse collectors and sports centre staff.

UNISON's North West Regional Secretary Frank Hont said UNISON had rejected a 2.45% pay offer because this was substantially below the rate of inflation and amounts to a pay cut. UNISON is seeking a pay rise of 6%, or 50p an hour, whichever is the greater.

Mr Hont said:- "Many of our members are already on low wages – some 250,000 local authority workers are on £6.50 an hour, just 50p more than the minimum wage. Basic necessities are rocketing in price. In the 12 months to May, the Government's own figures show that food prices went up 8.7%, milk, cheese and eggs by 16.6%, domestic energy bills up 8.6% and petrol 21.8%. This has a disproportionate impact on our members because those on lower pay rates spend a higher proportion of their income on such basic items. They are going on strike because they can't afford not to."
FOSTER CARERS SOUGHT BY SPECIALIST CARE PROVIDER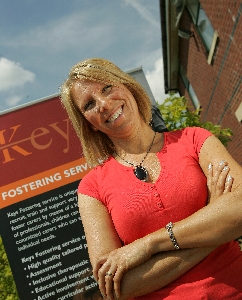 KEYS Childcare, the specialist care provider, is launching a recruitment drive in the North West for foster carers to satisfy growing demand for placements, particularly for children from ethnic minorities or those with disabilities and for adolescents who present challenging behaviours.

More than 50,000 children in England live in foster families, including around 10,000 from ethnic minority backgrounds. However, local authorities across the country say they need at least 5,200 more carers to meet the needs of the young people. 1 in 5 children in foster care are forced to change school twice or more due to a change of placement and brothers and sisters are often placed with different carers.

Keys Childcare is now the UK's largest provider of specialist residential, education and fostering placements. The economies of scale and synergies this breadth of operation provides ensures that foster carers are supported in an integrated way by multi-disciplinary staff who know and understand the issues they face and crucially have the time to provide practical help or respite that is needed. Keys Fostering Service recruits, trains and supports foster carers across the UK, specialising in providing placements for a wide variety of young people with varying degrees of need and behaviour, such as epilepsy, autism or Asperger's syndrome, those dealing with trauma from abuse or neglect, young people who are misusing drugs and those with attachment difficulties.

Nicky Simmonds, managing director of fostering at Keys Childcare said:- "Many local authorities are actively seeking placements that can genuinely meet the care and therapeutic needs of the young person. This is often difficult because suitable carers are not always available. Keys Fostering, however, has developed a defined model based on core values, multi-disciplinary skills and expertise, which aims to not only attract new carers to join the existing team but to promote retention and provide a quality service. We are keen to talk to anyone who feels they would like the opportunity to join our team and become a foster carer. Coupled with our comprehensive training programme, on-going support and competitive payment scheme you could become part of our success. Key's employs professionally qualified senior practitioners and supervising social workers to assess, train, supervise and support the crucial work of our foster carers. Getting it right from the start is so important; therefore attention is focused from the initial onset through each stage of our process. Our customers have to be satisfied and a partnership approach is embraced. Our staff have experience in a variety of fostering, residential and field social work settings and it is their specific responsibility to support foster carers in the fostering role, by a variety of means. With this in mind, specialist training and clinical supervision is provided. In partnership with the placing authorities, we aim to ensure the co-ordination of each placement, ensuring that both a quality service is maintained and targeted outcomes are achieved."

Anyone interested in becoming a foster carer can contact the Fostering Team Manager on 01254 777460.