Space rocks!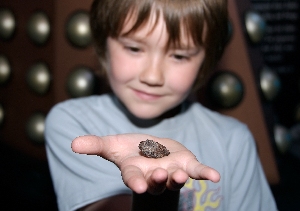 VISITORS to Spaceport in Merseyside are being given the chance to hold a piece of the cosmos in the palm of their hands.

The meteorites, which have just gone on sale, are millions of years old and have crashed landed at some of the Earth's most remote locations.

Ken Moss, Spaceport Manager, said:- "It's not often people get the chance to hold a nugget of space. Now they can own one. Some of these meteorites are billions of years old – as old as the formation of the planets!
We've been working very closely with a guy called David Bryant, one of the largest importers of meteorites in the UK to bring these to Merseyside.
We want to bring people of all ages closer to space and what better way than giving them the chance to touch a piece of it."

They include fragments from the Sikhote-Alin meteorite, which exploded above Vladivostok in eastern Siberia back in February 1947.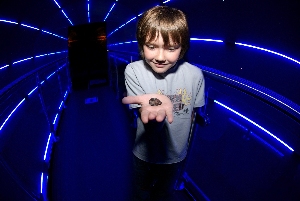 The nickel-iron material once formed the core of a small planet.

Another of the meteorites, NWA 869, is made of stone and landed in the Sahara in North West Africa. It is over 4.6 billion years old and has not altered since the formation of the planets.
All Household Waste Recycling Centres in Merseyside CLOSED!
MERSEYSIDE Waste Disposal Authority (MWDA) will be not be operating any of its 14 Household Waste Recycling Centres in the Merseyside area as a result of the strike action. The Centres will be closed from 8.00 pm on Tuesday, 15 July 2008 and will reopen at 8.00 am on Friday, 18 July 2008.

The Centres that will be closed are:-
Liverpool
§ Otterspool Household Waste Recycling Centre, Jericho Lane, Aigburth, Liverpool L17 5AR
Sefton
§ South Sefton Household Waste Recycling Centre, Irlam Road, Bootle L20 4AE

§ Sefton Meadows \Household Waste Recycling Centre, Sefton Lane, Maghull L31 8BX

§ Southport Household Waste Recycling Centre, Foul Lane, Southport PR9 7RG

§ Formby Household Waste Recycling Centre, Altcar Road, Formby L37 8EG Wirral

§ Bidston Household Waste Recycling Centre, Wallasey Bridge Road, Wirral CH41 1EB

§ Clatterbridge Household Waste Recycling Centre Mount Road, Bebington, Wirral CH63 6JE

§ West Kirby Household Waste Recycling Centre, Greenbank Road, Wirral CH48 5HR
Knowsley
§ Huyton Household Waste Recycling Centre, Ellis Ashton Street, Huyton L36 6BJ

§ Kirkby Househld Waste Recycling Centre, Depot Road, Kirkby L33 3AR
St Helens
* Newton-le-Willows Household Waste Recycling Centre, Junction Lane, Newton-le-Willows, St Helens WA12 8DN

§ Ravenhead Household Waste Recycling Centre, Burtonhead Road, St Helens WA9 5EA

§ Rainhill Household Waste Recycling Centre, Tasker Terrace, Rainhill L35 4NX

§ Rainford Household Waste Recycling Centre, Southern's Lane, Rainford WA11 8EY
Latin Lounge Open Golf Opening Times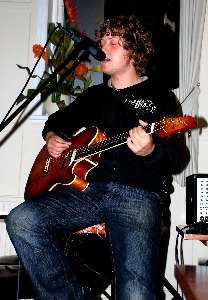 OVER the Open Championship Golf (Thursday, 17 July to Sunday, 20 July 2008) the Latin Lounge, Southport will be offering live entertainment from vocalists and musicians, performing a range of music including jazz, classics and charts. The venue will be open from 700am to late for food and our staff are efficient and friendly and offer a wide variety of superb wines, beers and spirits, along with a mouth watering menu of fresh contemporary dishes to tempt the most discerning palate.

The upstairs Function Suite is available for hire and will cater for all occasions from weddings to christenings. The fabulous suite lends itself to any celebration, with elegant high ceilings, a floor just made for dancing and sumptuous furnishings. Why not join us and learn to salsa?

So, for a night or day to remember, a casual drink, a coffee or a weekend breakfast with the papers, go and discover the Latin Lounge, once discovered never forgotten! (MORE INFO)
"Open" season for rail improvements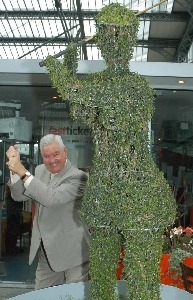 TWO life-size topiary golf players will greet the thousands of visitors flocking to the Open Championships this year.

One of the two topiaries currently positioned at Lime Street Station will move to Southport Station Monday, 14 July 2008, before the start of the Open Championships.

The green tribute is part of a series of rail improvements on the Northern Line being supported by Merseytravel to the tune of around £250,000.

Councillor Mark Dowd, Chair of Merseytravel, said:- "The Open generates huge worldwide publicity for Merseyside and brings thousands of visitors. We are pleased to be able to play our part in what will be one of the biggest events in the region this year."

The topiary was commissioned from one of the world's leading topiary artists in Tuscany and designed by a local specialist horticultural company The Bigger Plant Company in Meols, Wirral.

Councillor Chris Blakeley, Chair of Merseytravel's Rail Services Committee, said:- "Its an imaginative way to promote the Open. Southport and Lime Street Stations will both be gateways to the championships for thousands of people. But we are also supporting many more improvements to important stations along the line."

As part of Merseytravel's ongoing commitment to the region's railway network it is working with Network Rail and Merseyrail Electrics on a series of improvement and restoration projects on key stations in time for the Open.

The final touches are being made to Hillside Station, just 300 metres from the main entrance to Royal Birkdale Golf Club and the major station for visitors. The station is being decorated and new staircases and seating installed. Waiting rooms are also being decorated with new windows, doors and heating systems.

Merseytravel is working with Network Rail and Merseyrail to bring about a series of improvements to Southport Station, the third busiest station on the Merseyrail network with some three million passenger journeys every year.

The works include a new £6million roof with glazing for extra daylight into the station, resurfacing the station concourse, improved lighting, toilet, cycle and seating facilities, a new real-time information system, resigning of the station and a new "M To Go" ticket office and shop.

New canopies are being built at Birkdale Station as well as a new passenger toilet and a waiting room on the Southport-bound platform with new CCTV and real-time information.

Councillor Dowd added:- "We are putting our efforts into making sure that the rail network is a success for the Open. We want it to look good and work well so the lasting impressions we leave on visitors are good ones. But this is also about local people and making long-term improvements that benefit them."
Open Golf – Travel advice
THE easiest way to get to Royal Birkdale will be by train.
The course is situated just a few minutes walk from Hillside Station on Merseyrail's Northern Line.
The Northern Line has great links with trains connecting at Lime Street Station, Liverpool Central, Liverpool South Parkway and Southport.
Merseyrail is running many additional trains during the Open. From Thursday, 17 July to Saturday, 19 July 2008, there will be six strengthened trains (six cars) running every hour during the peak hours (6.30am to 10.30am and 4pm to 8pm) for spectators travelling to/from Hillside station on the Southport line. In between these hours, the frequency will be three trains per hour, also made up of six cars. Trains on the Ormskirk line will be all six car services and run three times every hour.
Trains on the Kirkby line will also run three times every hour.

On Sunday, 20 July 2008, Southport line services will again run six times per hour during the peak hours (7am to 10.30am and 4.30pm to 8pm) and four times per hour during the rest of the day with all trains formed of six cars.
Trains on the Ormskirk and Kirby lines will operate a normal Sunday service (two trains per hour) and will all consist of six cars.
Wirral line services will operate a Saturday service and wherever possible will also operate as six car trains.

The increased frequencies during the peaks and most trains being formed of six cars, will mean virtually double the capacity on Merseyrail services on the Southport line.

Trains start around 5.30am and will run until 11pm. On practice days, trains will run every 15 minutes.
Note:- Hillside Station is not a fully accessible station. Disabled passengers should use Ainsdale Station where alternative transport will be provided.
For details people should contact the Mobility help line on 0151 702 2071 (open 9am to 5pm Monday to Friday) or 0151 702 2704 at any other times.

There are around 5,000 free park and rides spaces across the Merseyrail network.
Northern Rail is also strengthening some services from Preston to Ormskirk, Wigan to Southport and from Manchester to Liverpool Lime Street.
Car parking will be restricted near the course and drivers are urged to use the dedicated park and ride sites, which will be clearly signposted on all routes into the region.
Both Mersey Tunnels will be operating throughout the event and there are no planned closures.
For all other modes of transport, including bus and ferry services contact Merseytravel's Traveline team or visit the websites below:-
Useful Contacts:-
Traveline Merseyside - 0871 200 22 33

– Extra staff will be operating Traveline from Thursday, 16 July to Monday, 21 July 2008 and it will extend its hours, operating from 6am

National Rail Enquiries

- www.nationalrail.co.uk
Merseytravel - www.merseytravel.gov.uk