Tranmere Rovers FC 0, Liverpool FC 1
Report and Pictures by Sally Devine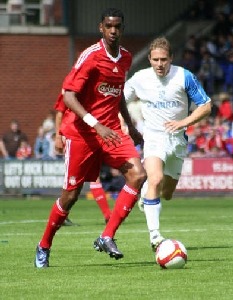 A sell out crowd of 15,000 saw Tranmere Rovers entertain a strong Liverpool team in this pre-season friendly at Prenton Park.

Daniel Agger made a welcome return to defence after a long standing foot injury. New Signing goal keeper Dieger Cavalieri and defender Philip Degen both played the full 2nd half 45 minutes.

A goal before half time settled the match, Yossi Behayoun's curling shot from out wide beat Danny Coyne in the Tranmere goal.

Jamie Carragher was captain for the day and played the 1st half along with Lucas Leiva. Talisman Steven Gerrard made an appearance for the last 20 minutes to the delight of the crowd.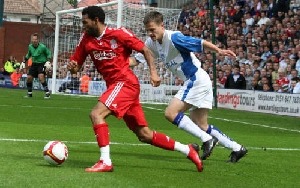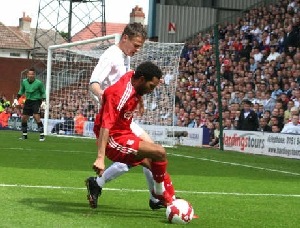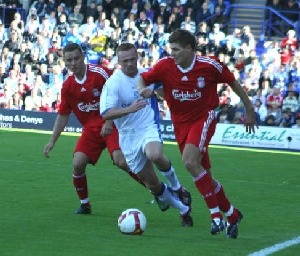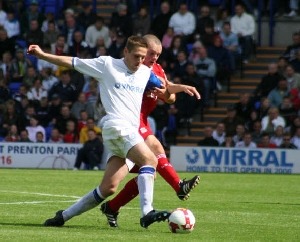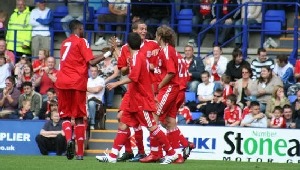 JOB ADVERT- VUE CINEMA
A Cleaning Supervisor is required at the Vue Cinema Southport. The ours are 6.00am to 9.00am, 6 mornings a week including weekends. £500.00 per month. For more information phone:- (01423) 323660
Are New Alt Flood Pumps A Washout?
THE new flood protection for the Formby and Hightown area is on its way, but the £2.75 million underground cable, linking with the Altmouth Pumping Station, could be a waste of time during floods. This shocking news comes after it was revealed that there are no protection plans for the substation next to Downholland Brook on the Formby Industrial Estate. Downholland Brook feeds into the Alt, but should floodwaters reach it, the substation powering the proposed cable could be flooded out, leaving only two pumps in operation at the soon to be refurbished Pump House.
Formby Parish Councillor, Mike Coles believes Shrewsbury is a wake up call and a reminder to the dangers of flooding. He feels that the substation at Downholland Brook is at risk of flooding. According to the Environment Agency:- "The diesel powered generator on the site would still be able to keep at least two storm pumps working, that are capable of pumping out significant quantities of water."
But that does still not answer Mike Coles fear. It also calls in to question why we require the £2.75 million cable, if it is not a problem should the substation flood.
However, a spokesman for Scottish Power told the media:- "Our sub-stations are built to a high specification and we haven't experienced any major flooding in the Formby area. We are not complacent however, and we have our own risk assessment system in place, that examines potential risks." What are your views on this issue?
Email us to news24@southportreporter.com.
Open golf and Tall Ships safety advice
Royal Birkdale...

MERSEYSIDE will be welcoming thousands of national and international visitors over this week commencing 14 July, 2008.

The visitors will be converging on the region to watch the Open Golf Championship, which is being held at Royal Birkdale, Southport, between Thursday 17 July and 20 July 2008, and the Tall Ships event in Liverpool and Wirral, between Thursday, 17 July 2008 and Sunday, 21 July 2008.

Throughout the last 12 months Merseyside Police has been working with a host of other agencies, including Liverpool City Council, Sefton Council, Wirral Council, The R&A and Merseytravel, to ensure that visitors to both events have a safe and enjoyable time in the region.

Deputy Chief Constable Bernard Lawson, Merseyside Police, said:- "People from all over the world will be coming to Southport, Liverpool and Wirral next week and we want to ensure they have a fabulous time watching the golf, or the Tall Ships Event. I'm sure they will also enjoy the vibrant local nightlife.

We intend to ensure that visitors enjoy the lively atmosphere that Southport, Liverpool and Wirral have to offer, but we also feel it is essential that people understand there are certain standards to be adhered to across Merseyside. Merseyside has an excellent record in reducing crime and discouraging anti social behaviour. The police will take every possible step to ensure people can enjoy the events without disturbance. Last year Merseyside saw the biggest percentage reduction in crime - a drop of 18 per cent, which means around 25,000 fewer victims of crime."

A Tall Ships...

"Officers will be on hand throughout Southport, Liverpool and Wirral during both events to provide, help, advice and reassurance throughout. Our firm, fair and friendly style of policing should ensure that visitors enjoy the local amenities and nightlife." Deputy Chief Constable Bernard Lawson, Merseyside Police.

Simple safety advice:-

Visitors are reminded to follow some simple safety advice to protect themselves and their property.

* Protect wallets and purses by keeping them out of sight

* Do not leave property, including handbags, unattended

* Do not leave property on show in parked cars

* Immediately report any abandoned property to police

* When using your mobile phone be aware of your surroundings (those attending the Open Golf Tournament should be aware that they will not be able to take mobile phones on to the course)

Visitors to both events will be able to listen to regular updates on Radio City 96.7, or Radio Merseyside 95.8.