Southport in the eyes of others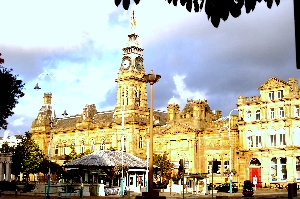 AS we are having all eyes and ears turning their attentions towards Merseyside over Capital of Culture Year and with the Open only days off being held in Birkdale, over the last few weeks we have done a bit of digging and found out what people think about Southport. We are finishing our undercover ecstasies in the next few days. Our investigation have been to find out how the area is promoted through out the UK and on an international level, but before we publish our full findings we would like your views. Lets see if local views are the same as national views and international views... So....
What are your views on how we can promote the area better?
Do you feel we do not need to sell our selves anymore than what we already do?
Email us your view to:- news24@southportreporter.com.
We can reveal now that from our findings have found that most posters on chat forums across the UK have mixed feelings about the area. Most posters on chat rooms giving good and bad reports about Southport question what is meant by Southport being a 'classic resort'. The best post I have found was on 'joylandbooks.co.uk'. The poster on that website, going by the name 'furie' posted a "Trip Report". We have copied a bit of it as it was very interesting reading.
The report started:- "It's the first time I've been since Pleasureland shut, and didn't really expect to find much to do. It's a place of mixed messages though. The council is pushing this 'classic resort' image. The pier has a fantastic video showing on it - lots of history (including some great shots of either the old Caterpillar coaster, or the scenic), with an update on them now (minus Pleasureland obviously). So you get this feeling that there's support for everything which made Southport such a tourist attraction - yet...

The area around Pleasureland is already looking derelict. The Lakeside Miniature Railway is certainly suffering - such a shame.
We visited the model village which we all enjoyed too, but again, it's sitting in what is essentially now a 'dead' area. There were people about, but for a weekend at the end of June?
Nowhere near as many as we'd have seen two summer's ago. So it's all about being 'classic', but the idea of classic seems to be focused entirely on Lord Street, and JJB sports??? I've talked to a few people about it, and they've all said "oh, it's lovely, I love the shops on Lord street!" - then look bemused when you mention that you had a lovely time on the beach, riding a miniature train, walked the pier and played crazy golf. They didn't seem to know Southport was a seaside town!

I hope for the best for the town, but I suspect that within a couple of years, everything which makes the front special and 'classic' will have gone.
I'm glad that - as a family - we've enjoyed it, and we'll certainly return each summer to support what is left. I just hope Sefton push and make others realise what there is there." (Ref. Post Posted:- Wednesday 2 July 2008 at 3:26pm. Post Subject:- Family Holiday in Southport!)
UNISON challenges North West MPs to swap jobs
ANGRY local government workers across the North West have thrown down the gauntlet to the region's MPs. Come and join us in the front line – and then try telling us we're not worth a decent pay rise.

The challenge has been put to all 76 North West MPs in a no-nonsense letter from UNISON members working for councils in their constituencies. The letter has been sent by the union's Regional Secretary Frank Hont on behalf of nearly 100,000 members being called out on strike next week. The workers are among 600,000 UNISON members nationally locked in a bitter dispute over pay. They will be walking out on 16 and 17 July after rejecting a 2.45% pay offer. The union wants 6% or 50p an hour, whichever is greater.

Mr Hont has invited the MPs to swap their desks in Westminster to do the type of low paid jobs UNISON members do day in day out for little more than the national minimum wage. He said:- "We want MPs to roll up their sleeves to clean a school, cook lunches for hundreds of children, visit the elderly and disabled alongside a social care worker, empty residents' bins or clean the streets. Then they will gain a better picture of the difficult and often dirty jobs our members do, many for less than £6.50 an hour. That's just 50p more than the minimum wage. Contrast that with the obscene pay rises and bonuses currently being agreed in the City of London for people who contribute little or nothing to the lives of those in our communities."

MPs who respond to UNISON's invitation will be put in touch with local union officials based at one of the region's 46 local government branches.
UNISON calls on local councillors to help to settle strike
PUBLIC sector union UNISON is stepping up the pressure on local government employers to settle this week's 2 day strike over pay. Top level talks were held at the union's North West headquarters in Manchester in an attempt to break the bosses' silence. And local branches are calling on councillors to demand employers return to the negotiating table. Regional union leaders have accused employers of being irresponsible by digging in their heels and refusing to negotiate.

UNISON North West's Head of Local Government Ray Short and leading union representative Pat McDonagh met with employment chief David Campbell from the North West Employers Organisation to make UNISON's position clear. They told Mr Campbell to go back and warn the employers not to underestimate UNISON's anger.
"We are determined to do everything we can to make this strike as effective as possible," Mr Short told him. "The employers must make a better offer – 2.45% is NOT enough."

Mr McDonagh added:- "We have been driven to this point because we've had a below-inflation pay rise for four years in a row and our members cannot afford to take another pay cut."

UNISON's North West Regional Secretary Frank Hont said local councillors had a responsibility to step-in and encourage employers to settle the dispute and avert the inevitable disruption the strike will cause local people. He said:- "Local councillors cannot shrug off their responsibility in this dispute. They should step-in now and put pressure on the local government employers to deliver a fair deal. Local communities deserve quality services and for that you need decent pay. The 2.45% offer goes no-where near covering the hikes in food, fuel and energy bills. We are talking about basics such as bread going up 9% and butter up 38%.
I am appealing to councillors across the North West to get the employers back round the negotiating table and come up with a fair pay offer to avoid disruption to local people and the need for strike action by our members."