'BABY BLUES' FOR MOTHERS RETURNING TO WORK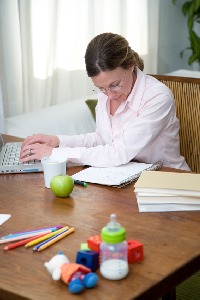 A new survey reveals that the majority of parents and parents-to-be in the UK still feel that there are significant barriers preventing women from returning to work after having a baby.

A new poll, commissioned by Sanatogen ProNatal, found that parents believe inflexible working hours (77%), high childcare costs (87%) and lack of family support nearby (68%) make it difficult for women to return to the workplace. However, it seems that it is not only practical concerns that put women off. Nearly a third of women (30%) say that they lack the confidence to return to work after having a baby and, over a half of all females interviewed (58%), feel that unsupportive managers make returning to the workplace hard.

The survey also investigated whether parents felt that they had been well supported during pregnancy and, following the arrival of their new baby. It found that:-

► 75% of all people interviewed felt that they got the most support from their family during and after pregnancy
► Despite well-publicised media reports about midwifery services, it seems that parents are largely happy with them - 52% of parents saying they were well supported by their midwife
► Surprisingly, more people felt that they got support from websites than their individual family GP
The report found that specifically for the North of England:-

► 93% of people in the North of England find the cost of child care is holding them back from returning to work after having a baby. The survey also found that 77% of people believe inflexible working hours and 68% believe not having family nearby made it difficult to return to work.

► 22% people surveyed in the North of England were more likely to make lifestyle changes in order to conceive, compared to 11% who would be prepared to seek medical help or advice when trying for a baby.

► Compared to the national average of 52%, 60% of people surveyed in the North of England say they felt well supported by their Midwife during and after pregnancy.

► 25% of all people surveyed in the North of England, feel that returning to work after having a baby would be difficult due to a loss of confidence.

The good news is that the results also show people are taking health advice seriously and are making lifestyle changes, such as eating a healthy balanced diet, giving up smoking or cutting down on alcohol intake to help conceive.
CREATIVE EXPERTS TO HELP 'TRANSFORM' SCHOOL PERFORMANCE
A 3 year campaign to radically transform the performance of 26 schools in Merseyside by teaming them up with creative experts has been announced this week.

The 26 schools will work in partnership with Creative Partnerships Merseyside (CPM); part of the flagship Government programme which uses creative people, from artists and writers to scientists and musicians, to help raise different aspects of school performance. The 26 schools will share £375,000 funding from Creative Partnerships in the 1st year and will spend up to 3 years working with the organisation as part of the Change Schools programme. A creative agent will be assigned to help each one adopt new, creative approaches to transform learning and teaching.

CPM creative director Chris Finn said:- "We know creative approaches can really make a difference to performance at all levels of school life. These new three year partnerships are a chance for us to significantly extend the work we've been doing elsewhere in the region."

A total of 31 additional schools in Greater Merseyside chosen to take part in 1 year creative programmes will be announced shortly.
YOUNG SOUTHPORT ENGINEER AWARDED FOR CENTURY-OLD HOBBY
A young engineer from Southport has been awarded The David Birkett Award for his contribution to the century-old tradition of model engineering. Ben Pavier, 23, was presented with a trophy and cash award on Saturday at a ceremony held in his honour at the Yorkshire Rail Academy at the National Railway Museum (NRM)

Ben is a member of Southport Model Engineering Club and has been involved in engineering since he was 8 years old. He first became interested in the hobby by helping his father in the workshop. By 2005, at the age of 20, he had amassed sufficient know-how to commence building an engine independently of his father. Since then, despite a full-time job and becoming a father himself, he has continued to build and drive a variety of locomotives to high standards.

The David Birkett Award was inaugurated in 2006 by the Birkett family of Darlington in memory of David, who died at the relatively early age of 44. He had been a very enthusiastic engineer, and his family wished him to be remembered with a suitable memorial offering for young model engineers. Each year the Birkett family, in conjunction with the Northern association of Model Engineers (NAME) and the NRM, offer the young engineer of the year a trophy, cash award and a 'behind the scenes' tour of the NRM.

Frank Cooper, Chairman of the NAME, said:- "In this day and age, with young people very often receiving bad publicity, it is good that there is a new breed of model engineers maintaining the century-old traditions.
We are so pleased to be able to work with the Birkett family to be able to offer this award and grateful to the Learning Unit of the National Railway Museum for hosting the event.
Where better to celebrate model locomotive engineering than the home of the railway?"

Jon Pridmore, Learning Coordinator at the NRM, said:- "The NRM is committed to providing unrivalled learning opportunities and encouraging people to get into engineering.
It is an honour to be able to offer a venue and 'behind the scenes' tour to Ben as the winner of this marvellous award."