Southport Flower Show 21 August to 24 August 2008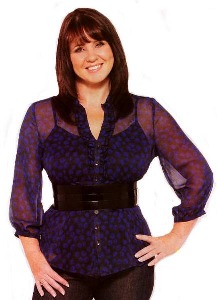 SOUTHPORT Flower Show, the UK's largest independent flower show is delighted to announce Coleen Nolan as the opener for the 2008 show.

Coleen, a regular presenter on ITV's chat show Loose Women is everyone's favourite girl next door. She writes a column in Woman magazine and a parenting column in The Mirror. Coleen has also hosted the popular daytime programme This Morning.

Coleen will officially open the 4 day family event at 10am on Thursday August 21. Coleen says:- "I'm delighted to be involved in this year's Southport Flower Show. I'm a keen gardener myself so I'm looking forward to picking up some tips at the show!"

The show, now in its 79th year, attracts over 80,000 visitors to Southport's stunning Victoria Park which is transformed into the perfect setting to experience the best in garden design and exceptional floral displays. With everything that the amateur or professional gardener could need or want from a packet of seeds to a complete garden makeover Southport Flower Show will be a memorable day out this summer.

In addition to marvelling at over 1 million flowers in bloom, celebrity gardeners will be on hand offering hints and tips and there will be the chance to take your pick of the region's finest food and drink. Families are well catered for with outdoor entertainment, ranging from exciting acrobatics to the birds of prey show. David Bellamy will also be hosting his 'Bellamy's Budding Gardeners' competition on Sunday, 24 August 2008, and don't miss the children's area which houses healthy eating, fun activities and learning about caring for the environment all under one roof!

A treat for mothers and daughters is the wonderful Ladies' Day on 22 August 2008. Champagne and refreshments are served as guests soak up the atmosphere of the show and enjoy beauty demonstrations and fabulous fashion shows, with a goody bag to take home as a memento of your day.

For tickets visit southportflowershow.co.uk or call 0844 847 1555.
CLEANING UP – IN MORE WAYS THAN ONE!!!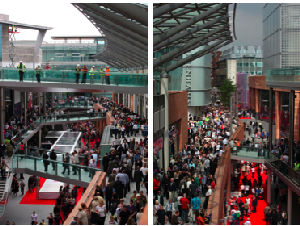 LIVERPOOL ONE is aiming to be one of the cleanest shopping areas in the UK when it is fully open in September, claims Paul Brady, the man responsible for the effort and in a year's time he also hopes to be in profit!

"We are making an immense investment in training and equipment to make sure that Liverpool ONE exceeds our customers' expectation in matters of hygiene," he said. "By September we will have 34 trained staff to the standards of the British Institute of Cleaning Science (BICS). Street cleaning is not an area where most people bother with training but we are doing things differently. Every one we employ will undertake progressive BICS training. We have already done a two day course with our existing team which has proved to be hugely beneficial. They are a great team – recognised by one of them being nominated as part of the party who met the Queen when she visited recently."

Mr Brady also emphasised the importance of customer feedback, for example there had been a call for more bins and these have now been placed on South John Street and Paradise Street. "We'd also love it if people can see how much effort we are making and work with us by putting all their litter in the bin s we are providing," he commented.

As street cleaners are a constantly visible part of Liverpool ONE it is important that they reflect well on the organisation. For this reason they are to be coached in greeting foreign visitors; not the only surprising things about the Liverpool ONE hygiene team.

"Everyone focuses on litter and that is obviously the most visible part of our job. But in today's world of environmental awareness and re-cycling it is not enough to just pick up paper cups and empty bins."

Mr Brady explained that his team also collect and then re-cycle waste from all the shops in Liverpool ONE. "When the cafes and bars open in September we will also be collecting a huge amount of food waste. With payments for commodities now available we hope to be at least covering our costs in a year and maybe even turning in a small profit."

For now however, cleanliness is paramount. "We powerwash the streets every night and sometimes in the daytime if necessary. We are constantly seeking new ways to make sure Liverpool ONE is a credit to us all."