The Haunted Liverpool Ghost Walk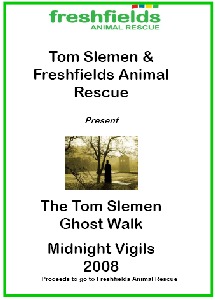 THE Ghost Walk are fully endorsed by Tom Slemen and they will take you on a tour of some of Tom's stories in the locations where they took place. Follow a winding route down cobbled streets, past Georgian houses with their ominous black railings, unchanged for a 100 years. A dark and dangerous past unfolds as we relive the ghostly tales which took place in these haunted locations. Many a soul has been sold to the devil and those tormented phantasms may still haunt the streets & cemeteries "Some will never sleep" What will you see in St James Cemetery home to 58,000 dead Victorians? Hear their ghoulish stories... Watch the dark skies... Better not venture too.... The Tours are on Thursdays & Sundays and lead by Tom Slemen, renowned author of the bestselling "Haunted Liverpool" books, and Liverpool's expert on ghosts and the paranormal. He has teamed up with Freshfields Animal Rescue to produce a highly popular series of Liverpool Ghost Walks around the haunted areas of the city mentioned in Tom's books. If you think you are brave enough, an experienced guide will take you on a tour of 1hour 15mins (approx). A donation of £8.00 is requested. All of the proceeds from these walks go towards the welfare of sick and abandoned animals at the Freshfields Animal Rescue Centre. The tour begins at Peter Kavanagh's Victorian Pub and will visit streets in the area before setting off for St. James's Cemetery at night. Some of the infamous Tales you will hear are… The Ghostly Duellists; A Marriage Made in Hell; Huskisson's Mausoleum; Horror at Gambier Terrace; Little Grace; And Many More……. Yoo must bring a torch and camera with you and wear good walking shoes! "You will be given the use of our Ghost Meter Reader in the Cemetery" Tom Slemen tells us! The Midnight Vigils will be held on 2 August 2008 and on the 23 August 2008 from 11pm till dawn breaks. The tour's storytellers and Medium will attempt to make contact with the characters from Tom's stories. A £40 donation requested (Sponsorship forms available). Also Ghost Hunting equipment will be available. There are limited spaces on each vigil so to book YOUR place phone Jan on 07983 160479 or by email.
Rollercoaster at the Imperial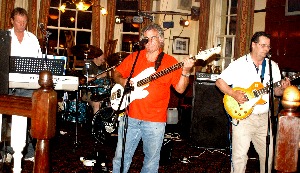 IT is summer time, so when we were asked to go to the Imperial on Albert Road, in Southport, to see Rollercoaster, all I could think of was the type you find at New Pleasureland. The event was in fact, a performance by a newly formed band, who are called Rollercoaster, and what a band they are. The line up was Steve Gordon, Guitar and Vocals, Dave Mercer, Bass and Vocals, Mike Hutchinson, Keyboard and Vocals and the very well known local drummer called Matt Hubbard. If you know Matt then you should be able to work out the connection with the band's name and Matt... Despite the band missing a member, they put on a fantastic show. With the heat increasing throughout the night in the bar, I was very surprised to see how many stayed in to hear them play. A few did venture outside, but as with all the bands I have seen Matt playing in, you could hear them outside just as well as inside. The music was a wonderful mix of classic 60's and 70's Rock'n'Roll and pop music. The mix was well blended and soon got energetic feet tapping away. At one point, a group did try and dance, but they soon gave up as it was far too hot and sadly, there was not enough room, due to the audience being so close to the band. As ever Matt was his energetic self, with his 'I Want My MTV' style of playing; spinning the drum sticks all over the place to make as loud a sound as he could. I will point out that it was in rhythm with the other band members. Steve and Dave, did not miss a beat, and they conducted a wonderful vocal harmony between them selves. Mike brought them all together with his energetic use of his electric keyboard. I look forward to seeing them in action again and I hope next time, though it will not be as hot. Well done lads!


Page 1 of 3