LIVERPOOL HOUSING CHARITY MAKES THE GRADE FOR INNOVATION AWARD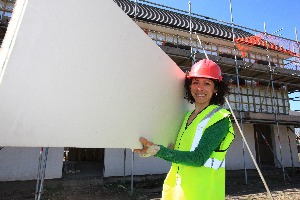 A GROUNDBREAKING Liverpool housing charity that helps low-income families to build their own homes is celebrating after being short listed for a national award. Liverpool Habitat for Humanity (LHFH), which assists people who may otherwise be unable to get onto the property ladder, has reached the final stages of judging for the Housebuilding Innovation Awards in the category of "Best initiative to aid 1st time buyers/key workers".

If successful it will build on the success of winning the People and Jobs title at the 2007 North West Regional Construction awards. The project has also been granted Constructing Excellence Demonstration Project status for its innovative and positive influence on the construction industry; as well as being voted best Social housing development of the year at the 2008 Daily Post Regional Property Awards.

The LHFH scheme in Kingsley Road, Granby/Toxteth, differs from usual social housing projects in that it allows prospective home owners to invest 500 hours of "sweat equity" in the physical construction of their new home instead of paying a costly cash deposit. This labour then counts as a £10,000 down payment on the property. The Liverpool project is a self-funded affiliate of Habitat for Humanity International, which is dedicated to eliminating global housing poverty, and relies on donations of money and materials, as well as the labour of volunteers and future homeowners alike to build homes. The Granby/Toxteth project is one of only a handful of HFH builds in the UK and the 1st in the north west

The home buyers work closely with other volunteers - many of whom travel from all over the world to take part - under the supervision of a qualified construction manager and other experienced site staff. Many businesses from across Liverpool and the north west have also been on site to volunteer in team building sessions.

Chair of Liverpool Habitat for Humanity, Rev. Dr Shannon Ledbetter said:- "It's fantastic to be shortlisted for yet another national award, but the real winners here are our home owners who, through their own hard work and the charity's truly innovative approach, are getting onto the property ladder when otherwise they would have little hope. As well as making home ownership possible for low income families, we are helping local people to develop new skills and are creating good quality housing in an area in need of regeneration."

The Housebuilding Innovation Awards, run by Housebuilder magazine and the Home Builders Federation (HBF), aim to recognise companies which are demonstrating a commitment to innovation in the housebuilding industry. They are supported by Government, which views them as an aid to raising standards. Winners will be announced at an awards ceremony in London in October 2008. For further information about applying for a property or volunteering with Liverpool Habitat for Humanity, phone:- 0151 280 6232, email, or go online.
Tune in to Watch Your Own Heart Attack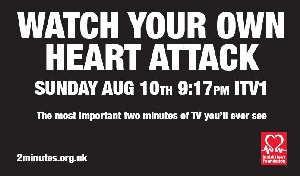 BILLBOARDS going up across Merseyside today (Monday 28 July) herald a TV 1st as the British Heart Foundation (BHF) invites the nation to "watch their own heart attack" through a television event that could help save lives. Backed by Merseyside heart patients, this compelling viewing experience will air on ITV1 on August 10 at 9.17pm during the Midsomer Murders break to raise awareness of heart attack symptoms, and could be the single most important 2 minutes of television people will ever see, says the nation's heart charity.

Every year in the UK almost a quarter of a million people suffer heart attacks, a 3rd of whom die before reaching hospital. The BHF campaign will show people how important it is to recognise heart attack symptoms and urge people to call 999 immediately when they experience them.

Head teacher Mike Collins, 52, of Wirral, was driving home from work when he started to get chest pain and put it down to indigestion. He drove past Arrowe Park Hospital but didn't have any change to pay for the car park so carried on home. By the time he arrived home, he crawled through the door on his hands and knees and his wife immediately called 999.
Mike said:- "My father died of a heart attack at the age of 42 so I have always been very conscious of it. When I had a heart attack, I felt very hot and clammy and it was like an elephant was standing on my chest. I was told it was a 'big' heart attack and if I hadn't got to hospital when I did, it could have been a very different outcome."

Jean Johnson, 63, of Southport, was at a friend's house when she started to feel unwell. She was cold and clammy, light-headed and had a pain in her jaw and chest. She thought it was food poisoning and her daughter took her home and she went in to cardiac arrest.
She said:- "I survived because I acted quite quickly. Make sure you watch the advert so you can recognise the signs, these 2 minutes could save your life."

The billboards inviting people to watch their own heart attack will be positioned in Liverpool Lime Street Station and train stations in Sefton and Wirral.

Betty McBride, Director of Policy and Communications at the BHF, says:- "We're bringing heart attacks to life in living rooms across the UK because understanding how one could feel could mean the difference between life and death."

Supporting the campaign is well-known television presenter Angela Rippon, 64, who lost her father from a heart attack 3 years ago. She said;- "I know exactly how heart breaking it can be to lose a loved one from a heart attack.
My message to people is that you owe it to yourselves and your loved ones to tune into ITV1 on August 10.
This could be the most important two minutes of television you ever see - I know I'll be watching."