NICE N NAUGHTY CELEBRATES AWESOME FOURSOME!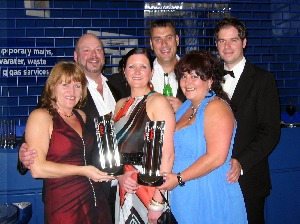 Fast growing adult retailer Nice n Naughty is celebrating a '4-midable' success after being named the best in the business by their industry peers for a record 4th year running.

The Chester-based company that has 11 stores across the North West of England, Wales and the Midlands including Liverpool was named Retailer of the Year at the Erotic Trade Only Awards – the industry equivalent of the Oscars. At a glittering Birmingham awards ceremony, Nice n Naughty secured the coveted crown in an unprecedented run of success, beating rivals such as Ann Summers and the Private chain of sex shops – to mark its 9th anniversary in spectacular style.

Delighted company founder, Simon Prescott said the ceremony took place almost to the day since he started the company in 1999 from humble beginnings. "To win this award for a 4th consecutive year is unheard of. As usual, the competition was very strong .It was the perfect was to celebrate our 9th birthday."

In a double boost Nice n Naughty also won best oversees R18 film for Supernatural which is produced by the world's leading adult movie maker, Wicked Pictures.

Simon emphasised:- "We have come a very long as since I started the business with one retail outlet in Chester. Nice n Naughty is a massive success story, built on a very dedicated and committed workforce. Customers from Liverpool can be assured that when they buy from Nice n Naughty they are buying from the best in the business.
I am so very very proud of the retail team and would particularly like to thank our National Retail Manager Richard Allmark and his team for their total commitment, support and sheer hard work over the last 12 months. They never cease to amaze me. This award is voted for by the industry itself so is extremely gratifying to realise we are so well respected and acknowledged by our peers."

Nice n Naughty is the 1st licensed adult retailer to achieve Investor In People status and sells lingerie, sex toys and hard core DVD's.
Simon continued:- "Our staff get good wages, conditions, health benefits and even gym membership, so it's easy for us to attract high calibre workers. Hopefully our business philosophy and continued awards success will help break down barriers and change people's perceptions of sex shops as seedy back street premises with boarded up windows. Our shops are nothing like that. They are clean, professionally-run, fun environments. We want to create relaxing atmospheres in which couples especially feel comfortable."
He pointed out:- "We want to send out the message that sex isn't shameful, we are playing a vital role in helping people sustain healthy marriages and relationships."

Simon runs the growing business with his partner Trish Murray and added:- "Nice n Naughty continues to go from strength to strength, helped in a significant way by winning high profile industry awards such our latest success. We have a great relationship with all our suppliers and friendly rivals and are grateful for their ongoing support whilst we have continued to grow and develop the business. We are determined to move the company onto even further levels of success.

We have created a winning formula, which consists of highly trained, enthusiastic male and female staff, comfortable shopping environments and an enormous and varied product range varying from hosiery and lingerie, and kinky outfits, through to R18 DVD's, magazines and adult toys.

Receiving this highly acclaimed award again, gives reassurance and confidence to all our existing and potential customers that Nice N Naughty is both reputable and recognised as having the best adult shops across the UK and is definitely the place to shop."

Simon's successful retail empire is complemented by a user friendly online store at www.nicennaughty.co.uk as well as a growing wholesale division where it exclusively distributes R18 films from Wicked Pictures on DVD across the UK and Eire – forming the basis of its second ETO Award this year.

Wicked Pictures president Steve Orenstein paid a glowing tribute to Nice n Naughty as he remarked:- "They are the perfect partner for us. They are an award-winning company, distributing an award-winning brand, as demonstrated by their double success at ETO 2008. Simon and his team fully deserve their achievements. Their professionalism and commitment to customer excellence are second to none."
A light right foot will do more to reduce CO2 than retrospective road tax
PROPOSED Vehicle Excise Duty (VED) changes intended to reduce CO2 emissions from cars will have little impact unless driving behaviour changes as well, according to research from the IAM. Although many manufacturers have highly efficient eco versions of their cars available, many drivers will unwittingly lose the benefit of the technology through poor driving habits. The following examples of common errors by drivers increase fuel consumption significantly:-

Under inflated tyres - tyres that are 20% under inflated use 3% more fuel

Roof storage - wind resistance causes use of up to 20% more fuel at 70mph

Air conditioning - uses up to 10% more fuel

Aggressive driving - uses 15% more fuel

Speeding - travelling at 80mph uses up to 15% more fuel than 70mph

Short journeys - the 1st 2 miles use up to 100% more fuel

Taken together, all these items can increase fuel consumption, and CO2 emissions, by up to 45%. This level of increase would mean that even the most economical and eco-friendly car, such as Ford's new Focus ECOnetic, may emit as much CO2 as a seven-seater people carrier like the Ford Galaxy, in spite of the Focus' class leading Band B VED (road tax) rating. The extra fuel cost for the Focus would also wipe out the savings in road tax. If the Focus is driven efficiently for approximately 10,000 miles a year, the fuel bill will be around £865. Poor driving habits would increase this by more than £330 per year, far outweighing the proposed reduction of £90 in VED.

IAM Head of Technical Policy and Advice, Tim Shallcross, said:- "If the government is serious about getting motorists to reduce CO2 emissions, the IAM says more investment in driver education and information is needed, rather than extra taxes that motorists suspect are more about revenue-raising than improving the environment."
CAR KEY TO LOVE?
A well maintained car could be the key to a revved-up love-life, after research from Kwik-Fit found that 14 million Brits say they can tell much about a prospective partner from the state of their motor. Interestingly, females are slightly more likely to judge a partner by their car - with 44% compared to 40% of men.

The findings also reveal that a staggering 250 million women have even dated a chap just because they liked his car. And a further 250,000 turned down a date with a guy they liked, because they didn't rate his motor. But perhaps more extreme is the 330,000 Brits that claim to have stayed in a relationship just because they liked driving their partner's car, or the 230,000 that went as far as dumping their other half because their motor didn't meet their high standards.

David White, customer services director at Kwik-Fit commented:- "Whilst many people strive for a honed appearance to attract the opposite sex, it seems this can often count for little if their car is unreliable and has filthy paintwork, an oil leak and bald tyres." He continued:- "Making a date for a service at Kwik-Fit will not only keep you and your loved ones safe on the road, but may also cost less than a new outfit or gym membership and still help you attract the opposite sex too!"
FSB calls for more support for apprenticeships so employers can say "You're Hired"
THE Federation of Small Businesses (FSB) is calling for greater awareness and access to financial support for smaller firms taking on apprentices. Responding to a consultation on National Minimum Wage (NMW) exemptions for apprentices, the FSB today told the Low Pay Commission that trainees should be paid the same as 16-18 year olds in ordinary employment but called for better support to ensure training completion rates are vastly improved.

A recent FSB survey revealed that only 5% of respondents were aware that compensation was available for giving apprentices time off to train; 78% of members said they would employ apprentices if there was financial support on offer from the government while 82% backed raising the wage of an apprentice from its current level.

Colin Willman, FSB Education and Skills Chairman, said:- "The FSB believes in apprenticeships and their value to the economy which is why exemptions from the NMW are not critical to small businesses. The NMW levels for apprenticeships must be the same as a 16 to 18 year old in ordinary employment, an increase in completion levels are of the greatest concern. Small businesses place great value on an apprenticeship and are prepared to invest in them. But they are often impeded by lengthy administration and the costs of providing training. Many are not aware about wage contribution for time off to train. We would like to see greater efforts to make small businesses aware of financial support for providing training and a reduction in the bureaucracy to receive it. This should enable employers to tell the next generation of apprentices, 'You're Hired'."