LAST CHANCE TO ENTER NATIONAL RECYCLING AWARDS
ORGANISERS of the National Recycling Awards - the only gala event recognising and rewarding excellence in the waste and recycling community - are reminding companies, councils and charities that the 22 August entry deadline is fast approaching. Widely recognised as the recycling industry's benchmark, the National Recycling Awards have been celebrating best practice in the public and private sector for over a decade.

Organised by Materials Recycling Week, the National Recycling Awards are open to any organisation, community group or company that is affected by recycling, plays an active part in the recycling process or is involved in the production chain of recycled products. Winners will be presented with their awards at a celebrity-hosted black-tie gala event at the Telford International Centre on 12 November 2008.

Full entry guidelines can be found on www.nationalrecyclingawards.com and the closing date for entries is Friday 22 August 2008.

The 2008 National Recycling Award categories are:
* REPIC Electrical & Electronic Recycler of the Year
* Valpak Award for Best Local Authority Initiative
* Baylis Award for Best Supermarket Recycler
* Wincanton Innovation in Health & Safety Practices
* Viridor Best Local Authority Initiative
* Corus Small Business Recycling Initiative
* BCR Global Textiles Best Partnership Project for Recycling
* YELL Recycling Officer of the Year
* ASDA Recycling Target Success
* Best High Street Recycler

Paul Sanderson editor of Materials Recycling Week (MRW) and chair of the judging panel, said:- "Across the UK, thousands of businesses, charities and local authorities continue to do their good work to minimise waste and recycle, much of which goes unnoticed. We would urge them all to enter the National Recycling Awards so their great ideas can be shared with others. There really is a category for everyone!"

Benefits of winning
The prestige associated with winning a National Recycling Award is considerable. As well as recognition from their peers in the recycling industry, previous winners report that it has raised their profile, boosted staff morale and helped them to win new business.

Last year's winners included:
* WM Morrison Supermarkets who won the Baylis Award for Best Supermarket Recycling Initiative for its Recyclopedia guide - a labelling system which the retailer developed for its own-brand packaging. The supermarket developed a system of symbols which provided customers with information on the recyclability of the packaging components.

* Preston City Council who picked up the Grosvenor Best Local Authority Initiative Award by bringing about a wind of change with its baked bean-themed campaign to encourage students to recycle! Kerbside recycling in the study area increased by 10% and recycling participation rates increased too.

* Pendle Borough Council who smashed recycling targets with its Cleaner, Greener, Safer campaign, despite a high number of deprived areas and limited resources, and ran off with the Viridor Recycling Target Success Award.
The entries will be judged in September by a panel of industry professionals chaired by MRW's editor, Paul Sanderson. For more information please visit www.nationalrecyclingawards.com.
Ready. Set. Go!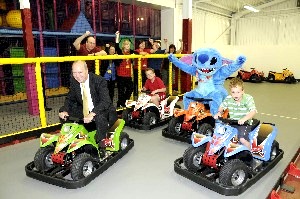 THE green light has lit up for a new attraction at Seacombe Ferry Terminal – and its literally driving children to distraction!

A new kart track, with 6 multi-coloured battery-powered quad bikes, has been launched in the terminal, in Wallasey, Wirral. The Formula K quad bikes, which can reach speeds of up to four miles per hour, are suitable for children between the ages of 3 and 12.

Councillor Denis Knowles of Merseytravel's Passenger Transport Authority joined children to launch the new attraction. He said:- "Every one of the children I met had a great time on the new quad bikes. They are a great new addition to Seacombe ferry terminal. Who knows, we may even have the next Lewis Hamilton on our doorstep!"

The high quality, durable and safe electric quad bikes are simple to operate and have been built to ensure parents can easily assist younger children to take part safely. Height restrictions apply.

The quad bikes are the next phase in a bid to boost the appeal of Seacombe Ferry Terminal to families and young people. In the last month, Seacombe's Play Planet has been refurbished and now contains air cannons which can shoot balls through targets, splat pads and rope swings. All this has been added to Play Planet's 3-storey, 3-lane super slide, spider webs and asteroid belts. As well as junior explorers, intrepid tots can also use the new and improved toddler area built to inspire and develop young minds.

Mersey Ferries have launched a series of birthday party package options following the launch of the new facilities. They range from £6.95 to £9.95 per head and include party host, hot or cold buffet, presents and use of the facilities at Seacombe. For more information contact Mersey Ferries on 0151 330 1444.