SOUTHPORT FLOWER SHOW LAUNCHES 2008 PROGRAMME
THE Southport Flower Show has official launched its programme on 5 August 2008, at Victoria Park, Southport. The programme has been launched a month early in response to demand. Visitors can now buy the programme with their tickets, or separately, giving them plenty of time to plan their visit to the show.

Chief Executive, David Jackson, said:- "We have taken into account feedback from last year's visitors, many of whom said they would have appreciated seeing the programme in advance to help them plan their visit."

Southport Flower Show provides inspiration and ideas no matter what your level of gardening expertise. Whether you are a gifted amateur, a professional or just starting out, it's the place to ask questions and find out more from friendly and approachable experts. Visitors can also find out about the many health benefits of gardening.

One of the main themes of this year's show, which runs from 21 August to 24 August 2008, is 'growing your own produce'. The National Society of Allotment and Leisure Gardeners (NSALG) will be exhibiting a magnificent allotment display garden. The society will also offer advice, no matter what size of area you have, be it a small patch in your garden or pots and containers.

For show tickets visit:- southportflowershow.co.uk or call now on:- 0844 847 1555.

SOUTHPORT FLOWER SHOW FACT SHEET
• The UK's largest independent flower show celebrating its 79th year attracting around 80,000 visitors each year.

• The show has the reputation of being one of the friendliest flower shows in the UK and provides the perfect environment for young and amateur gardeners to pick up hints and tips.

• Allotments are being featured strongly this year. As more and more people are becoming interested in growing their own, the National Society of Allotment and Leisure Gardeners (NSALG) will be on hand offering hints and tips on their Grow Your Own display, and showing how vegetables can flourish in the smallest places such as a bucket as well as on traditional allotments!

• The show has a series of prestigious competitions including:-

o The Student Garden Competition
o The David Bellamy School Garden Competition
o Bellamy's Budding Gardeners
o The Stefan Buczacki Photography Competition

• Children under 16 years old receive free entry when accompanied by a full paying visitor and can enjoy the wide ranging entertainment programme including live music, falconry and acrobatic displays.

• The Show's Patrons are:- Diarmuid Gavin, David Bellamy, Stefan Buczacki, Roddy Llewellyn.
• 2008 show opener will be:- Coleen Nolan.

• Since 1986 the show has been a registered charity and the Southport Flower Show Company has made significant investment in the improvements and maintenance of Victoria Park, the venue for the show.

• Over £150,000 was spent in 2007 on replacing the electrics on the 34-acre park.

• The economic impact to the region of the 2007 show was £3.8 million.*

• Achieves almost £¼million of media coverage annually.

• The Southport Flower Show Company has a 60 year lease for Victoria Park and on the first day of each show presents the 'rent' to the Mayor/Mayoress of Sefton – a bouquet of roses!

• Other events held at Victoria Park include the Summer Classics and the North West Motor Show.

* Source = England's Northwest Research Service.
DRIVING ILLEGAL TAXI TOUTS OFF OUR STREETS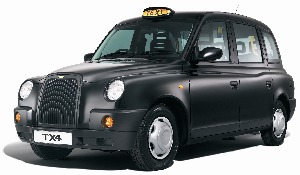 LTI Vehicles, manufacturer of the world famous London Taxi, is encouraging local Councils to crack down on illegal taxi touts by following the example set by London Mayor Boris Johnson.

Last month a series of measures announced by the Mayor sent out a strong message to illegal touts. A serious and dangerous practice, illegal touts use unlicensed taxis that are not insured and pose a real threat to anyone tempted to use them.

Unlicensed taxis contribute to some of the most serious crime in London. In 2007, there was an average of seven sexual attacks and rapes on women by illegal minicab drivers each month*.

Plans to crackdown on London's illegal cab trade include doubling the number of cab enforcement offers from 34 to 68 and introducing a 'one-strike' rule that would ensure cabbies convicted of touting would immediately have their licence revoked.

A spokesperson for LTI Vehicles said:- "We welcome the decision made by Boris Johnson to take a hard line with illegal taxi touts. We hope that other Councils, if not done so already, quickly follow suit.

Removing touts from our streets is a step in the right direction to ensure that everyone can feel safe when they travel by taxi. It's important that people using a taxi late at night can hire one with complete confidence. The best way to do this is to hail an instantly recognisable London style taxi or to book a private hire vehicle in advance using a reputable firm."

* 2007 MET Police statistics published by the London Mayor's office.
Matisse Is Still Open!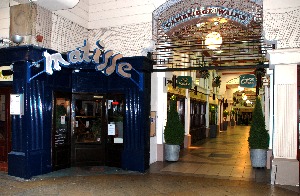 SOUTHPORT'S well known Matisse Cafe Bar on Cambridge Walks/Cambridge Arcade is still open despite reports in local media to the contrary. The reports of its closure worried many in the town, as many businesses are finding it increasingly difficult, thanks to a distinct drop in tourists and also thanks to the fears of a looming recession. Not forgetting that costs are increasing and the reluctance from the public to pay more to cover the rapidly rising costs. For such a well known and what many would have said is "a stable well established business" to have closed would have been very worrying in deed. The owner Allan Wright told us that:- "Just like many other businesses, we are finding this year hard going, but things, for us, are brighter than they look. We are all systems go...
The fact is that we did close for a few days. This was to allow us to sort out a problem, but that was easily fixed. It was just a case of miss communication. We did in fact re-opened on the Wednesday, that very same week. It was regrettable that some of the local media had reported that we had closed fully.
I would like to restore our many regulars, that we are open for business as normal. We are open for good!"