Soccerbus kicks off!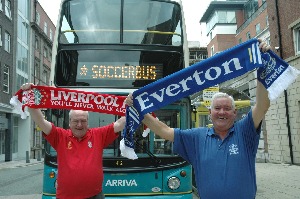 MERSEYTRAVEL'S congestion-busting Soccerbus service is returning to Sandhills Station this season and kicks off this week for 2 friendly matches.

The sport special bus service, back at Sandhills after a season-long loan move to Bank Hall and Kirkdale Stations, is helping to kick match day congestion around the grounds into touch.

The service linking Sandhills station to Goodison Park and Anfield for Everton and Liverpool's home Premier League and cup matches, will be a permanent fixture. It will be operating throughout the Premiership season, starting with Everton at home to Blackburn on Saturday 16 August, then Liverpool's 1st home match against Middlesbrough on Saturday 23 August.

Councillor Mark Dowd, Chair of Merseytravel and a lifelong Everton fan, said:- "We are trying to make life easier for those residents living around the stadiums, as well as the fans going to the games."

Councillor Jack Spriggs, Vice-Chair of Merseytravel and a lifelong Liverpool fan said: -"More and more people are seeing it as one of the best options to get to the grounds. We want people to make full use of the service."

Last season, the service for Everton and Liverpool matches helped remove thousands of cars from the road, savings tonnes of CO2 emissions into the environment.
The Soccerbus service runs for 2 hours before each Liverpool and Everton match up to 15 minutes before kick off and for 50 minutes after the final whistle. A Soccerbus ticket costs £1 when booked in advance with a train ticket (ask for a return to Anfield or Goodison Park when booking tickets) or £1.50 single or return on the bus. It is free for Merseytravel Trio, Solo and Saveaway tickets or English national concessionary travel passes.
DOORSTEP SELLING
TRADING Standards officers in Sefton have welcomed new regulations to protect residents from buying goods and products from doorstep sellers.

The new rules which come into force on 1 October 2008 give people a legal right of 7 days in which they can change their mind. Previously, people only had these cancellation rights if a trader's visit was not pre-arranged. The doorstep selling regulations are part of a package of measures from the Government to crack down on rogue traders. The Government will be writing to companies across the borough to raise awareness of the new rules.

Businesses will need to make changes to their sales contracts to comply with the law. Companies that fail to comply with the regulations may well be investigated by Trading Standards, ending in possible prosecution and fines. The new regulations will make things simpler for businesses who sell at the doorstep. They now need just one contract when they visit a customer, rather than separate ones for solicited and unsolicited sales.

Sefton Council Trading Standards Manager, Andrew Naisbitt, said:- "Every year we see sales take place in homes across the borough. Sadly some unscrupulous traders have taken advantage of the distinction between solicited and unsolicited calls - duping or pressuring customers into buying products, without the chance to change their minds.
Honest businesses, as well as customers in Sefton, are the real winners here.
The regulations will put an end to underhand tactics used by rogues who take advantage of current loopholes in the law."

For more information about the regulations, businesses should visit this website.
12% of deaths in 20 to 79-year-olds caused by diabetes
NEW figures reveal that 11.76% deaths among 20 to 79 year olds in the North West can be attributed to diabetes, warns leading health charity Diabetes UK.

This work is based on data that shows adults under 80 with diabetes are around twice as likely to die as those without the condition and women with diabetes have a greater increased risk of death compared to their male counterparts.

Julie Byron, Diabetes UK North West Regional Manager, said:- "These new figures are truly alarming and confirm that diabetes is one of the biggest health challenges facing the UK today. There are already 280,000 people diagnosed with diabetes in the North West and around 65,000 people who have the condition but are not aware of it."

Good self-management, awareness, and improved access to specialist diabetes care services are crucial if we are to curb this growing health crisis and see a reduction in the number of people dying from diabetes and complications attributed to the condition.

Primary Care Trusts (PCTs) with the highest percentage of diabetes-attributable deaths are areas with a higher than average proportion of the population under 40 and where there are large numbers of over 40s of Asian and Black origin, who are at greater risk of developing Type 2 diabetes. These areas also have high levels of deprivation compared to PCTs with the lowest proportion of deaths.

The percentage of diabetes-attributable deaths varied at PCT level in the North West from 10.42% in Warrington to 13.21% in Blackburn with Darwen. By using a method that combines data from previous research studies and estimates of diabetes prevalence with population and mortality data, the work is able to provide a more accurate picture of the number of deaths attributable to diabetes than from routine sources which often fail to identify diabetes or diabetes-related complications as the principal cause of death. Whilst still around twice as likely to die as their peers without the condition, the number of deaths in the younger age groups is small compared to the older age groups.

Diabetes can be fatal in a number of ways. Around 80% of people with the condition die of cardio-vascular disease (CVD) - high blood glucose levels can cause damage to blood vessels which can result in a stroke or heart attack. Diabetes is also the main cause of end stage renal failure (ESRF) an irreversible decline in kidney function. A hypoglycaemic attack or a hypo - a condition where the level of glucose (sugar) in the blood drops can also lead to death on rare occasions. Similarly, high blood glucose levels (hyperglycaemia) left untreated can result in death through diabetic ketoacidosis (DKA) which occurs as a result of a lack of insulin.

John Ingham, from Whitby, died from a stroke in July 2006, aged 77. His son Nigel, said:- "My father was first diagnosed with Type 2 diabetes in his 50s in the late 1980s. He had been overweight since I was a boy. Despite warnings from his GP about the risk to his health and his sight, he did little to manage his diet which made the effects of his diabetes worse. My father soon began to age very quickly due to his diabetes in his 70s. He became incontinent and his eyesight deteriorated to such an extent that he could barely read, even with spectacles.

Things then came to a head when an ulcer on his foot became infected and refused to heal. He was advised to have the foot amputated to save his life. It was very difficult persuading my father that he had the choice between dying or an amputation. Like a significant number of amputees my father had circulatory problems. This led to a number of strokes, such that my father had to be fed. No doubt he found it very humiliating to have his son feed him.

After 9 months in hospital he was transferred to a nursing home in Whitby. All through this time he pleaded to go home but his care needs were well beyond what myself or my mother, living over 200 miles away, could provide. He spent 3 months in the nursing home before having a major stroke which ended his life in July 2006.

My father would have had far fewer problems and would have undoubtedly lived longer with better management of his diabetes. Whilst not wanting to scare people unnecessarily it is vital people realise the serious implications of not managing this condition properly."

For further information about diabetes and how to manage the condition visit diabetes.org.uk.