LOUNGING IN LIME STREET STATION
RAIL passengers using Lime Street station will be able to lounge in comfort next year thanks to a £3.4 million investment in the station by Network Rail.

Work started on 18 August 2008 on two new passenger lounges, an information point, three shops and railway staff accommodation. The new facilities will be built on the old cab road between platforms seven and eight, which used to be used by Royal Mail vehicles and black cabs.

Peter Strachan, route director at Network Rail said:- "Every day over a thousand passengers use the long-distance platforms at the station. At the moment, they have limited seating on that side of the station and virtually no other facilities.

This investment is designed to get their journey off to a good start by giving them access to much needed seating, information, cash machines and other services that a station of Lime Street's importance should provide for people making inter-city journeys.

We spent a lot of time talking to the city planners to make sure that what we were proposing was acceptable to them and fitted in with the listed building status of the station. I think the end result will be something the people of Liverpool will appreciate and will look forward to using for many years to come."

Gary Iddon, Virgin Trains General Manager Liverpool said:- "Virgin Trains is delighted to be supporting this scheme which will enhance the station facilities for our customers and provide them and others with a first class lounge for the first time."

There will be two separate air conditioned buildings on the old cab road constructed from environmentally friendly glulam timber beams covered in wood veneers, with frameless glass walls to the front and sides.

The building nearest the front of the station will include an information point, which will be staffed by Virgin Trains, and three retail units, one of which it is anticipated will provide refreshments.

The second building will be further down the old cab road towards the front of the trains and will have first and standard class passenger lounges, separated by a retail kiosk.

Welfare and other facilities for both Virgin Trains and East Midlands Trains staff will be incorporated in the buildings, which will have new customer information screens and be covered by CCTV linked into the existing station system.

Virgin Trains Station Manager Keith Millard added:- "The new facilities will provide a real welcome to visitors to Liverpool Lime Street station and will also provide accommodation for our staff at the station for the first time."

A new ceramic tiled passenger concourse will be created by installing a glass screen along the length of platform seven and new lighting will lift the existing lighting levels.

The 'Cab Road' development is part of a co-ordinated programme of work designed to improve all aspects of the visitor and traveller experience at Lime Street Station.

Preparation work has begun on the Lime Street Gateway project which will unmask the listed Victorian frontage of the station, providing an extensive new area of public realm along with much improved pedestrian access to and from the station and better links to the city's cultural and retail quarters.

The project has been planned by national regeneration agency English Partnerships, Liverpool Vision and Liverpool City Council in conjunction with Network Rail, Merseytravel and the Railway Heritage Trust. The public realm will incorporate steps, slopes and lighting to improve access for all station users, and will involve the demolition of Concourse House and the row of shops in front of the main station building. Overall completion is scheduled for early 2010.
SING-ALONG TO MAMMA MIA! AT VUE CINEMAS NATIONWIDE
FOLLOWING the phenomenal success of Mamma Mia! The Movie from 22 August 2008, 59 Vue cinemas across the UK will be hosting sing-along screenings. Fans will get the opportunity to enjoy the film and sing-along to their favourite ABBA songs whilst being in the comfort of their local Vue cinema enjoying the benefits Dolby 5:1 digital surround sound. Mamma Mia tells the story of Donna, an independent, single mother who owns a small hotel on an idyllic Greek island. Donna is about to let go of Sophie (Amanda Seyfried), the spirited daughter she's raised alone. For Sophie's wedding, Donna has invited her two lifelong best girlfriends—practical and no–nonsense Rosie and wealthy, multi–divorcee Tanya —from her one–time backing band, Donna and the Dynamos. But Sophie has secretly invited three guests of her own. On a quest to find the identity of her father to walk her down the aisle, she brings back three men from Donna's past to the Mediterranean paradise they visited 20 years earlier. Over 24 chaotic, magical hours, new love will bloom and old romances will be rekindled on this lush island full of possibilities. Sophie's father could be any of her mother Donna's past suitors: Sam Carmichael, Bill Austin, or Harry Bright. The only way for her to find out is to invite all three to her wedding to see what happens... Mark de Quervain, Sales and Marketing Director for Vue Entertainment, said:- "We are really excited to give our customers the chance to sing-along to one of their favourite films. Vue Entertainment are passionate about displaying content in new and innovative ways whilst engaging with our customers." Tickets for Mamma Mia Sing-Along from 22 August to 28 August are on sale now and can be purchased online or by phone via 08712 240 240 or directly from box offices at participating cinemas. Please keep checking the website for screenings from 28 August 2008 onwards. Previous sing-along screenings have sold-out extremely quickly so please book early to avoid disappointment. For more films please check out our Mersey Reporter advert with all the weeks film times by clicking here.
Morgan Est lowers tunnel boring machine in Aughton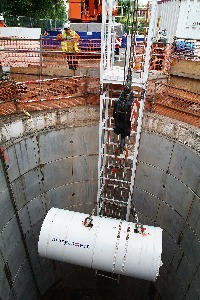 A 13 tonne tunnel boring machine, has been successfully lowered into a shaft in Aughton, near Ormskirk, by leading infrastructure services provider Morgan Est.

The ISEKI 1,200mm TBM was craned into position to enable Morgan Est to start work on a 40-metre long tunnel under the Southport to Liverpool railway line, which is being constructed to prevent foul flooding to the properties in the Moss Delph Lane area of the town.

Morgan Est is creating the tunnel as part of a five year, £450 million framework contract with United Utilities to replace, extend and maintain clean water, waste water and electricity networks in the North West under the AX4 capital delivery programme.

Photo: Morgan Est has successfully lowered a 13 tonne tunnel boring machine into a shaft in Aughton, near Ormskirk.
JUST A FEW PLACES LEFT FOR CHARITY ABSEIL DOWN MERSEY TUNNEL SHAFT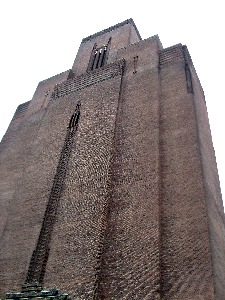 THE Muscular Dystrophy Campaign is looking for a few more local people to take up the challenge of an exhilarating 150ft sponsored abseil down the outside of the Mersey Tunnel Ventilation shaft in Birkenhead on Sunday, 7 September 2008 to raise much needed funds to help in the fight against muscle disease.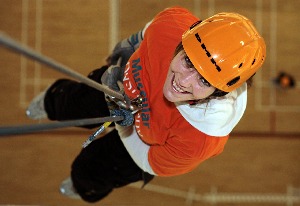 Says Charles Horton, Regional Fundraising Manager for the Muscular Dystrophy Campaign:- "This is the perfect opportunity to do something that you will always remember, especially if you have never done an abseil before.
The views from the top of the Mersey Tunnel ventilation shaft across the River Mersey and into Liverpool are stunning.
All the necessary equipment and training is provided on the day by our expert instructors, so beginners are very welcome."

The abseil is taking place at the Mersey Tunnel Ventilation shaft on the Birkenhead side (just off Pacific Road) to raise funds for research into treatments and cures for muscle wasting diseases.
Everyone who participates will receive a certificate to commemorate their abseil and a t-shirt to wear on the day to show their support for the charity.
There will also be some great rewards for sponsorship raised including polo shirts, fleeces and rain jackets and a Ferrari Driving challenge for the person who brings in the most sponsorship on the day of the event.
Participants need to pay a registration fee of £15 and raise a minimum sponsorship of £125 to do the event.

A booking form is available now by calling the Muscular Dystrophy Campaign office on 01244 403012 or by email.