Southport Lions donate £1,000 towards cancer equipment
NEIL McQuade and Chris Leather from the Southport Lions came to Southport & Formby District General Hospital last week to present Dr Sun Myint with a large cheque for £1,000 towards the purchase of a 'Papillon' machine.

Dr Myint said:- "We are very grateful to the Southport Lions for their donation, these machines are very expensive, so all donations help. The machines are used to treat certain types of rectal cancer without the need for major surgery. This is clearly much better for the cancer patient as they do not have the added trauma of surgery with its associated risks."

Dr Myint from Clatterbridge Centre for Oncology, who holds a clinic at Southport Hospital once a week, and surgeon Mr Michael Hershman from Charing Cross Hospital have worked closely together for the past 15 years to develop minimally invasive techniques to treat rectal cancer. The two doctors are now teaching the technique to other cancer doctors.

Dr Myint explained:- "Up until now there has been little interest in developing non-invasive treatments for rectal cancer except at Clatterbridge Centre for Oncology where we are committed to minimally invasive treatments to give patients more choice.

The treatments we offer are only suitable for patients whose cancer has been discovered early and until now; there have not been many patients in this category. However, with increasingly sophisticated diagnostic techniques, and more screening, we predict that the number being diagnosed with early stage rectal cancer is about to explode. As a result of this, interest in our work from cancer specialists across the UK and abroad, is growing."

Southport Lions Club said that:- "We are pleased to be able to contribute to developments such as this, from funds generously donated by the people of Southport and the surrounding areas. Our Club has been assisting the less fortunate in our community and around the world since 1962, and looks forward to continuing to do so."

If you would like more information about Southport Lions Club, and some of our previous and on-going projects, please visit our website.
MAG GIVES £40K TO BALLET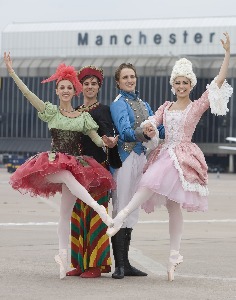 MANCHESTER Airports Group has pledged £40k to the Northern Ballet Theatre as part of its arts sponsorship programme.

Manchester Airports Group (MAG) donates one per cent of its gross operating profits to arts sponsorship and has become one of the largest sponsors of the arts in the region. Over the past 5 years the organisation has given £200k to the Northern Ballet Theatre and this latest donation brings the total to £240k.

MAG has supported Northwest arts projects for around the last 20 years and has so far given £8 million back to help support the growth of the arts in the city and the city region.

Mark Skipper, Chief Executive, Northern Ballet Theatre said:- "We are delighted that Manchester Airports Group has chosen to continue to support Northern Ballet Theatre. For the past 4 years Manchester Airports Group has sponsored our London season, hosting Corporate Hospitality events at our performances as well as supporting performances on the UK National Tour."

Mark went on to say "Their support makes it possible for us to continue to perform in London and to operate at the highest possible level. Our partnership also allows us to work together with airport staff, local community groups and students. Our relationship brings together two great northern-based companies and in joining together we export this expertise to the nation's capital city."

Geoff Muirhead, Chief Executive, Manchester Airports Group said:- "We are extremely proud of our partnership we have with the Northern Ballet Theatre and we are honoured we are involved with one of the most prestigious Arts organisations not only in the Northwest but throughout the UK

MAG is one of the most committed sponsors of arts in the North West our region has a great diversity of talent and we are so pleased to be able to help maintain its reputation as one of the most vibrant cultural areas of the country. It is this reputation as a cultural centre that continues to make Manchester a destination for tourism in its own right."
Southport Civic Society's Lord Street Trail's 12 Plaque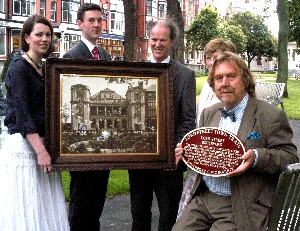 IN 1992, the Southport Civic Society published a Town Trail and put up 10 plaques on buildings and monuments on Lord Street. The plaques refer to interesting historical features on the street. Now, 16 years later, they have extended the number of plaques to 12, with 13 in the pipeline. The two new plaques commemorate two Southport residents, the first, Prince Louis Napoleon, and second, Walter Connard.

Prince Louis Napoleon was exiled from his native France and lived in Southport in 1838. He admired the long, straight and wide, tree-lined Lord Street, so much, that when he returned to Paris as Emperor, he remembered the elegance of Lord Street and instructed his architect to create the old world famous boulevards that grace the capital city today. Well-known architectural historian, the late Professor Quentin Hughes, gave credence to the tradition, in research he carried out in the 20th Century. In an article in the Times, in 2000, Professor Hughes said:- "GCSE History students are taught that the Emperor favoured wide boulevards in Paris to make it easier for his generals to put down insurrections. His links with Southport have so far eluded his biographers." The two plaques to commemorate this have been erected on the Old Duke's Monument, at the south end of Lord Street. A second identical plaque will be put up shortly at the north end of Lord Street.

As for Walter Connard, he was a Sandgrounder, born in 1859. He was the eldest of 7 sons of a local builder. He was first apprenticed to a firm of architects, but really wanted to be a jeweller, eventually opening a jewellery business with his brother, Arthur in 1883 on Lord Street. He built the Masonic Buildings where the jewellery business, Connard and Son still continues to trade in today, but now with the third and fourth generations of his family behind the counter. By 1914 he wanted to build a Picture Palace and built the Palladium on the site of the now Sainsbury's. 8 years on, Southport Council were anxious to acquire the land in front of the cinema for the public gardens they were creating and Walter struck a deal. As part of the bargain, Southport Council was to build a fountain to Walter's designs to go in front of the Palladium. This fountain still stands there today and a plaque has been erected to mark this bit of history.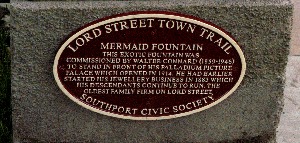 All the 12 plaques on Lord Street have been painted in the Town's traditional colours of Maroon and Cream.

We will be adding a copy of the history trail to our Mersey Reporter website's history section section very soon. Also more information can be obtained via Southport Tourism Centre and via the Southport Civic Society.
MOTORCYCLES & MOTOR SCOOTERS
THIS is the latest Sefton Ringmaster message from Sefton Crime Prevention Office:- "We have seen an increase in reported theft of motorcycles and motor scooters in the last two months. Most of these vehicles have been stolen from the driveways of private premises during the evening and overnight.

Owners of such vehicles are encouraged to secure their vehicles in a garage or shed, and in any event when left unattended, secure them with a heavy duty chain and padlock. These can be purchased from most reputable accessory shops.

There is also an increase in criminal damage to motor vehicles and houses. The method appears to be the throwing of a stone like object causing damage to dwellings or cars parked in the driveways.

Some of this crime will be linked to 'nuisance vandalism' and patrols are targeting those areas.

However, some of this is attributable to retribution crime. This crime is difficult to predict but owners/occupiers can purchase appropriate security lighting that will go some way in deterring such criminals."