LETTER TO THE EDITOR:- "Birkdale County Sanatorium - Can any one help me?"
"I am researching my grandfather Percy Wakelin who died aged 46 of TB on 17.2.1919 at the Shaftesbury Road Sanatorium; I believe number 43. The establishment is referred to in the Directories of 1920/21 and 1924/25 and called the Birkdale County Sanatorium, but I believe it closed not long after. Are there any photos out there of the Sanatorium or indeed any information or records and where in Shaftesbury Road was it? I am not even sure as to whether the building is still in existence - any information would be greatly appreciated." David Wakelin - email.
RISING FUEL COSTS DRIVE PEOPLE BACK TO PUBLIC TRANSPORT
PEOPLE across Merseyside are leaving their cars at home in favour of buses and trains as a result of the recent hike in fuel prices. Almost half of the area's drivers have swapped their cars for another means of transport for some journeys since the recent increase in fuel prices, a survey by the Merseyside Local Transport Plan (LTP) partnership has revealed.

The poll of 1,200 drivers shows that almost 2/3rds of drivers are choosing to walk short trips rather than jump in the car and nine percent are cycling instead of driving. The survey also revealed that almost a third of drivers in Merseyside are choosing to travel less because of higher fuel prices. Almost half of those interviewed in the study said they no longer commute to work by car every day and more than 60% said they avoid using the car when visiting friends, eating out and going on day trips.

The recent street survey questioned different types of traveller - from business people to shoppers - to explore how fuel price increases have influenced their travel choices. It also looked at how further rises in fuel costs might trigger changes in future among travellers who have not yet altered their travel habits.

Cllr Jean Quinn, Chair of Merseyside Transport and Planning Committee, said:- "We are facing times of change and this survey helps us to understand how people are adapting their travel habits to meet those changes. As travel demand continues to rise on Merseyside, we need to ensure congestion and pollution do not hamper our economic growth. Through the TravelWise initiative, the aim is to help people travel more sustainably, using more public transport, cycling and walking. This survey shows that for many drivers, there are better transport options out there than driving alone for every journey.

The survey indicates that people are walking a bit more and using the bus for some journeys. Some people are curbing their driving speed and using trains or cycling more. This travel behaviour is much more like the way citizens in mainland Europe use their transport networks - and is key to the economic and environmental success of our region. Travelling less and using public transport, walking and cycling more will have a truly beneficial impact on our environment."

Long-term travel behaviour patterns will be monitored in future years. The LTP Partnership is analysing the results of the survey as part of a Planning for the Future (PFF) development programme. This is a wide-ranging project that will map travel demands in Merseyside for the coming decade, and set out long-term policies and investments to enable the transport network to support economic growth in a way that does not prejudice social and environmental success. This will enable the Liverpool City Region to flourish as an attractive, high quality place to live, work and enjoy. The PFF project includes the development of city region models for transport and economic forecasting, as well as research into the costs of transport for society in general. It is an ongoing process of engagement about the transport needs and implications for the long-term future, between the LTP Partnership and private and public sector bodies. The process will inform the next transport strategy, due to be prepared for 2011.
ARMY LAUNCHES NEW FURTHER EDUCATION BURSARY TO MEET THE NEEDS OF BIRKENHEAD STUDENTS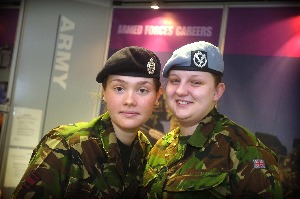 IN response to new research which revealed that young people today view Further Education (FE) as one of the key 'building blocks' to a successful life, The Army - as one of the UK's biggest employers - has launched a bursary scheme designed to help students who may wish to consider joining as a soldier.

The Army FE Bursary Scheme (FEBS) will award £1,000 to learners for each year studying at college and a further award of £1,000 (taxable) on completion of Army basic training. This is in response to the research which recognised that school leavers have a number of concerns regarding their path through Further Education, including how to finance full-time study.

The FEBS will support young people studying for a range of vocational programmes, including IT and Technology, Engineering, Sport and Recreation, Catering, Business Administration, Construction, Public Services and Vehicle Repair. Throughout college, bursars will be offered relevant work experience by the Army; furthermore an Army contact will help guide and support them during their studies, as well as preparing them for their Army selection and training.

From September 2008 onwards, the new scheme will serve to enhance the Army's existing education offer, building on the success of Officer Bursaries and underlining the Army's commitment to the lifelong learning and development of young people. Available to people between the ages of 16 and 32, either seeking to move into or already studying in Further Education at more than 200 participating colleges across the UK, the scheme hopes to attract 3,000 learners.

Lieutenant Colonel Leanda Pitt, Commander of Regional Recruiting in the North West explains the rationale for the new scheme:- "The Army has a proud tradition of supporting its future employees through further education and this new scheme demonstrates our commitment to through-life learning and vocational training.

The bursary takes into account the Government's desire to see more young people in further education and will help ease the financial burden that many young people face when entering FE by providing them with exactly what they need - financial support and a guaranteed job offer at the end of their education.

It is a unique combination of practical work experience and financial support representing a true engagement with education to help deliver vocation-based learning. We are particularly pleased to offer an incentive based bursary, something that our education partners deem vital in helping students to achieve their goals."

Learners can find out more information by going to armyjobs.mod.uk, or by contacting their local Army Careers Office on [insert telephone number).
Student Services departments at each of the participating colleges will also be able to provide information.