'Love me Love my dog' say canine crazy Brits
MORE than 15% of dog owners admit they would dump their partner for not getting on with their dog, new research from Petguard.co.uk has found. The online pet insurance specialist warns prospective suitors to be particularly wary of Lhasa Apsa owners, as more than 1 in 5 admits a love interest would get the boot if they clashed with their dog. Partners may also end up grappling for bed space, as almost 40% of 3,000 dog owners surveyed across the country claimed to share their bed with their pooch.

Petguard found loved ones are also likely to come 2nd fiddle to 'Fido' in the birthday stakes. 60% of respondents to the OnePoll survey knew their dog's birthday, whilst only 45% had never forgotten a close relative's birthday. 11% of dog-lovers across the UK admits to holding parties in honour of the four-legged friend's special day. The market for pet birthdays is booming, with countless specialist dog birthday planning services springing up across the web. Services offered include, 'scooby-doo' themed parties, doggy birthday cakes, and canine-friendly goody-bags.

Petguard found 70% of dog-owners would be prepared to spend up to £20 on a single gift for their dog. However, 9.5% admits to having splashed out £50-£100. Miniature Schnauzers are the run-away winners of the most 'spoilt pooch' award, with a staggering 42% of owners spending in excess on £50 on a single gift. Among the gifts purchased for pampered pooches, 15% of respondents to the Petguard survey had bought their dog an outfit. In America, Warner Bros recently launched a range of dog clothes that includes a $2,000 satin coat studded with Swarovski crystals and lined in pink silk.

James Pickering, managing director of Petguard, said:- "The UK has some of the world's most fanatical dog-lovers, and in many cases dogs are treated more like members of the family than household pets. Given the amount dog owners spend on parties and gifts for their dogs, it's surprising how few (25%) are prepared to spend just a few pounds a month on insurance. Vet bills can quickly mount up, so it's worth bearing this in mind before splashing out on that diamante dog collar."

Petguard has been designed to add speed and simplicity to the pet insurance process by allowing pet owners to get an online quote in six simple steps, taking just 30 seconds. With eight vet fees cover options available, all policies offer quick treatment, with no need to consult Petguard first if an animal is referred for specialist treatment by a vet.
SMEs missing out on internet advertising boom
ON the day that Ofcom reported that online advertising overtook advertising spend on mainstream TV in Britain last year, the UK's leading online search specialist, Infoserve, has warned that most SMEs still show a shocking lack of understanding of what they can achieve through online marketing. Ofcom's Annual Communications Market Report, which was published on 14 August 2008 , announced that online advertising spend has risen by an average of 70.2% in each of the last five years to reach £2.8bn. For the first time the internet attracted more advertising spend than the combined net advertising revenues of ITV1, Channel 4, S4C and Five (£2.4bn) in 2007. Yet according to Steve Barnes, Infoserve's CEO, businesses are not aware of this dramatic growth. His company speaks with over 10,000 SMEs a week, but he believes too many don't understand the best ways to market themselves online and are missing out on a priceless opportunity. Steve said:- "There is a worrying lack of understanding amongst SMEs about online advertising, not only in terms of its effectiveness but also in terms of its value for money. Yet if we're talking about return on investment, then online advertising is second to none. Hopefully, the Ofcom report will help SMEs realise the potential of internet advertising, which offers more controlled and flexible advertising than ever before." Ofcom's report also shows that paid-for search advertising, which enables SMEs to appear next to results when someone searches for a specific term, still dominates the internet market and is up 39% during 2007 to £1.6 billion. Infoserve, which is in a unique position to advise SMEs because of its partnership with the world's two largest search engines, Google and Yahoo!, believes it's this paid-for search that is the key for SMEs. Steve said:- "Paid for search can produce instant results that can immediately be measured, which SMEs find incredibly useful when they have limited budgets. The benefit of paid-for search advertising is that you can target the very people you are aiming for, at the exact time that they are looking for your service or product. No other form of advertising allows you to do this to this extent yet many SMEs across the board are simply not taking advantage of this internet advertising boom."
Tribute to 2 football greats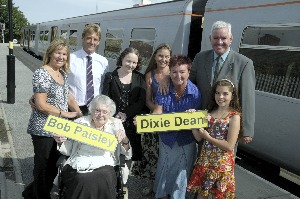 2 families, 1 from the blue and 1 from the red side of Liverpool, met for the 1st time yesterday to honour 2 football legends. The paths of the 2 families of international football icons Dixie Dean and Bob Paisley had never crossed.

Barbara Dean, daughter of Dixie, her daughter Melanie and her grandchildren were united with Jessie Paisley, wife of Bob, Bob's daughter Christina and granddaughter Jane in a unique day of celebration at Rock Ferry Station in Wirral. They joined to honour the lives of the 2 great men and to launch 2 trains, on which their names will now be forever linked. The trains, part of Merseytravel's contribution to European Capital of Culture year, were named by the people of Merseyside following a poll in the regional media.

Councillor Mark Dowd, Chair of Merseytravel, paid glowing tribute to the lives of both men at today's ceremony. He said:- "No place on earth can compete with Merseyside for the calibre of football legends through the years. My father shared memories of Dixie that have stuck with me throughout my life and Bob had huge success throughout his career. The spirit of a true legend never dies but to honour them is the right thing to do. These trains are dedicated to everyone in Merseyside who took the time to vote. This is their choice."

Train 507-009 will be a lasting tribute to William Ralph "Dixie" Dean, Everton Football Club legend and the most prolific goal-scorer in English football history. His daughter Barbara said today:- "This is a very special day for our family and I can't tell you how grateful we are that the people who took time to vote for my father. This is a fantastic tribute to a very special man."

Train 507-004 now carries the name of Bob Paisley, one of the country's most successful managers with a career of almost half a century at his beloved Liverpool Football Club. His wife Jessie, 92, told how trains played an important part in both their lives. Speaking at the launch Jessie said:- "I remember travelling on the train to London many years ago. I'd taken some sandwiches with me because you couldn't get any on the train in those days. It was on that train that Bob, in his soldier's uniform, came into our compartment and threw his big grey overcoat over my sandwiches. I wasn't happy! But he did apologise and came and sat next to me. Within six months we were married.

When I heard that Bob was to be honoured in this way I was shocked! To do this in this special year is such a lovely thing for me and my family and we are all truly proud to be able to launch this train as a tribute to Bob. The event today was not about Liverpool, it was not about Everton, it was about this great city and the people that make it that way. We are proud that the people have chosen to remember Bob in this way and I'd like to thank everyone for voting."

Bob Paisley and Dixie Dean join Red Rum, already on the tracks, as part of four trains named after true Merseyside icons in 2008, European Capital of Culture year. The final train, The Beatles, will be launched before the end of the year.