Highways Agency lifts roadworks to ease Bank Holiday getaway for North West drivers
TO help North West drivers make smoother and more reliable journeys over the August Bank Holiday weekend, the Highways Agency has completed or suspended almost two-thirds of all major roadworks on England's motorways and major A roads.

As part of the Highways Agency's commitment to ease congestion and help drivers make their journeys more safely and reliably, a total of 18 sets of roadworks will be completed and a further 49 will be suspended between 6am on Friday 22 August and midnight on Monday 25 August 2008. In addition, work on schemes at 33 sites will not start until after the bank holiday, but roadworks at 38 locations will remain in place for the safety of drivers and their passengers.

Drivers are also reminded that the M1 between J32 and J35 will be fully closed at midnight on Saturday 23 August 2008and is expected to remain closed for most of Sunday 24 August 2008, during work to demolish the redundant Tinsley cooling towers. A clearly signed diversion route will be in place.

Derek Turner, Highways Agency Network Operations Director said:- "There will be a lot of people taking advantage of the late August Bank Holiday so we expect the roads to the main holiday centre, ports and airports will be busy. The Highways Agency is doing everything it can to help drivers with their journeys - we have removed as many roadworks as possible and we also provide a number of information services that will help drivers.

I urge drivers to plan their journeys using the travel information available on our website, the Agency's Traffic Radio and telephone information services - as well as by listening to local radio traffic bulletins. Drivers should also check their vehicle's tyres, oil, water and fuel before setting out and allow extra time to plan for breaks and complete their journey safely."

The Highways Agency is also advising people to plan their journey in advance in order to avoid the worst of the summer queues. Before setting off, drivers can help prepare for their journey by tuning into the Highways Agency's Traffic Radio, available on DAB digital radio and at www.trafficradio.org.uk, or by visiting our website at www.highways.gov.uk or by calling the Highways Agency Information Line on 08457 50 40 30.

For those heading towards the South West, the Highways Agency has produced a leaflet advising drivers of the busiest times and places in the region including:-

- A303 westbound at Stonehenge between 1pm and 5pm on Saturdays and Sundays;

- M5 southbound between junctions 15 and 21 on Fridays between 11am and 7pm and Saturdays between 7am and 3pm;

- M5 near Exeter between junctions 29 and 30 on Saturdays between 8am and 3pm

Produced in association with South West Tourism, the leaflet is available online or by calling the Highways Agency Information Line on 08457 50 40 30.

Highways Agency Traffic Officers will continue to patrol the motorways 24 hours a day throughout the weekend to deal with incidents and clear them as quickly as possible. They will be supported by our contractors' Incident Support Units and operators in our seven regional control centres who will be monitoring the network to help keep traffic moving.

The Highways Agency, working with the Shiny Side Up partnership, is placing more than 600 bike safety awareness signs at safety hot-spots on trunk roads in preparation for the August 2008 Bank Holiday weekend, the last big biking weekend of the summer. The temporary warning signs warn bikers of safety risks such as known accident hot-spots, bends with poor visibility, locations where vehicles may be turning into or out of side roads, and locations where speeds will be slower.

To help our motorway users, over 8,000 large blue signs have been installed next to the hard shoulder of many of our motorways. They are positioned every 500 metres along the roadside to show drivers which motorway they are on, the direction they are travelling in and how far they are from the start of the motorway.
If drivers can tell the Highways Agency, emergency services, or a recovery company what information is on the sign, they will be able to find and help them or deal with any incident being reported much more quickly.
Letters to the editor:- "Disabled at Southport Flower Show."
"I tried booking tickets for said event via ticket master, we needed 3 in total, 1 for the gentleman who is driving us there, 1 for Donald, who is disabled and 80 and myself who is his career 24 hours, they said they do not know how to book these and told me to ring the Flower Show direct, which I did and spoke to a guy called Alex. I explained what I wanted, but was told that you could not book for disabled and to pay on the gate (£17), but if you book in advance tickets are only £14, admittedly the career goes free, but therefore discriminating against the disabled person, which I thought was illegal.

The second thing I asked about was parking for disabled and was told to park in the eco center, last year they charged £5 ,I do not know any were in the country that charge disabled for parking. I feel this is also discriminatory, I would love to know your comments and various bodies on this matter." Mike Hutchinson, Haworth, West Yorkshire.

David Jackson, Chief Executive of Southport Flower Show comments:- "Firstly, we would like to apologise to Mr Hutchinson for the problems he has encountered in booking tickets for this year's Southport Flower Show. We positively welcome visitors with disabilities and have excellent flat walkways and wheelchairs, and scooters are available for hire during the show. The system we have for disabled visitors to purchase tickets is the same system for everyone, and is no way discriminatory. Mr Hutchinson could have booked an advance ticket for himself at £14, as can anyone. However, disabled visitors who would like to bring a carer need to purchase their ticket at the gate on the day. Single tickets on the day cost £17. This single ticket will admit a disabled visitor and their carer. There is no additional cost for the carer. The reason we ask disabled visitors buy on the gate is because, disappointingly, in recent years, advance concessionary purchasing has been abused by visitors falsely claiming to be carers. The issue of parking is a separate issue. Southport Flower Show has no on-site parking. All nearby parking is controlled by the local authority, who decide the policy re-charges."

Editors note:- "Thank you for your phone call and email. We hope the Flower Show reply is of some help to you. As for Sefton MBC, who control the parking, we will also try and get some information for you."
DRINK LIKE THE STARS AT THE VINCENT HOTEL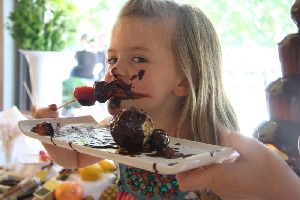 AFTERNOON tea is making a comeback and now you can get your fill of cakes and cream at the Vincent Hotel. Ever since Kate Moss celebrated her birthday by indulging in tea and sandwiches, the A-listers have been queuing up for the civilised refreshment. It seems the newest trend on the celebrity scene is to relive our childhoods and indulge in afternoon tea parties. Southport's top hotel is now offering the latest craze for holiday makers as well as shoppers who want to take a break from flexing their credit cards. So whether you're after your coffee fix or you want to stick to a traditional pot of tea, you can now enjoy it all in chic surroundings. You can forget the calories as you tuck into home-made scones, chocolate éclairs, cup cakes and three different types of delicious sandwiches. To indulge your sweet tooth even further, there's a fantastic chocolate fountain where you can dip in meringues, fruit and marshmallows as many times as you like. Owner Paul Adams said:- "Afternoon tea may sound more like 'childsplay' than the height of glamour but celebrities have realised how much fun sipping tea and eating cakes and sandwiches can be. Not only is it a great way to relax during a hectic day of shopping or sight-seeing, it's also a chance to catch up with your friends."
The sweet treat costs just £12.50 and you can refill your cup as often as you like. Afternoon tea is available every Saturday and Sunday between 3pm and 5pm.