CITY SENDS CONDOLENCES TO MADRID
THE Lord Mayor of Liverpool, Councillor Steve Rotherham, has sent the following message of condolence to the Mayor of Madrid, Alberto Ruiz-Gallardón.
"It is with deep sadness I learned of the tragic air disaster at Madrid's Barajas Airport.
On behalf of the citizens of Liverpool may I convey my deepest sympathy to those injured and the families & friends of all those who have been bereaved. Our thoughts and prayers are with them at this most difficult time.
The Union Flag on Liverpool Town Hall is at Half-Mast as a mark of respect for those who lost their lives."
Dreaming of a Church Wedding? Now more churches can say 'yes'
FROM 1 October 2008 the Church of England will welcome more couples than ever before. Currently 57,000 weddings a year are celebrated throughout 16,000 C of E Churches in England. A new law means that figure is set to increase.

Under the old law a couple had the right to marry at the church in the parish (a church district) where one or both of them live. To marry in any other church used to require a special licence or six months of regular church attendance followed by entry on the church electoral roll.

Under the new law couples can marry in any church where they have a connection, even if they don't live in that parish. The changes mean that a couple are welcome to be married in any Church of England church if one of the following applies:-

• one of them was baptised or prepared for confirmation in the parish

• one of them has ever lived in the parish for six months or more

• one of them has at any time regularly attended public worship in the parish for six months or more

• one of their parents has lived in the parish for six months or more in their child's lifetime

• one of their parents has regularly attended public worship there for six months or more in their child's lifetime

• their parents or grandparents were married in the parish

The Church of England's Governing body (called the General Synod) thought the old laws were too restrictive in a mobile society and took the initiative to change them. Church leaders wanted churches all over England to be free to celebrate more weddings and support more marriages.

Because CofE weddings are offered to couples as part of the church's service to the local community they are not expensive. The costs are kept low and no profit is made from the occasion.

Simon Hughes MP, speaking in a House of Commons Committee in support of the Marriage Measure, said:- "In an age when we bemoan the loss of community, the consequences of greater globalisation and the greater difficulty that people have in maintaining roots back to the places that they come from…more people will be likely to get married in churches, because they will be able to marry in those that they think are important and valuable. That will be a good thing for the Church, for couples and for their families, who will feel more involved in the process."

If you are considering a church wedding and would like to know more the Church of England website has a large question and answer section. You will find it at www.cofe.anglican.org in the life events section of the home page. The Church of England's 'virtual vicar' Rev Harney has a wedding blog and also answers questions at www.newlyweds.co.uk. Jan is a lot of fun, she just lurvves weddings and her blog is very popular.

To chat with Virtual Vicar Rev Jan in person or another Church of England 'vicar' visit the Church of England stand at the UK Wedding Show at St George's Hall, Liverpool during the weekend of 27 September and 28 September 2008.
There will also be a dedicated team of experienced 'vicars' on hand to chat informally about your special day. The Rt Rev David Jennings, the Bishop of Warrington, will also be visiting the UK Wedding Show. Alternatively if you know your postcode you can find out who is your local 'vicar' and where your nearest church is at achurchnearyou.com. This website gives contact details of hundreds of churches, so, which one are you dreaming of?
Southport Weekender 43, November 2008
THE event attracts 5000 + happy party folk to the indoor Pontins holiday complex in Southport, its dubbed as the UK's friendliest party. Founded by hedonist, Alex Lowes along side cohort Dave Gardner, since it's beginnings in 1987 at a caravan park in Berwick–Upon-Tweed as a Soul Music Weekender, Southport, now 21 years old, stands as the most musically diverse music Weekender in the UK party calendar. Regularly attracting an intimate friendly crowd of dedicated dancers and discerning music lovers, Southport features 4 purpose built arenas featuring state of the art lavish production and quality sound. The 4 Arena's boast a heavyweight selection of cutting edge and classic soulful music right across the board from House, Jazz, Broken Beats, Drum n Bass, Hip Hop, Deep House, RnB, Soul, Jazz Funk, Rare Groove, Nu Soul and a hefty portion of classics with amazing performances from the world's DJ Elite, Live acts and PA's, spliced with up and coming new talent too.

Since it's inception, the event has welcomed world class DJ guests to it's arenas including:- Aaron Ross, Angel Moraes, Blaze, Bob Sinclar, Brian Tappert, Bugz in the Attic, Carl Cox, Carl Craig, David Harness, Danny Rampling, Danny Tenaglia, David Morales, Deep Dish, DJ Meme, DJ Spen, Dimitri From Paris, DJ Spinna, Erick Morillo, Fabio, Franck Roger, Francois K, Frankie Knuckles, Goldie, Harry 'Choo Choo' Romero, Jamie Lewis, Jay-J, Jazzie B, Jihad Muhammad, Joe Claussell, Joey Negro, Jon Cutler, Karizma, King Britt, LTJ Bukem, Martin Solveig, Marly Marl, Masters At Work, Matty Heilbronn, Marley Marl, Miguel Migs, Mr Scruff, Osunlade, Ame, Larry Heard, Paul Oakenfold, Pete Tong, Phil Asher, Quentin Harris, Recloose, Roger Sanchez, Roni Size, Ron Trent, Sandy Rivera, Simon Dunmore, Studio Apartment, Tedd Patterson, Theo Parrish, The Fanatix, Tim Westwood, Timmy Regisford, Todd Terry, Terry Hunter, Tony Humphries, Zed Bias among many others...

With live acts and PA's including:- A Tribe Called Quest, Ananada Project, Angie Stone, Adeva, Alexander O'Neil, Arnold Jarvis, Bah Samba, Barbara Tucker, Ben Westbeech, Beverley Knight, Billie, Byron Stingily, Carleen Anderson, Ce Ce Rogers, Craig David, Christian Prommer's Drum Lesson, Dajae, Damage, Drizabone, Duanne Harden, Eric Roberson, Galliano, Gangstarr, Gwen McCrae, Incognito, India, India Arie, Innercity, James Taylor Quartet, Jay Sean, Jazzmataz featuring Guru, Jocelyn Brown, Jody Watley, Joyce Simms, Judy Cheeks, Julie McNight, Kathy Brown, Kathy Sledge, Kele Le Roc, Kenny Thomas, Kim English, Lady Alms & Marc De Clive-Lowe, Leroy Burgess, Lemar, Linda Clifford, Loleatta Holloway, Loose Ends, Lynden David Hall, Marc Ronson, Mark Morrison, Marlena Shaw, Mica Paris, Michael Watford, Monique Bingham, M-People, Nathan Haynes, Nu Colours, Omar, Peven Everett, Phyllis Hyman, Rashaan Patterson, Reel People, Robert Owens, Ron Carroll, Roy Ayers, Shaun Benson, Shaun Escoffery, Soul II Soul, Shola Ama, Sounds of Blackness, Sybil, Ten City, The Blackbyrds, The Fatback Band, Terry Callier, Tortured Soul, Ultra Nate, Will Downing and Wookie to name only a few...

To view and listen to live performances and interviews from Southport Weekender 42 and 41 events visit:- southportweekender.co.uk/download.php

TICKETS £150.00 PER PERSON INCLUDES SELF CATERING ACCOMODATION FOR 2 NIGHTS AND 3 DAYS

Southport Weekender office phone line is:- 0870 990 1987 or you can contact them online.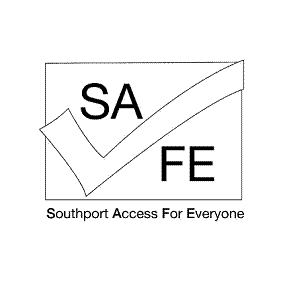 THE next meeting of the Southport Access For Everyone forum will be held at the Community Room of the Southport Fire Station at the corner of Manchester Road and Lord Street, on Thursday, 3 September 2008 at 7.00 pm. People who experience access problems to the town's facilities because of a disability are welcome to attend and discuss their problems. The premises are fully accessible for wheelchair users. Enquiries 01704 567046